Pakistan confirms Afridi as World Cup captain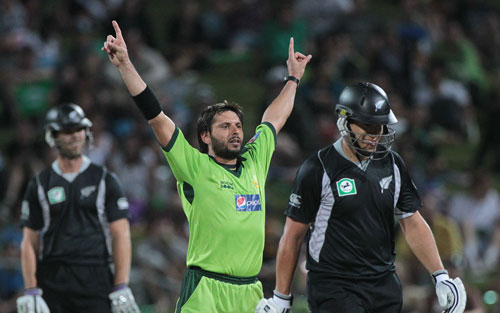 Shahid Afridi will lead Pakistan at the World Cup, cricket chiefs said on Friday, quashing rumours that he might be replaced by Test captain Misbah-ul-Haq.
Pakistan last week announced a 15-man squad for the mega event, to be jointly hosted by India, Sri Lanka and Bangladesh from February 19, but had delayed the appointment of a captain.
"PCB (Pakistan Cricket Board) announces Afridi as captain of Pakistan team for the World Cup. Misbah has been announced as vice captain for the event," the board said in a statement.
PCB chairman Ijaz Butt said the decision had widespread backing.
"I had detailed discussions with team management and players in New Zealand regarding captain and vice captain and am pleased to state that everyone fully endorsed these decisions," Butt was quoted as saying in the PCB statement.
The PCB's decision to delay naming the captain had been criticised by former players and fans.
"It doesn't make a difference whether Misbah leads the side or I lead the side because we both are playing for our country, I have never been after captaincy," Afridi said earlier this week.
Misbah had backed all-rounder Afridi as captain.
"I think Afridi has done a great job as captain and he has kept the team together and every player is contributing and wants to do well. He has led well," Misbah said after his man-of-the-match performance in New Zealand on Tuesday.
Afridi, 30, who was banned for two matches on charges of ball-tampering in only his second match as skipper in January last year, has led Pakistan in 20 one-day matches, winning nine, losing ten with one ending in no result because of rain.
Pakistan are in Group A of the World Cup and open their campaign with a match against Kenya at Hambantota, Sri Lanka, on February 23.
They go into the tournament on good form after wrapping up the current six-match one-day series against New Zealand with a game to spare.
Trio charged with "spot-fixing"
In another news, British prosecutors on Friday charged three Pakistan cricketers with taking bribes to fix incidents in an international match in England last year.
Salman Butt, Mohammad Asif and Mohammad Amir are accused of fixing certain incidents, such as the bowling of no-balls at pre-agreed times, during the fourth test at Lord's last August.
Britain's Crown Prosecution Service said the trio, along with a fourth man, sporting agent Mazhar Majeed, had been charged with conspiracy to obtain and accept corrupt payment and with conspiracy to cheat.
Follow Emirates 24|7 on Google News.