Pakistan cricket chief taunts India: you are 'afraid'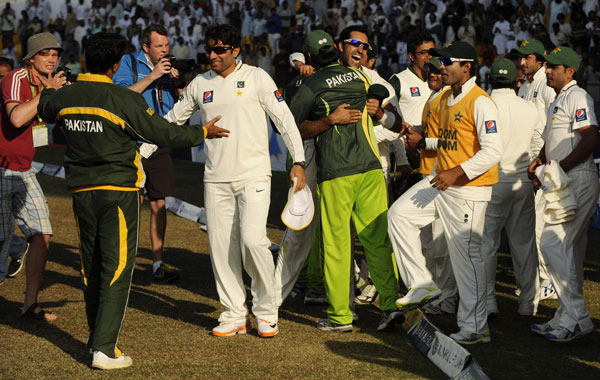 Pakistan cricket chief Zaka Ashraf said Saturday that his side's recent resurgence in form had left arch-rivals India afraid to take them on.
The neighbours have not played a Test series since 2007, with sporting ties frozen after the terrorist attacks on Mumbai in November 2008..
There were hopes of a thaw after the sides met in the World Cup semi-final last March and they are slated to play each other under the International Cricket Council's Future Tours Programme this year.
But they have struggled to find a slot because of India's hectic schedule, prompting Ashraf, who took over as Pakistan Cricket Board (PCB) chairman in October last year, to accuse India of running scared.
"Maybe the way our team is performing and the way their team is performing in Australia, they look like afraid, for them losing to Australia is not that much emotional, but its more emotional losing to Pakistan," Ashraf told reporters.
India were routed 4-0 in their Test series in Australia last month -- to record eight consecutive defeats away from home after their whitewash in England by the same margin last year.
In contrast, Pakistan under Misbah-ul Haq are on a roll, having not lost a series since August 2010 and enjoy an unassailable 2-0 lead over world number one England in their three-Test series in the United Arab Emirates.
The Board of Control for Cricket in India (BCCI) has said it needs government approval to revive the ties, but Ashraf said they were worried about how supporters would react to being beaten by Pakistan.
"Indian cricket fans will get after their cricket board, so I think the way we are performing they are afraid," said Ashraf, whose request to meet his BCCI counterpart Narayan Srinivasan in December last year was also turned down.
Ashraf said all PCB's requests to revive cricket relations had been unsuccessful.
"I don't know what's in their heart, but we have requested them a lot of times," he said.
He said both the Indian and Pakistani prime ministers -- who attended the World Cup semifinal together -- had asked for a resumption of games between the two countries, but nothing had happened.
"We are ready to play any time against them. If they say yes today we can play against them here in UAE after the England series... but the ball is in their court whether they want to play," Ashraf said.
"When their prime minister is saying, when Srinivasan is saying he also wants to see India Pakistan play, maybe their selectors and those working in their team management are afraid of our team's morale and preparation."
Follow Emirates 24|7 on Google News.