Pakistan crush England by 10 wickets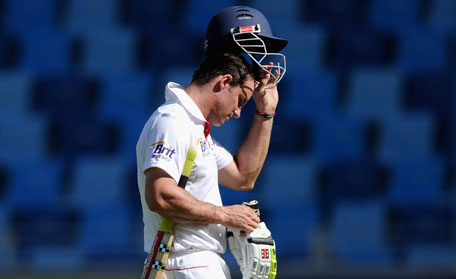 Pakistan handed top-ranked England its first test defeat in 13 months with a blowout 10-wicket victory inside three days on Thursday.
Pakistan stubbornly extended its first innings in the morning to 338 for a lead of 146, then began before lunch dismantling England in its second innings for 160 inside 58 overs.
Umar Gul's aggressive bowling for 4-63, coupled with some shocking shot selection by the Englishmen, left Pakistan with only 15 runs to win the opening test of the three-match series, and opener Mohammad Hafeez hit three boundaries in collecting them all.
It was top-ranked England's first defeat since losing to Australia in the Ashes test at Perth in 2010. England had won seven of nine since then.
Pakistan extended its unbeaten run in tests to eight since May, including six victories.
Offspinner Saeed Ajmal, who grabbed a career-best 7-55 in England's first innings score of 192, added three more wickets to be named man of the match. It was second career match haul of 10 wickets.
Abdur Rehman showed England why they should have included left-arm spinner Monty Panesar with 3-37, and narrowly missed a hat trick.
After Adnan Akmal's gutsy half-century stretched Pakistan's first-innings lead to 146, Gul had England on the mat by tea at 75-5, claiming three wickets.
Gul had reduced England to 16-1 at lunch when captain Andrew Strauss was adjudged caught behind off a leg-side delivery after TV umpire Steve Davis upheld onfield umpire Billy Bowden's decision.
Opener Alastair Cook (5) and Kevin Pietersen (0) departed from attempting shocking pull shots against Gul.
In his second spell, Gul found a thick outside edge of topscorer Jonathan Trott, who attempted an expansive cover drive to try and to reach a half century. Trott was out for 49 off 111 balls.
Ajmal undid Ian Bell for 4 with his doosra. The batsman halfheartedly called for a review but started walking back after watching the replay on the big screen at Dubai International Cricket Stadium with the ball striking his back leg in front of the stumps.
Rehman struck just before tea when Eoin Morgan on 14 got a faint edge to the wicketkeeper, and was on a hat trick when he dismissed Stuart Broad (17) and Chris Tremlett (0) off successive deliveries with England still 11 runs shy of making Pakistan bat again.
Graeme Swann (39) and James Anderson (15) ensured England did not lose by an innings with a 25-run last wicket stand before Ajmal wrapped up the innings by finding the leading edge of Swann's bat and Asad Shafiq making a low catch and roll at short cover.
Pakistan resumed overnight at 288-7 and thanks to the diminutive Akmal hitting 61 with eight fours, frustrated England for an hour and a quarter.
Akmal lost Gul for a duck when he hit Broad in only the second over of the day to Morgan at point.
Akmal gathered a precious 30 runs with Ajmal before Swann had the latter caught close to the wicket for 12.
The last-wicket stand of 19 - all made by Akmal - added to England's frustration as the Pakistan wicketkeeper-batsman kept the strike from No. 11 Aizaz Cheema for four overs.
Akmal played some extravagant strokes that included two reverse swept boundaries off Swann. He brought up his second test half-century with a similar stroke for two runs and pumped his fist in joy while raising his bat toward his teammates in the dressing room.
Swann finally closed Pakistan's first innings when Akmal went out of the crease but missed the line and was stumped by Prior down the legside. Swann ended with 4-107 while Broad claimed 3-84.
The second test begins at Abu Dhabi on Jan. 25, and the teams return to Dubai for the last test from Feb. 3.
Uncle Twenty20 drives cricket fans in UAE
Zaman Khan is fast becoming the face of cricket in the United Arab Emirates during international matches as he waves a green and white Pakistan flag to make his country's players feel at home away from home.
The 54-year-old from Hafizabad in the central Punjab province in Pakistan is a chauffeur in Dubai and has not missed a single match ever since Pakistan was forced to play here due to security fears back home.
On grounds, Zaman drives the fans crazy, chanting slogans for his players. His big moustaches he grows every time a match approaches make him recognizable in every stand he sits.
"It is great fun," Zaman told AFP. "I love watching cricket and people around me love my attire, the flag, my moustache and my slogans, so I am happy to have this double enjoyment -- watching cricket and getting popular."
Cricket had been a childhood interest for Zaman. His native town, in the Gujranwala district, was known for its export quality rice but the sprawling fields were mainly used for a game of village cricket by youth.
"I used to play a lot of cricket," remembers Zaman. "Once television came to my village I used to watch cricket for hours and then I got a chance to attend a few games in Lahore before I came here for a living."
Once Pakistan was forced to play its home series on neutral venues, Zaman along with his friends started to take time off to watch his team play.
"It is deplorable that we can't hold our cricket in our homeland and problems in Pakistan also make us expatriates sad, but the plus point is that a lot of people here who have nothing for entertainment got the chance of their lives," said Zaman.
And Zaman relishes the prospect of sitting besides Pakistan's most popular fan Sufi Abdul Jalil, famous as Uncle Cricket -- or Chacha Cricket in Urdu -- who is also touring here for Pakistan-England Tests and limited over matches.
"I would love to sit with Chacha Cricket," said Zaman. "In fact the fans have named me Chacha Twenty20 cricket to differentiate me from Jalil who is the doyen of cricket fans in the world."
Jalil, always dressed in the green Pakistan colour, also permanently holds a green and white Pakistani flag in hand, and was to be found in every match played in Pakistan.
But global recession and lack of sponsors have kept Jalil away from touring along with the Pakistan team. The 62-year-old has toured India, England, Sri Lanka and the West Indies in support of his team.
Like Jalil, Zaman is also getting popular among the players as well.
"He wanted to meet me so I got permission and met him during Pakistan's practice at the Global cricket academy in Dubai and he seems to be a very passionate fan of our cricket," said batsman Umar Akmal.
Zaman hopes he watches a game of cricket between Pakistan and India, a dream he has yet to fulfil.
"Maybe in the near future I will get a chance to watch Pakistan play India, because that is what the crowd enjoys the most and slogans come from the core of the heart," said Zaman, who didn't get holiday time to attend the World Cup semi-final between the arch-rivals last year.
Follow Emirates 24|7 on Google News.