Pakistan demand respect from rest of the world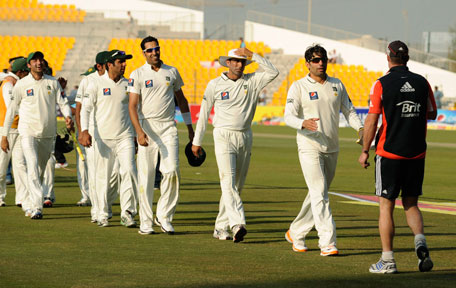 Pakistan captain Misbah-ul Haq on Sunday said he hoped his team's series win over Test cricket's number one side England will earn them respect from the cricketing world after a turbulent period which tarnished their image.
Dogged by off-the-field problems like failed dope tests and lack of discipline, Pakistan cricket hit the lowest ebb on their 2010 tour of England when three of their top players were caught in a spot-fixing scandal.
The then Test captain Salman Butt and pacemen Mohammad Asif and Mohammad Aamer were banned for conniving over the bowlers deliberately bowling no-balls during the Lord's Test against England, and getting paid for that by agent Mazhar Majeed.
Last November all three and Majeed were sentenced to prison terms by an English court. But since the scandal, Pakistan have fared well both on and off the field under an astute captain Misbah.
Pakistan beat England by 72 runs in the second Test to take an unassailable 2-0 lead in the three-match series, their fourth series win on the trot and eighth win in 14 Tests under Misbah, who took over two months after the scandal.
And Pakistan's resurgence, Misbah feels should earn them respect.
"I think the whole world should acknowledge and accept that Pakistan cricket is coming up, the way our players are performing and they should accept it. Such (negative) things can happen anywhere and we must forget them," said Misbah.
Misbah, 37, stressed his team will build further on the success against England.
"We have put everything behind us," said Misbah, who has led from the front hitting 12 fifties as captain.
"I think whichever team is doing well it should be accepted, our team deserves that and with the self confidence we have, we can do better."
Coach Mohsin Khan, who rather unluckily will be replaced by former Australian batsman Dav Whamore after the series, said these are good days to relish after the bad times.
"I definitely agree with Misbah, we deserve more respect for the performances we have put together," said Khan, a former opener.
"Pakistan cricket has suffered badly in the last two years but the management and the team has done well to transform it."
Khan said the impressive win over England will only improve Pakistan's image.
"A win over the world's top team is the best thing Pakistan could have achieved," said Khan, who was appointed interim coach after Waqar Younis quit the post in September last year.
Former captain Ramiz Raja said Pakistan have earned respect.
"I think they have earned respect," said Raja, now a widely travelled cricket commentator. "They deserve a lot of praise for the manner in which they have beaten the world's best side, its no mean achievement."
Raja said the whole nation - embroiled in terrorism, corruption and bad governance - can take a lead from the cricket team.
"I think the whole nation can take the lead from the sequence of the team's wins. The team has shown more wisdom, sincerity and hard work which people in Pakistan should match in all walks of lives," said Raja.
"No praise is enough for this team which has lifted its image and the way they have beaten the world's best team like toddlers is a great achievement," said Raja.
Follow Emirates 24|7 on Google News.