Pakistan's Aamer vows to return a reformed player after ICC lifts ban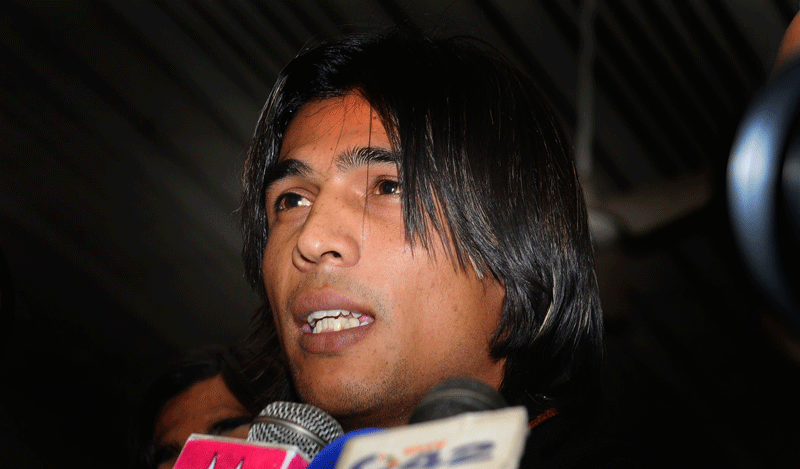 Pakistan fast bowler Mohammad Aamer vowed to put behind a spot-fixing scandal and return as a reformed player after the International Cricket Council (ICC) gave him an early reprieve on Thursday for a return to domestic cricket.

"This is the best day of my life as the last five years have been a big lesson for me," Aamer told Reuters.

"I don't just want to get back as a top cricketer but also as a better human being who has reformed himself."

Former Pakistan captain Salman Butt, Mohammad Asif and Aamer were all banned for spot-fixing during Pakistan's tour of England in 2010, particularly for bowling deliberate no-balls by pre-arrangement during the fourth Test at Lord's.

The trio, who also served jail sentences in Britain, were given minimum five-year bans by an ICC tribunal while Butt was also given a two-year suspended sentence.

Some former professionals have said he should not be allowed back into international cricket, while Pakistan Cricket Board Chairman Shaharyar Khan last year revealed some current players were against Aamer's return and did not want to share a dressing room with him.

Aamer, however, vowed to win over the naysayers with his bowling - and promised to behave from now on.

"If anyone has any problems with my return I am sure he will change his views with my character and good performances," said Aamer.

"My job is to play and do well and I am sure that I will return to international cricket as a better player and better human being and that's my aim."

"I need just a month or so to get back to match fitness but it is yet to be decided when and with which team I will resume playing cricket," Aamer said.

With the first class matches in Pakistan over this season, Aamer only has the possibility of either playing the non-first class Grade two tournament or in the super eight T20 event after the World Cup.

The 22-year-old sought everyone's support in his comeback bid.

"I promise I will not disappoint them and I will try to allay their concerns with my behaviour and performance on the field.

"I am also ready to play my role in helping players understand why it is important to play cricket according to its spirit."

Aamer's five-year ban was scheduled to expire on Sept. 2 but ICC's anti-corruption unit (ACSU) chairman Ronnie Flanagan exercised his discretion to allow him to return to domestic cricket with immediate effect.

"The ACSU Chairman... was satisfied that Aamer had cooperated with the ACSU by fully disclosing his part in the matters that led to his disqualification, admitting his guilt, showing remorse and cooperating with the Unit's ongoing investigations and by recording messages for the ACSU education sessions," the governing body said in a statement.

Left-arm paceman Aamer was marked as a great prospect for Pakistan in his early days and at the age of 18 he became the youngest bowler to capture 50 Test wickets during the controversial Test match at Lord's in 2010.

According to a revised anti-corruption code, a banned player can appeal to ICC's ACSU to allow him to resume playing domestic cricket before the end of his ban.

The PCB decided to help Aamer with his appeal but ruled out helping Butt and Asif with any relaxation.

Former Pakistan leg-spinner Danish Kaneria is also serving a life ban since 2012 for spot-fixing.
Follow Emirates 24|7 on Google News.