Pakistan vs Sri Lanka 2nd Test in Dubai, Day 2: Mahela century puts Lanka in command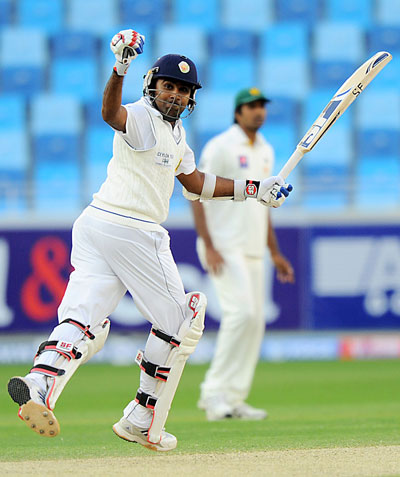 Mahela Jayawardene, batting with three stitches in his left hand, ignored the pain to complete his 32nd Test hundred and put Sri Lanka firmly in the driving seat in the second Test against Pakistan in Dubai on Thursday.

The 36-year-old (106 not out) added 91 for the unbroken fifth wicket with captain Angelo Mathews (42 not out) to take Sri Lanka to 318 for four at the close on the second day, a first-innings lead of 153 runs.

The stylish right-handed batsman, who was injured while fielding at slip on the opening day, punched the air in delight after reaching the century mark with a delicate late cut boundary off fast bowler Bilawal Bhatti.

Jayawardene had last scored a Test hundred in April 2012 against England at home and had been dismissed cheaply by Bhatti in both innings of the drawn first Test in Abu Dhabi.

He also added 139 with opener Kaushal Silva (95), who fell short of his maiden Test hundred, for the fourth wicket after Pakistan had pegged back Sri Lanka with two early strikes in the morning.
Jayawardene, the 36-year-old former captain, has so far batted for 330 minutes for only his second century against Pakistan and his first in 21 months since his hundred against England in Colombo in April 2012.

Jayawardene said he concentrated hard to forget the injury.

"Obviously there were limitations in my batting but I concentrated hard and the target was to time the shots and its pleasing to score a hundred," said Jayawardene, who received injections and pain-killer before the innings.

The Pakistan bowlers toiled hard but failed to dislodge the pair as Sri Lanka remained unscathed in the afternoon session.

Part-time off-spinner Mohammad Hafeez finally broke the partnership when he dismissed Silva leg before after the batsman failed to connect with a sweep shot.

The diminutive right-hander trudged back to the dressing room after an unsuccessful attempt to review the umpire's decision.

Jayawardene, on 26, successfully overturned an lbw decision off paceman Rahat Ali on review while wicketkeeper Sarfraz Ahmed dropped an edge from Mathews later off the same bowler to add to Pakistan's frustration.

Rahat had struck early to send back Kumar Sangakkara (26) leg before while his fast bowling colleague Junaid Khan dismissed Dinesh Chandimal (12), batting at number four due to Jayawardene's injury, to reduce Sri Lanka to 88 for three.

Yet frontline spinner Saeed Ajmal's failure to trouble the batsmen and a docile pitch ensured Sri Lanka took a healthy first-innings lead.
Pakistan's bowling woes were highlighted by Ajmal's failure for a second successive innings. He went wicketless in 49 second innings overs of the first Test and once again failed to make an impact in his 27 overs.

Pakistan's bowling coach Mohammad Akram said they tried everything but couldn't get Jayawardene out.

"The pitch was different from the first day and our bowlers tried every thing but we couldn't get Mahela who played a very good knock," said Akram.

The third and final Test will be played in Sharjah from January 16.
EVENING SESSION

Mahela Jayawardene scored an unbeaten century while Kaushal Silva missed it by five runs to put Sri Lanka in a commanding position against Pakistan on Day 2 of the second Test in Dubai.

Sri Lanka made 318 for four in 106 overs when stumps were drawn with Mahela Jayawardene batting on 106 while Angelo Mathews giving him company on 42 not out.

The duo shared an unbroken 91-run stand for the fifth wicket after Jayawardene had shared another superb 139-run partnership with Silva (95)

Jayawardene scores a century to reach a brilliant century. His 103 comes of 215 balls. SL 313-4 in 101.2 overs.

Sri Lanka cross the 300-run mark as they lead by 136 runs. Jayawardene on 99. SL 305-4 in 100 overs.

Jayawardene reaches 90s as the partnership is 70. SL 297-4 in 96 overs.

Some messy fielding and Sri Lanka's lead is growing. The partnership between Jayawardene and Mathews is 53. SL 280-4 in 90 overs.

Sri Lanka take a lead of 100. Jaywardene going strong at 78. He surely will be looking for a century here. SL 265-4 in 88 overs.

Sri Lanka reach 250 for four in 84 overs. They now lead by 85 runs.

Unlucky for Silva. Gets out on 95. Even review does not help. He can't believe his luck as he was chasing his maiden century. But his innings has put Sri Lanka in a fine position. SL 227 for 4 in 78 overs.

Kaushal Silva lbw b Mohammad Hafeez 95 (221b 10x4 0x6)

Sri Lanka dominated the second session as they reached 250-3 to take a lead of 50 runs against Pakistan.

Kaushal Silva was unbeaten on 92 while Mahela Jayawardene was 50 not out as the duo shared a partnership of 127.

AFTERNOON SESSION

Jayawardene reaches his 50. A fantastic knock from him as his partnership with Silva reaches 127. SL 215-3 in 73 overs.

Partnership between Silva and Jayawardene reaches 100. Very important one for Sri Lanka to take control of the game. SL 188-3 in 66.1 overs.

Sri Lanka surge ahead as they lead by six runs. Silva looks in fine nick scoring two boundaries of Ali's over. Drinks called. SL 171-3 in 59 overs.

Sri Lanka just need another eight runs to level Pakistan. SL 157-3 in 55 overs.

A fine boundary and Silva gets to his half century. They trail by 18 runs. SL 147-3 in 50 overs.

That's three maiden overs in a row. SL 140-3 in 48 overs.

Partnership croses 50. Things looking good for Sri Lanka. Silva on 45. SL 140-3 in 45 overs.

MORNING SESSION

It's been a steady start on the second day for Sri Lanka.

Though losing the big wicket of Kumar Sangakkara and Chandimal, Kaushal Silva and Mahela Jayawardene steadied the ship as Sri Lanka reached 132-3 in 43 overs at lunch.

The duo share an unbroken 44-run partnership with Kaushal Silva unbeaten on 40 and Jayawardene on 19 not out.

For Pakistan Rahat Ali and Junaid Khan picked a wicket each for the day.

Sri Lanka are 129-3 in 40 overs

A fine partnership building between Silva and Jayawardene. SL 117-3 in 35 overs.

Sri Lanka trail by 67 runs. Silva on 23. SL 98-3 in 30 overs.

The dependable Mahela Jayawardene walks in.

A brilliant setup from Pakistan and it worked. Chandimal was offered a bouncer and he pulls it to provide a comfortable catch to Rahat Ali in the deep. SL 88-3 in 26.3 overs.

D Chandimal c Rahat Ali b Junaid Khan 12 (23b 1x4 0x6)

Kaushal looking confident, carefully pacing his innings. He is a delight to watch. SL 87-2 in 26 overs.

Sri Lanka should be looking at a big total after all the good work on day one. They need a good partnership going here. SL 80-2 in 23 overs.

Rahat strikes trapping Sangakkara leg before in the sixth over of the morning. SL 75-2 in 21.1. overs.
Kumar Sangakkara lbw b Rahat Ali 26 (36b 4x4 0x6)
Sri Lanka resumed on 57 for one wicket in 16 overs reply to Pakistan's first innings total of 165 on the second day of the second Test at Dubai International Stadium on Thursday.


Follow Emirates 24|7 on Google News.