Pakistan vs Sri Lanka Asia Cup T20: Pak win by 6 wickets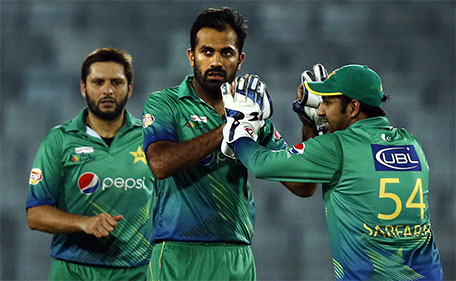 Pakistan put their disappointment at not making the Asia Cup final behind them in Dhaka on Friday, with a consolation six-wicket win against Sri Lanka in their final match.
Pakistan's top-order batsmen finally hit some form to help the side reach 151-4 in 19.2 overs, after their bowlers restricted Sri Lanka to 150-4 at the Sher-e-Bangla National Stadium.
Umar Akmal made the top 48 off 37 balls after Sharjeel Khan (31) and Sarfraz Ahmed (38) laid the foundation of their innings, overshadowing an unbeaten 75 by Sri Lanka's Tillakaratne Dilshan.
The match, also the last for Sri Lanka, turned out to be a routine contest after Bangladesh eliminated both teams from the final with a five-wicket win over Pakistan on Wednesday.
Bangladesh will face India in the final on Sunday.
"We're good cricketers, just that we need to have more self-belief," said Pakistan captain Shahid Afridi.
"That's what helped us in the chase today. We wanted to keep wickets intact in the first six overs and it worked."
With nothing but pride at stake, both teams looked less tense -- and Sri Lankan opening duo Dilshan and Dinesh Chandimal took full advantage to put on 110 runs, the best start in the tournament.
Wahab Riaz broke their stand when he forced Chandimal to give a catch to Sharjeel Khan at midwicket.
Shoaib Malik struck in the next over to remove Shehan Jayasuriya for four, before Mohammad Irfan bowled Chamara Kapugedera and Dasun Shanaka in the space of three balls to halt Sri Lanka's progress.
Chandimal, who led Sri Lanka in the absence of injured Lasith Malinga and Angelo Mathews, made 58 off 49 balls, his second half-century in the tournament, which included seven fours and a six.
"Overall we played some good cricket," said Chandimal.
"We were 10-15 short with the bat and that was the turning point in this game."
Dilshan ensured Sri Lanka still got a decent total with his 11th Twenty20 half-century, with 10 fours and a six.
Irfan finished with 2-18 for Pakistan. The two teams will now head for the ICC World Twenty20, which starts in India next week.
Scoreboard:
Sri Lanka
D. Chandimal c Sharjeel b Wahab 58
T. Dilshan not out 75
S. Jayasuriya c Sharjeel b Malik 4
C. Kapugedera b Irfan 2
D. Shanaka b Irfan 0
M. Siriwardana not out 4
Extras (lb6, w1) 7
Total (four wickets, 20 overs) 150
Fall of wickets: 1-110 (Chandimal), 2-117 (Jayasuriya), 3-125 (Kapugedera), 4-125 (Shanaka)
Did not bat: N. Dickwella, T. Perera, N. Kulasekara, R. Herath, D. Chameera
Bowling: Amir 4-0-31-0 (w1), Irfan 4-0-18-2, Afridi 4-0-24-0, Nawaz 3-0-38-0, Riaz 4-0-30-1, Malik 1-0-3-1
Pakistan
Sharjeel Khan c Kapugedera b Dilshan 31
Mohammad Hafeez c&b Jayasuriya 14
Sarfraz Ahmed lbw b Siriwardana 38
Umar Akmal c Perera b Kulasekara 48
Shoaib Malik not out 13
Iftikhar Ahmed not out 0
Extras (b4 lb1 w2) 7
Total ( four wickets; 19.2 overs) 151
Fall of wickets: 1-23 (Hafeez) 2-58 (Sharjeel), 3-94 (Sarfraz), 4-150 (Akmal)
Did not bat: Shahid Afridi, Mohammad Amir, Wahab Riaz, Mohammad Irfan, Mohammad Nawaz.
Bowling: Kulasekara 4-0-20-1, Perera 2.2-0-25-0(w1), Jayasuriya 1-0-13-1, Shanaka 1-0-6-0, Chameera 4-0-32-0 (w1), Herath 4-0-28-0, Dilshan 1-0-2-1, Siriwardana 2-0-20-1
Result: Pakistan won by six wickets
Toss: Pakistan
Umpires: Anil Chaudhary (IND) and Enamul Haque (BAN)
TV umpire: Sharfuddoula Ibne Shahid (BAN)
Match referee: Jeff Crowe (NZ)
Pakistan coasted to a six-wicket win over Sri Lanka with four balls to spare in the final league match of the Asia Cup T20 on Friday.
Chasing a target of 151, Pakistan made 151-4 in 19.2 overs with Umar Akmal anchoring the chase with a solid 48 after Sarfraz cracked a quickfire 38.
Thisara takes a superb catch on the boundary as Akmal falls after whacking a six off Kulasekera with one needed to win. Pak 150-4, 19 overs.
Umar Akmal c Perera b Kulasekara 48 (37b 4x4 2x6)
Siriwardana goes for 19 as Akmal smashes two boundaries and a six to put Pakistan on course. Pak 119-3, 15 overs.
Siriwardana gets a breakthrough as Sarfraz swings and misses trapping him leg before. Pak 94-3, 12.5 overs.
Sarfraz Ahmed lbw b Siriwardana 38 (27b 6x4)
Sarfraz smashes a couple of boundaries off Thisara. Pak 93-2, 12 overs.
Chameera bowls a good comeback over as Pakistan are 70-2 at the halfway stage requiring 81 off 60 balls.
Dilshan gets the wicket of Sharjeel who plays a poor shot to hole out to long-on. Pak 58-2, 7.1 overs.
Sharjeel Khan c Kapugedera b Dilshan 31 (24b 5x4 1x6)
Sharjeel sizzles smashing four consecutive boundaries all around the wicket of Chameera. Pak 50-1, 6 overs.
Sarfraz has hit two sizzling boundaries since his arrival. Pak 34-1, 5 overs.
Hafeez perishes after smacking two delightful boundaries off Jayasuriya. Pak 23-1, 3.3 overs.
Mohammad Hafeez c & b Jayasuriya 14 (11b 3x4)
Hafeez pushes Perera through the covers for a boundary while Sharjeel pulls overe backward square leg for the first six as Pakistan begin chasing 151. Pak 14-0, 2 overs.
Sri Lanka innings
Dilshan remains unbeaten on a 56-ball 75 which was studded with 10 fours and a six as Sri Lanka post 150-4 after being put into bat.
Sri Lanka were boosted by 110-run opening stand with Chandimal (58) who cracked seven boundaries and a six.
Amir goes for 14 with Dilshan getting a boundary with a reverse scoop and being dropped by Irfan. SL 141-4, 19 overs.
Double strike by Irfan as Shanaka is knocked over for a two-ball duck. SL 125-4, 17.3 overs.
Dasun Shanaka b Irfan 0 (2b)
Irfan returns and castles Kapugedera. SL 125-3, 17.1 overs.
Chamara Kapugedera b Irfan 2 (3b)
Dilshan completes his 12th T20 international fifty with a single. SL 125-2, 17 overs.
Malik strikes removing Jayasuriya who holes out to long-off. SL 117-2, 16 overs.
Shehan Jayasuriya c Sharjeel Khan b Shoaib Malik 4 (6b)
Chandimal once again throws it away dragging Riaz from almost outside off hitting straight to short midwicket. SL 100-1, 14.1 overs.
Dinesh Chandimal c Sharjeel Khan b Wahab Riaz 58 (49b 7x4 1x6)
Nawaz returns and Chandimal is in red-hot form clubbing him over the sightscreen for his second six. SL 110-0, 14 overs.
Chandimal completes a 43-ball 50, his second of the tournament while Dilshan swings Irfan for a boundary. SL 97-0, 13 overs.
Chandimal is turning it on getting two consecutive boundaries with a top edge past the keeper before slamming Riaz with a scorching off drive through the covers it while Dilshan caps with a sizzling square drive through point. SL 81-0, 11 overs.
Chandimal gets the better of Afridi punching him straight down the ground. SL 66-0, 10 overs.
Dilshan welcomes left arm spinner Nawaz by drilling him down the ground for a couple of boundaries punctuated by lofting him for the first maximum in successive balls. SL 44-0, 6 overs.
Eventful over as iAfridi comes into the attack with Irfan running back dropping a chance of Dilshan while Chandimal edges him past the keeper for a boundary. SL 26-0, 5 overs.
Chandimal has thumped Irfan through the covers for a boundary. SL 19-0, 4 overs.
Dilshan finally middles one dragging Amir from almost off to pull to leg for a boundary. SL 13-0, 3 overs.
Chandimal shows he is the batsman in form hitting the first boundary of the match with a crunching off drive. SL 6-0, 1 over.
Afridi has won the toss and put Sri Lanka into bat in the final league match of the Asia Cup on Friday.
Sri Lanka are led by Chandimal with Dickwella coming in for Mathews.
Pakistan have left out Manzoor, Sami and Anwar Ali. In come Mohammad Nawaz, Imad Wasim and Iftikhar Ahmed.
Pakistan: Sharjeel Khan, Mohammad Hafeez, Iftikhar Ahmed, Sarfraz Ahmed, Umar Akmal, Shoaib Malik, Shahid Afridi, Mohammad Amir, Wahab Riaz, Mohammad Irfan, Mohammad Nawaz (3)
Sri Lanka: Dinesh Chandimal, TM Dilshan, Shehan Jayasuriya, Niroshan Dickwella, Chamara Kapugedera, Milinda Siriwardana, Dasun Shanaka, Thisara Perera, Nuwan Kulasekara, Rangana Herath, Dushmanta Chameera

Preview
Pakistan and Sri Lanka will be aiming to bounce back when they clash in the final league match of the Asia Cup T20 at Sher-e-Bangla Stadium in Mirpur on Friday after being knocked out by hosts Bangladesh who face top-ranked India in Sunday's final.
Sri Lanka's stand-in T20 captain Angelo Mathews and Pakistan's mercurial all-rounder will be hoping their batsmen come good in their final outing.
Both teams are likely to test their bench strength in an attempt to search for answers ahead of the World Twenty20 after their dismal performance which saw them being stretched even by minnows UAE.
After restricting Sri Lanka to 129-8, UAE came within 14 runs of the target while Pakistan coasted to a seven-wicket after being reduced to 17-3.
Against Bangladesh, Sri Lanka were restricted 124-8 chasing 148 for victory while Pakistan suffered a five-wicket defeat after a horror 18th over from Mohammad Sami.
The results put a dampener on what should have ideally been a semi-final clash between Sri Lanka and Pakistan although Bangladesh did not surprise pundits by outplaying two higher-ranked teams who are facing a crisis of confidence especially when it comes to batting.
There seems to be no quick-fix solutions with the World T20 starting soon after the Asia Cup.
"You can't keep losing, it's difficult to digest," said Angelo Mathews after India knocked out them out of the Asia Cup.
"We haven't played our best yet and the most worrying thing is that we haven't clicked as a batting order. So close to the World Cup, we have to connect the dots."
The absence of regular T20 captain Lasith Malinga who has been sitting in the dug out after playing against UAE has been a blow for Sri Lanka.
His chances of taking the field on Friday remain slim.
Pakistan's batting concerns were aired by Azhar Mahmood, their bowling coach, on the eve of the Sri Lanka game.
"Our bowling has bailed us out on a few occasions, but if we bat like this, we can't win. Our openers (Khurram Manzoor and Sharjeel Khan) are making comebacks, so they are under pressure, and the pitches have been tough.
"If we had adapted well to these conditions, it would have been good, because the pitches in India should be better for batsmen. Coaches can plan and talk, but the players have to go out and do the work."
Apart from the openers, Mohammad Hafeez is also struggling.
Umar Akmal, Shoaib Malik and Sarfraz Ahmed have been among the runs but not consistently.
Asked to specify the problem with the Pakistan batting, Mahmood pointed to the fear of failure as being a possible reason.
"It's all about confidence. If you have a big heart, you can perform well. I also think the batsmen are playing with fear; they are not playing the ball on merit," he said.
"We have been playing badly, but it doesn't mean we can't play well. I don't think we should make major changes. Chopping and changing doesn't help the players. We won't deny that there are problems. We have made mistakes. But there is no magic wand. We have to keep working hard, and results will come eventually."
Though there may not be much at stake, Friday's game would do a world of good for the side that wins as they head to prepare for the World T20.
Teams (from)
Pakistan: Shahid Afridi (capt), Anwar Ali, Iftikhar Ahmed, Imad Wasim, Khurram Manzoor, Mohammad Amir, Mohammad Hafeez, Mohammad Irfan, Mohammad Nawaz, Mohammad Sami, Sarfraz Ahmed, Sharjeel Khan, Shoaib Malik, Umar Akmal, Wahab Riaz.
Sri Lanka: Angelo Mathews (capt), Dushmantha Chameera, Dinesh Chandimal, Niroshan Dickwella, Tillakaratne Dilshan, Rangana Herath, Shehan Jayasuriya, Chamara Kapugedara, Nuwan Kulasekara, Lasith Malinga, Thisara Perera, Sachithra Senanayake, Dasun Shanaka, Milinda Siriwardena, Jeffrey Vandersay.
Pride
Former Sri Lanka first class cricketer Presley Polonnowita feels since this is a dead rubber, both the teams should play with pride.

"What I saw during full tournament they (Sri Lanka) were just playing their own game rather than thinking of the team and their country. Even Pakistan team if you saw how they played yesterday (against Bangladesh), I think they were not really Pakistan," he said.
"Pakistan's game was always free and fearless. That's how they play their cricket. They are very brave in their approach. If you see their match against India and Bangladesh, they played like they were in a shell. They want to prove something but they have that extra pressure pressure of proving something. Then you will confine to yourself, rather than looking at the team's requirment or be free," he said.
"T20 cricket is always entertainment and try to be free. You just go with the flow. It was not happening with the Pakistan team," he added.
"Pakistan and Sri Lanka both can bounce back. You can't say this team is bad or this team is good. If you remember how Sri Lanka played first match against India in their tour (Sri Lanka won). The way we played then and now in Asia Cup there is a big difference. In T20 anything can happen," said Polonnowita who is head coach of Desert Cubs Cricket Academy.
Bowling attack
Another Sri Lanka fan Aaron Vedhasinghe said the batting has to click otherwise even the best bowling attack would not be able to defend it.
He also felt Sri Lanka's new find Dushmantha Chameera should bowl in the Powerplay.
"If you look at all matches, everyone has got wickets bowling fast bowlers in first six overs," said Vedhasinghe, Director of Sports Services Walk Ahead.
Asked whether there should be changes in the side before the World T20, he urged for patience since the team is in transition and have a new coach.
"Graham Ford has not been given enough time. He has just come in. This (Asia Cup) will give him a bit of perspective and World Cup is not that far. Still it's going to be very challenging facing teams like England, South Africa and Australia. We will have a tough time but you never know in T20 format anyone can change things around," he said.
Injury
Injury to regular captain Lasith Malinga is a major concern.
"We lost against Bangladesh because Malinga did not play. Pakistan have a very good bowling unit. I don't think we can win in this situation because we don't have batsmen who can give us an explosive start," said Rukmal, elder brother of former Sri Lanka all-rounder Chaminda Vaas.
Sri Lanka are feeling the absence of dashing opener Kusal Janith Perera who is serving a ban after testing positive, said Rukmal Vaas, one of the coaches at Vaas Victoria Cricket Academy in Sharjah.
"We need an experienced campaigner like (Lahiru) Thirimanne in the opening slot. He was the man of the series in the last Asia Cup. Opening is an important specialist position. (Dinesh) Chandimal has never opened in any format. It is like pushing a new player into the sea," said Vaas alluding a sinhala proverb.
Tough
Sri Lanka have pushed Chandimal up the order to partner veteran Dilshan to fill Perera's void.
Sri Lankan fans in Dubai are saddened by the performance of the national team in the Asia Cup and feel they will have a tough time in the World Twenty20 as well.
We have a new look side. They need time to settle and to gain experience after that maybe they will play well said Shalani Wanniarachchi, who has UAE women's cricket team.
W have to review performance of those who have failed throughout and give those on the fringe a chance. Our batting is weak but bowling good. There is nobody in the middle order nobody while we don't have good opening like the days of Dilshan and (Upul) Tharanga.
Afridi
However, those pinning blame on Afridi for Pakistan's may be disappointed to hear that there won't any changes in leadership before the World T20.
Pakistan Cricket Board (PCB) Chairman Shaharyar Khan said on Thursday that Afridi would remain as captain until the end of the upcoming World T20 despite a disastrous exit from the Asia Cup.
"I promised Shahid Afridi that he will be retained as Pakistan captain until the end of the World T20," said Khan in a press conference at the Gaddafi Stadium, Lahore.
However, the PCB chief hinted at the possibility of changes in the national side as well as the team management before the World T20.
"I should be held responsible for the team's poor performance as well," Khan said, calling for accountability within the PCB.
Shaharyar revealed that he had expressed dissatisfaction over the inclusion of several players in the Pakistan squad for the Asia Cup and World T20 - but the final decision had to be taken by the selection committee.
"The selection committee took decisions after the input of the captain and the coach."
Captaincy
Another Pakistan cricket fan Waseem Akhtar also criticised Afridi's captaincy and his contribution to the team.
Afridi's captaincy plus his own performance has not been good for quite a long time now. He hasn't delivered because as a captain he should be leading from the front he said.
He echoed the sentiments of another Pakistan legend Javed Miandad who slammed the Pakistan T20 skipper after its meek surrender against India.
"How can you have a player who is not reliable. Afridi lost his place in the side a long time ago," Miandad was quoted as saying to a private news channel.
"How you can expect to win or make your cricket better when a player who has stopped being a reliable performer is your captain," he added.
Khurram Manzoor does not deserve to be in T20. Maybe other formats but he is not a T20 player.
They can bring Imran Nazir. I strongly recommend they drop Manzoor
Another Pakistani Fahad Usman concurred that Manzoor should be dropped and Ahmed Shehzad be recalled to the side.
Mismanagement
Dubai-based Pakistanis blamed everything from politics to nepotism to mismanagement for the failure of the team at the Asia Cup.
"The whole team management which is involved with political parties in Pakistan should go. This problem will never be solve unless sports in our country is separate from politics because everybody involved with running Pakistan cricket are political appointees," said Kamran Awan incensed by Pakistan's performance.
"Our coach Waqar Younis should be removed. What has Afridi done? He wants to continue playing for Pakistan without performing. This is a joke." he added.
He echoed the sentiments of legendary Pakistan cricketer Imran Khan who reiterated the need to make appointments in the Pakistan Cricket Board (PCB) on merit.
Khan felt the country's cricket team has "enough talent" but there was a need to get the team combination right.
"Pakistani cricket fans anger at unceremonious exit of Pakistan team From T20 Asia Cup is understandable as our nation is oozing with talent," Khan, who captained Pakistan to the World Cup victory in 1992, tweeted.
"This talent can only be polished if PCB becomes an institution built on merit, (including) selection of its head purely on merit," Khan, now a politician, was reported as saying.
"But how can we expect (Prime Minister Nawaz Sharif) to select PCB chief on merit when all (organisations) are being headed by people rewarded for services to Sharifs."
Another Dubai-based Pakistani Kashif Raza said he hardly watches cricket because he knows Pakistan will not perform to expectations.
"This Pakistan team does not have the potential so it's not a question of performing below. They are not playing at all. There are a few good experienced players but they are also not giving 100 per cent. The team selections are also a joke. How can you select a player (Sharjeel Khan) just because he scored one century. Did he perform in Bangladesh?," he said.
Follow Emirates 24|7 on Google News.