Pakistan want spot-fixing scandal forgotten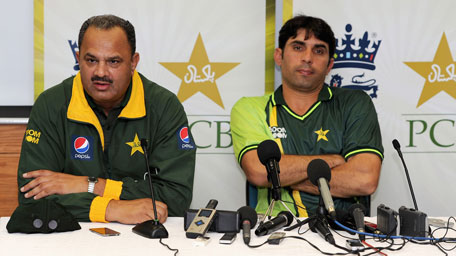 Pakistan cricket captain Misbah-ul Haq on Tuesday stressed the need for forgetting the 2010 spot-fixing scandal when his team take on England in the first of three Tests in Dubai next week.
The Pakistan captain got the first taste of how the series - the first between the two countries since the scandal - will be seen during his press conference after arriving in Dubai on Monday.
The scandal, related to the bowling of deliberate no-balls during the Lord's Test against England, ended in jail terms for then captain Salman Butt, Mohammad Asif and Mohammad Aamer.
When asked about the scandal, a visibly upset Misbah said: "That's the past, we don't get into that. I am only focusing on what we can do on the ground. I think everybody knows in both teams that we just have to forget the past."
Since the scandal, the Pakistan Cricket Board (PCB) has implemented a strict code of conduct for the players and introduced anti-corruption courses for both international and domestic cricketers.
Misbah said corruption in Pakistan cricket was no more a concern.
"It's not an area of concern for me. Our area of concern is to play good cricket, fair cricket, and that's what we can do," said Misbah, under whom Pakistan have not lost a Test series since the spot-fixing scandal.
And since he replaced Shahid Afridi as one-day captain, Misbah has led Pakistan to wins over Ireland, Zimbabwe, Sri Lanka and Bangladesh.
Misbah said the credit goes to the players.
"I think the credit goes to the team and all the players after that difficult time," he said. "They just wanted to collect their thoughts and prove to the world that we are good players, a good team, and I think they just proved it.
"They are really focusing on their cricket and making my job easier. The players are ready to give their hundred percent and we are concerned with the present and future, not about the past."
Misbah said the series against England will be played in good spirit.
"Our target is just to play cricket in the true spirit ... good relations, and play really good and hard cricket," he said.
Misbah also praised his off-spinner, Saeed Ajmal, who took 50 Test wickets last year.
"Ajmal is a fine bowler and has a lot of variations but we are not depending on him only," said Misbah of Ajmal, who has promised to use a surprise delivery against England.
"England will have to explore themselves. Let's see how England's batsmen tackle it. That's a secret."
England, who earned a hard-fought three-wicket win against an ICC Combined IX here on Monday, take on a PCB XI in another three-day game from Wednesday.
The first Test starts on January 17. Both teams will also play four one-day and three Twenty20 internationals.
Follow Emirates 24|7 on Google News.