Pietersen 'so sad' after England career ends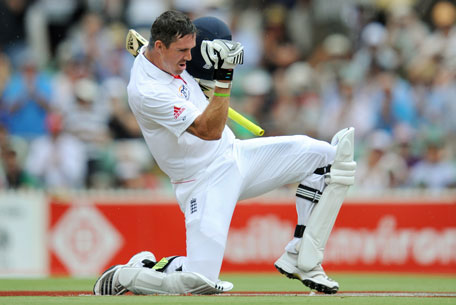 Former England batsman Kevin Pietersen expressed sadness over the end of his international career on Wednesday and said that he was "incredibly overwhelmed" by the support he had received.

The 33-year-old's days as an international cricketer came to an end on Tuesday when the England and Wales Cricket Board (ECB) announced that it had "unanimously" decided to move forward without him.

With England due to name their squads for the forthcoming tour of the West Indies and the World Twenty20 on Thursday, the ECB's new managing director, Paul Downton, elected to make a decisive call on Pietersen's future.

Pietersen posted a picture on photo-sharing website Instagram of himself leaving the field after his final Test match against Australia in Sydney during England's recent 5-0 Ashes defeat.

He wrote: "So sad that this will now be the last time I leave a field in an England shirt.

"Incredibly overwhelmed by the support overnight! Thank you so much. I love England and I honestly hope they have every success in the future."

Meanwhile, Pietersen's wife, British pop star Jessica Taylor, took to Twitter to criticise former England bowler Dominic Cork for claiming that Pietersen had clashed with captain Alastair Cook during the Australia tour.

"Dominic Cork - there was no 'squaring up' to Alastair Cook or 'off-field antics' in Australia - you are lying, plain & simple," she wrote.

She later added: "Regurgitating rumour & spinning it as fact is not what I'd call responsible journalism. The public deserve so much better - the truth."

Cork had told Sky Sports News that there was "nearly a dust-up, a fight" between Pietersen and Cook, but former England captain Michael Vaughan rubbished his claims.

"With the way England were playing I am sure players had lots of strong debate in the Dressing Room," Vaughan wrote on Twitter. "But squaring up??? #Nonsense."

With 13,797 runs to his name, Pietersen bows out as England's all-time leading scorer across all formats of the game.

However, his outspoken personality and on-pitch single-mindedness made him a polarising figure, with former England players divided in their reactions to the news of his axing.

Vaughan wrote in the Daily Telegraph that Pietersen's sacking was "preposterous", but former fast bowler Bob Willis said that he had "disrupted every single dressing room he's been in".

Pietersen's one-time adversary Shane Warne, the former Australia spinner, branded the decision to end his international career "a disgrace".

"I also just heard the sad news re KP that he has played his last game for England, to me it's a disgrace & a joke! The ECB is in a shambles," Warne wrote on Twitter.

While former team-mate Matthew Hoggard accepted that Pietersen was not the most popular member of the England camp, he felt that a way to harness his flamboyant talents should have been found.

When it was put to him that Pietersen had no friends within the England squad, Hoggard told BBC Radio 5 Live on Wednesday: "I'm sure that not the case. I'm sure there's one or two.

"But they're team-mates; you don't have to be friends to play cricket together."

Speaking on Tuesday, Pietersen said that the end of his England career was something that he would "deeply regret", but vowed that he would continue to play domestic cricket.

Pietersen's exit is the latest chapter in the damaging fall-out from the Australia tour for England, after head coach Andy Flower resigned, spinner Graeme Swann retired, and batsman Jonathan Trott had to leave the squad with a stress-related illness.
Follow Emirates 24|7 on Google News.