Rain thwarts Lanka in third ODI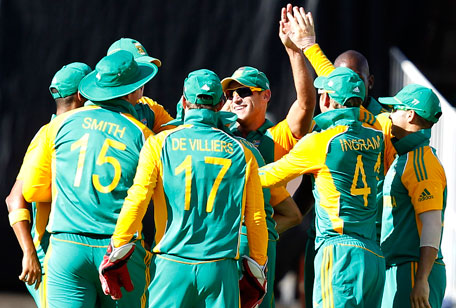 Francois 'Faf' du Plessis made the top score and pulled off a spectacular run out as South Africa clinched a series victory in the third one-day international against World Cup finalists Sri Lanka at Chevrolet Park in Bloemfontein on Tuesday.
Mainly due to Du Plessis making 72 off 74 balls, South Africa were four ahead of the Duckworth/Lewis par score when rain stopped play.
The home side were on 179 for five after 34 overs in reply to Sri Lanka's 266 for nine and the result gave South Africa a winning 3-0 lead in the five-match series and extended the tourists poor run to six successive one day defeats.
Run outs played a crucial role in both innings.
Sri Lanka made a competitive total but it might have been considerably higher if their two star batsmen, Kumar Sangakkara and Mahela Jayawardene, had not been run out, both by direct hits.
Upul Tharanga (58) and captain Tillakaratne Dilshan (33) put on 94 for Sri Lanka's first wicket.
Sangakkara, batting at number three, looked set to take full advantage of the good start on an easy-paced pitch as he stroked his way to 38 off 37 balls.
But Sangakkara fell to a superb piece of fielding by Du Plessis, who dived far to his left at backward point to stop a cut by Dinesh Chandimal, then hit the stumps at the batsman's end with Sangakkara stranded after the batsmen hesitated.
Jayawardene was run out for 15, four balls into the batting powerplay in the 36th over, when he was sent back by Chandimal, slipped as he turned and could not recover to beat an accurate throw from Colin Ingram at mid-off.
"Mahela's and Sanga's run outs cost us 20 runs," said Dilshan, who added that some sloppy fielding by his team had cost another 20 runs when South Africa batted.
Lasith Malinga made two early strikes in the South African innings, bowling Graeme Smith and Colin Ingram, and South Africa slumped to 52 for three when Alviro Petersen missed a reverse sweep and was leg before wicket to Dilshan.
Du Plessis and JP Duminy put on 61 in a fourth wicket stand marked by aggressive running between wickets before Duminy fell to a direct hit by Nuwan Kulasekera from mid-off.
Du Plessis went to a career-best score before he became another run out victim, with Angelo Mathews making a quick pick-up and throw from cover.
Rain started to fall in the 33rd over, at the end of which South Africa were one behind according to the Duckworth/Lewis method.
Dilshan brought Malinga back into the attack but the unorthodox fast bowler conceded eight runs to South African captain AB de Villiers and Albie Morkel before the rain intensified and play was halted.
On a pitch which offered no assistance to the bowlers, Tharanga and Du Plessis were the only batsmen to achieve half-centuries.
The left-handed Tharanga dominated the opening stand with Dilshan and reached a stylish 50 when Dilshan, who failed to score in the first two matches, was on 18. Tharanga made his 58 off 65 balls with five fours and two sixes.
Dilshan, who had less of the strike during the partnership, scored 33 off 49 balls with two fours.
Despite senior batsmen Hashim Amla and Jacques Kallis having been released from the South African squad, Du Plessis was promoted to number four in the South African order as part of a rotation policy with De Villiers and Duminy.
He responded with some crisp strokeplay in an innings which included seven fours. He was suffering from cramp towards the end of his innings which he admitted contributed to him being run out.
De Villiers said he would have preferred the match to have gone the distance.
"I thought we were in a good position although the game was in the balance," he said.
The fourth match is in Kimberley on Friday.
Scoreboard
Sri Lanka innings
U.Tharanga c Ingram b Peterson 58
T.Dilshan c Steyn b Duminy 33
K.Sangakkara run out 38
D.Chandimal c Smith b Morkel 36
M.Jaywardene run out 15
K.Kulasekara b M. Morkel 40
A.Mathews c Peterson b Tsotsobe 15
N.Kulasekara run out 19
L.Malinga b Steyn 2
H.Herath not out 1
Extras (b-1 w-7 nb-1) 9
Total (for nine wickets, 50 overs) 266
Did not bat: D. Prasad
Fall of wickets: 1-94 2-102 3-154 4-183 5-192 6-220 7-259 8-262 9-266
Bowling: M.Morkel 9-0-65-2, Tsotsobe 10-0-40-1 (2w), Steyn 10-9-55-1 (1w), Duminy 5-0-26-1 (1w), A.Morkel 2-0-9-0 (1w), Peterson 10-0-45-1 (1nb 1w), Du Plessis, 4-0-25-0 (1w)
South Africa innings
G.Smith b Malinga 2
A.Petersen lbw b Dilshan 17
C.Ingram b Malinga 13
F.du Plessis run out 72
JP Duminy run out 25
AB de Villiers not out 39
A.Morkel not out 7
Extras (lb-2 w-2) 4
Total (for five wickets, 34 overs) 179
Did not bat: R.Peterson, D.Steyn, M.Morkel, L. Tsotsobe
Fall of wickets: 1-14 2-29 3-52 4-113 5-147
Bowling: Malinga 5-1-20-2 (2w), Kulasekara 6-0-31-0, Prasad 5-0-35-0, Herath 6-0-24-0, Dilshan 5-0-22-1, Kulasekara 3-0-21-0, Mathews 4-0-21-0
Result: South Africa won by four runs (Duckworth/Lewis method)
Follow Emirates 24|7 on Google News.