Reitiring Pakistan captain vows to give all for World Cup win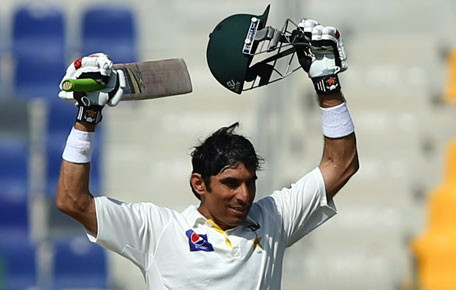 Retiring Pakistan captain Misbah-ul Haq vowed Tuesday to roll back the years and lead his team to victory in the World Cup starting in Australia and New Zealand next month.

Misbah, 40, on Sunday announced he would quit the one-day game after the mega-event in February and March.

He is one year older than Imran Khan was when Pakistan won its only World Cup in 1992, an event also held in Australia and New Zealand.

"For me it will be a big motivation to give whatever I can, whether it's physical, mental or skill-wise to finish on a high and do what the 1992 Pakistan team did - win the World Cup," Misbah told reporters.

Pakistan start their campaign with a highly-charged opening game against arch-rivals and title-holders India.

They also face the West Indies, Zimbabwe, the United Arab Emirates, South Africa and Ireland in Group B, with the top four teams from two groups progressing to the quarter-finals.

Misbah said his players were "focused and determined" and he was confident they would adjust to the fast and bouncy Antipodean pitches.

Misbah became Pakistan's most successful Test captain with 15 wins last year, and has vowed to continue in the longer format.

He has also led Pakistan in 78 one-day internationals with 41 wins, 34 losses and three ties or no results.

Pakistan Cricket Board chairman Shaharyar Khan paid tribute to Misbah.

"We respect Misbah's decision to retire," Khan told reporters. "It's sad that a player of his calibre will leave one-day cricket.

"A mature and decent player like him is hard to find."
Follow Emirates 24|7 on Google News.