S Africa v Pakistan 2nd T20: Pak bounce back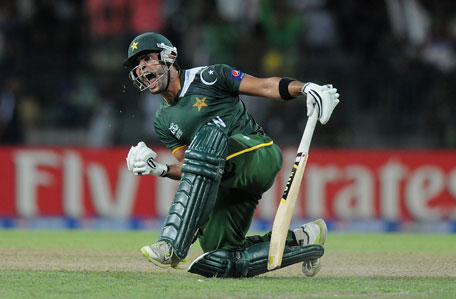 Pakistan bounced back with a vengeance after being drubbed 3-0 in the Test series by winning the T20 international against by 95 runs at Centurion on Sunday.

Chasing a target of 196, South Africa were bowled out for their lowest total of 100 which was lower than the 114 made against Australia in 2005.

Pakistan took the two-match T20 series 1-0 with the first match in Durban on Friday being abandoned without a ball being bowled because of rain.
South Africa's innings crumbled despite a blazing start from AB de Villiers who smashed 36 off 22 balls with four boundaries and two sixes.

Pakistan skipper Mohammad Hafeez cracked a brilliant 86 off 65 balls to lay the platform for victory after electing to bat first.
Together with Ahmad Shehzad (44), Hafeez figured in a second wicket partnership of 83.
Pakistan were set to get a total in excess of 200 but lost four wickets in the last four overs including Hafeez.

South Africa's innings unravelled during a sensational opening over by Umar Gul (below) who claimed three wickets in five balls.
Shehzad took a brilliant catch in the next over to dismiss Behadrdien off Gul.
Gul fittingly claimed last man Kyle Abbott caught by Umar Akmal in the deep to equal his career-best figures of five for 6 from 2.2 overs.
The match was as good as over with South Africa reeling at 53 for six after 6.1 overs.
Rory Kleinveldt hit a defiant 22 off eight balls with three sixes, including two in succession off Hafeez, and a boundary with some lusty hits to bring some respectability to the South African total.

Man of the match Hafeez had the last laugh when he dismissed Kleinveldt and Peterson off successive deliveries to finish with three for 25.
"Nothing went to plan. Mainly because of two things - Hafeez played a brilliant innings and our bowling didn't work to a plan. But our bowling did well in the last five overs to keep Pakistan to what we thought was a manageable total. Pakistan are a dangerous team," said South African captain Faf du Plessis.
Hafeez gave credit to the coaches for his knock. "They really worked hard with me. I knew I was only one knock away. The mindset was clear and it was to play positive cricket. Everything I did, it worked for me today," he said.
"The team was eager to perform as we didn't have a good time in Tests. Umar showed the way with brilliant bowling as he is the senior bowler," added Hafeez who felt this comeback victory would inspire them in the one-day series.

"Our mindset was clear, we had to be positive. We were eager to perform well because we didn't have a good time in the Test matches," Hafeez said as he accepted the man-of-the-match award.

Hafeez produced a particularly aggressive innings, flaying the South African attack with four sixes as he became the first Pakistani past 1,000 runs in international T20 cricket.

He also took three wickets in South Africa's reply but his contribution came after Gul, the leading wicket taker in T20 internationals, had decimated the home batting.

Gul took 4-4 in his first two-over spell as three of his victims fell first ball.

Opener Ahmed Shehzad also produced a noteworthy contribution with 46 runs, followed by two outstanding catches at third man.

Friday's opening Twenty20 in Durban was rained off.

Pakistan and South Africa next play a five-match one-day international series, starting in Bloemfontein next Sunday.

SOUTH AFRICA INNINGS

South Africa are 100 all out in 12.2 overs chasing a target of 196 in the second Twenty20 international against South Africa in Centurion on Sunday.
South Africa are in danger of being out for the lowest T20 total of 114 made against Australia in 2005.
Gul has excellent figures for 4 for 4 from two overs.

Ahmad Shehzad at point takes a brilliant diving catch to dismiss Behardien for a first ball duck as Gul picks up fourth wicket.
South Africa are reeling at the end of the Powerplay overs having lost half the side for 53 despite a blazing start by AB de Villiers.

Irfan has perhaps struck the deadliest blow as he bowls AB de Villiers off an inside edge for 36 off 22 balls, a knock which contaned four boundaries and two sixes.
Umar Gul has sensational figures of 3 for 3 after one over.

Gul has struck for the third time in five balls as Justin Ontong is trapped leg before.
Gul's double strike has South Africa reeling at 50-3 in the fifth over as Morris goes for a duck caught by Ajmal at third man.
Umar Gul strikes with his second delivery as Faf du Plessis departs for 6 off four balls caught behind Kamran Akmal after a bit of a juggle.

AB de Villiers finishes the fourth over with another spectacular hit which goes for a boundary to fine leg.

AB de Villiers has hit Junaid Khan into the sky but the ball goes once bounce into the boundary.

AB de Villiers has virtually hit Mohammad Irfan out of the attack with a spectacular six to fine leg after having slammed two boundaries earlier in the third over of the innings.

PAKISTAN INNINGS

Afridi lofts the first ball of the last over from Abbott to the boundary.
Tsotsobe fails to prevent a boundary next ball.

Afridi hammers a boundary to long on off Kleinveldt in the 19th over.

South Africa bounce back with a good over from Morris who concedes only three runs and takes the wicket of Kamran Akmal in the 18th over.

Malik is out two balls later caught at third man by Miller in the 17th over.
Hafeez's brilliant innings comes to an end in a freakish manner after having hit a boundary off
Kleinveldt but only to find that he had gone back too far and dislodged the bails with his back foot.
Hafeez made 86 off 51 balls hammering nine boundaries and four sixes during his blistering knock.

Shoaib Malik cuts Abbott to the third man boundary in the 16th over.

Umar Akmal is caught by Faf du Plessis off Morris for 11 off six balls after having added 43 runs in 21 balls with Hafeez for the third wicket.

Shehzad has glided Tsotsobe to the third man fence to bring up the 50 partnership for the second wicket with Hafeez in 31 balls.

Shehzad has virtually swatted Kleinveldt to midwicket for another boundary in the eighth over.

Hafeez gets another boundary off Kleinveldt at backward square leg with two fielders failing to prevent it from rolling onto the rope.

Hafeez has hit two consecutive boundaries off Robin Peterson, including a massive straight six over the bowler's head.

Shehzad has hoisted Morris into orbit for a towering six and then shuffled across to flick him to the fine leg fence to bring up Pakistan's 50 after six overs.

Chris Morris into the attack to bowl the sixth over and Hafeez pulls the second delivery over mid wicket for his second boundary.

Hafeez turns a delivery from Kleinveldt to fine leg for his first boundary.

Rory Kleinveldt into the attack in the fifth over with Pakistan's run rate over 7.

South Africa miss a stumping opportunity twice after Shehzad charged down the wicket from the non-striker's end but managed to scramble back after Hafeez hesitated.

Jamshed is gone in the fourth over caught at midwicket by Ontong off Tsotsobe for a run a ball 13 with two boundaries.

Shehzad has thumped Abbott back over his head for his second boundary and then swung him over square leg for the first six of the match in the third over.

Chris Morris makes a fine stop at mid off to prevent Jamshed from hitting a boundary but there is no stopping the left hander who slams the next one to the mid wicket fence.

Ahmed Shehzad has cracked the second ball he faced from Lonwabo Tsotsobe to third man for his first boundary.

Nasir Jamshed has opened Pakistan's account driving the the third delivery from Abott to the mid wicket boundary.

Debutant Kyle Abbott opens the attack to Naisr Jamshed.

Pakistan have won the toss and elected to bat first in the second Twenty20 international against South African at Centurion on Sunday.
The first match in Durban on Friday was washed out.
South African skipper Faf du Plessis said after the toss he wanted to bowl first and they should watch out for Kyle Abbott.
Teams
South Africa: AB de Villiers, H Davids, F du Plessis (captain), JL Ontong, F Behardien, DA Miller, KJ Abbott, CH Morris, RK Kleinveldt, RJ Peterson, LL Tsotsobe
Pakistan: Nasir Jamshed, Ahmed Shehzad, Mohammad Hafeez (captain), Umar Akmal, Shoaib Malik, Shahid Afridi, Kamran Akmal, Umar Gul, Saeed Ajmal, Junaid Khan, Mohammad Irfan

Follow Emirates 24|7 on Google News.