SA v Pak 1st Test: Pakistan face tall order after Steyn blitzkrieg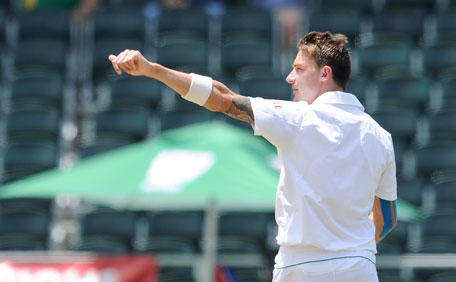 South Africa's pace ace Dale Steyn produced one of the fiercest spells of fast bowling seen to tear through the Pakistan batting and reduce the visitors to their lowest Test score, though the man himself considers he is just part of a nicely balanced attack.

Steyn bagged figures of six for eight as the Proteas dismissed Pakistan for 49 on day two of the first Test at the Wanderers on a wicket that although helpful to the seamers, was certainly no minefield.

South Africa were 207 for three at the close, a lead of 411.
AWAIT 'LIVE' CRICKET SCORE OF THIRD DAY:
RECAP OF FIRST AND SECOND DAY'S ACTION

It is the third time in two seasons South Africa have bowled another team out for under 50, a run of success last achieved by England 125 years ago.

South Africa also skittled Australia for 47 at Newlands in Nov. 2011, and New Zealand for 45 at the same ground last month.

The attack, led by Steyn, is drawing comparisons with the venomous West Indies pace battery of the 1970s and 1980s.

Pakistan coach Dav Whatmore said he had never seen such ferocity from fast bowlers as Steyn, Morne Morkel and Vernon Philander left his batsman unable to score runs and powerless to keep hold of their wickets.

"I have never seen two hours of such relentless attack, it was incredible pace bowling," Whatmore, who was born in Sri Lanka and represented Australia, told a news conference.

"Most of our batsman were out to terrific balls. I think we scored something like 34 runs in the first session? It is unheard of."

Whatmore had special praise for Steyn, who he said was nearly unplayable.

"His pace and skill on this pitch is what makes him so special. I am obviously unhappy with the result of today, but there were reasons for it. It was incredible bowling," he said.

Steyn played down his performance, saying the whole team had responded to a dressing-down from captain Graeme Smith after they were bowled out for 253 on Friday.

"Graeme sat the guys down this morning and said he wanted a 100 percent day from us. He felt we didn't give that yesterday," Steyn said. "We don't have to have many of these chats so I think it had a hand in our performance."

The world's number one fast bowler said after his initial success in removing three of Pakistan's top order, he returned to find he could extract even more out of the pitch to clean up the tail.

"I think the ball actually swung a bit more as it got older, and the wicket assisted it also. It was a great effort from all the bowlers, even Morne, who didn't get a wicket, was hitting the gloves and bowling really well," he said.

Steyn said Smith's decision to bat again instead of enforcing the follow-on had nothing to do with giving the bowlers a rest.

"We just felt we wanted to put Pakistan completely out of the game. The pitch is easier to bat on in the afternoons so we wanted to take advantage of that," he said.

Steyn's on-field persona is one of aggression, but off it he is a laid-back surfer who does not enjoy the attention.

"I just want to do well for my country and for the team, we are pushing to create something really special," he told reporters. "When this team puts its mind to it, we feel like anything is achievable."

Although he refuses to be drawn on comparisons between himself and the West Indian and Australian fast bowlers of the past, statistics are in his favour.

When he reached 300 Test wickets against New Zealand last month in his 61st match, he was the third fastest bowler in Tests to do so after Muttiah Muralitharan (58th) and Dennis Lillee (56th).

Of players with 300 or more Test wickets, no-one has a better strike-rate than Steyn's of a wicket every 41 balls.

But what makes him certainly the best quick of his generation is not just his pace, but the ability to get the ball to do what he wants.

His career best figures came in India when he took seven for 51 in Nagpur on a flat wicket in 2010.

The conditions were not suited to him, but when the wicket offers little pace, he turns to swing, bounce and seam movement.

"When it is coming out nicely then speed becomes less important because you just let the ball do the work," he said.

"A couple of years ago I was conscious of strike rates and always wanted to take wickets to lead the attack. This attack is led by everyone.

"Morne Morkel has opened the bowling on a number of occasions and Vernon has stepped in and stood up to the plate.

"Jacques Kallis is a legend in his own right and we have had some good spinners.

"We are enjoying our cricket and that helps you to be successful. As long as the team is winning that is the most important thing."
Follow Emirates 24|7 on Google News.