Sachin the source of Yuvraj's inspiration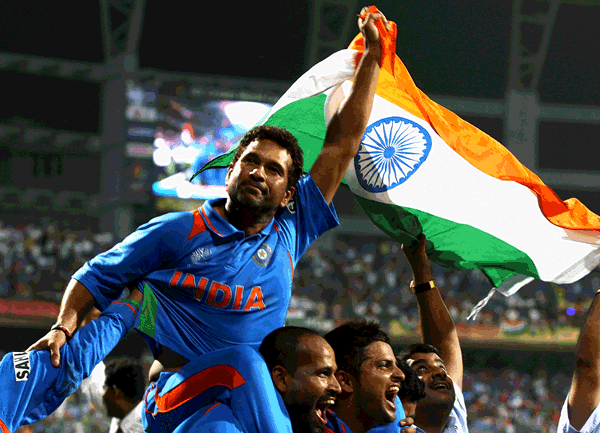 India all-rounder Yuvraj Singh ended a nationwide guessing game by revealing the identity of the driving force behind his World Cup heroics - Sachin Tendulkar.
After steering India to a World Cup quarter-final victory against champions Australia with an impressive all-round display, Yuvraj hinted there was a special person in his life inspiring his fine form.
He refused then to reveal the identity of the person concerned but promised to reveal all if India made it to the final where on Saturday they defeated Sri Lanka to win the world title.
"I'm very sorry to disappoint you guys. It was not for my girlfriend but for Sachin Tendulkar," said Yuvraj.
Yuvraj was echoing the wishes of millions of India fans, who'd been desperate for 37-year-old star batsman Tendulkar to fulfil his dream of winning a first World Cup title at his sixth, and probably last, attempt.
But Tendulkar was not the star of this show, with Yuvraj topping India's tournament batting averages with 362 runs at 90.50 including a century and four fifties.
He also collected 15 wickets with his left-arm spin at a respectable 25.13 apiece.
Not that long ago the 29-year-old Yuvraj, who ended the final on 21 not out after taking two wickets for 49 runs, was out of the India side and struggling for fitness and runs.
"Last year there were too many injuries and my form was not great," said Yuvraj.
"I was building in the (domestic) Ranji Trophy games and my form came at the right time."
Yuvraj, the son of ex-India international Yograj Singh, paid tribute to former India captain Sourav Ganguly and current skipper Mahendra Singh Dhoni for the influence they'd had on his career.
"When I started my career Sourav was the captain and he supported me a lot. When I went through ups and downs 'Mahi' (Dhoni) supported me.
"'Mahi' has been a great captain. Whatever he touches turns into gold."
Dhoni, named man-of-the-match in the final for a superbly paced unbeaten 91, said he always believed Yuvraj could be a game-breaker.
"What we wanted was to keep him going, as we know once he keeps going he goes throughout the tournament and his bowling also improves."
Follow Emirates 24|7 on Google News.