Sahara pull out of Indian cricket sponsorship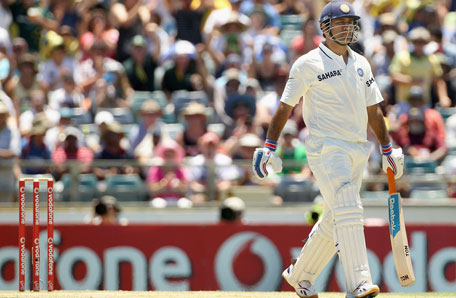 Sahara pulled out from sponsorship of the Board of Control for Cricket in India (BCCI) and the Pune franchise of the Indian Premier League (IPL) on Saturday.
IPL chairman Rajeev Shukla, also a senior member of the BCCI, said it was extremely unfortunate that Sahara decided to snap all ties with the board on the day of the IPL auction.
"It's unfortunate but we have not received any formal notice. But the show will go on. The marketing committee will take a decision. Dialogue will always continue," Shukla told reporters here during the break after the first phase of IPL auction.
The IPL chief executive said Sahara wanted flexibility in the rules, which they were denied.
"It would have been unfair on our part to accept their demands. It would be unfair to other franchises if we bend rules for one team," he said.
It ended more than a decade old association with the BCCI with Sahara citing instances where it has been denied "natural justice" in IPL.
"We really feel such one-sided emotional relationship cannot be dragged (out) any further. We are withdrawing from all cricket under BCCI," Sushanto Roy, managing director, Sahara Adventure Sports Limited, said in a statement.
Sahara's current sponsorship deal with the BCCI is worth at $719,000 per match and will end on December 31, 2013.
Sahara bid $370 million to become owners of the IPL Pune franchise in 2010. The company has also invested $100 million in Formula One team Force India for a 42.5 percent stake last year.
Following is the full text of the Sahara statement"
"Our association with Team India was primarily emotional and all along, the journey was indeed, a privileged one for the entire Sahara India Pariwar.
In 2001, cricket was not as rich but had become a religion in our country. We had requested the then BCCI president, Shri Jagmohan Dalmia to go for an open auction, for the Indian team's sponsorship inviting only interested Indian Corporates, since it was not right that it should go to some MNC. But for obvious, unavoidable reasons, BCCI did not accept that.
After 03 months, one fine morning, our honourable chairman was told that the sponsorship had gone to an MNC. Immediately, our chairman called Shri Dalmiaji and expressed his desire to take up the sponsorship. He responded quite positively and requested for a 10% increase in the price, which our hon'ble chairman immediately accepted.
Now after a 11-year journey as sponsors, we can say with surety that cricket has become very rich. Many rich people are there to support cricket with a strong will to do so. So, with absolute peace of mind we can exit from cricket under BCCI and are now exiting with a heavy heart. It was an emotional decision for us to start this sponsorship but our emotions were never appreciated and many genuine situations, were not given due consideration at all.
Our first entry into IPL was thwarted in 2008 when we were disqualified, owing to a small technicality on the whims and fancies of BCCI. Yet our Bid was not opened.
Last year, Sahara entered the IPL on the basis of information in the media and everywhere else that 94 matches will be played among 10 teams. The bid price was accordingly calculated, but only 74 matches were played. We are still pursuing continuously with the BCCI to refund the extra bid money proportionately. It has been denied on the basis of strict rules
In the interest of the tournament, we repeatedly tried our best to pursue the BCCI for open auction of all players so that we achieve level playing field and all teams are equally balanced from the quality players' point of view. Again, as per BCCI's strict rules it was denied and again, we were deprived of natural justice. 12 of the best players were retained by the existing teams then.
The two new teams then requested for allowing us at least one extra foreign player but that too was denied, quoting rules.
Once during a World Cup tournament, Sahara's name was not allowed because there was a clash of our Airline with a South African airline. In two major tournaments, the team had to play without the 'SAHARA' logo. It was ICC's decision so we could realize that it was for no fault of BCCI and we also did not want the players to suffer. As per the rules, we were not supposed to pay sponsorship money for those matches but we still paid the players share of the amount in entirety. Sadly, we never found BCCI believing in genuine give and take.
Furthermore, Yuvraj Singh, who is truly like one of our family members, is quite unfortunately, passing through a bad phase health wise, undergoing treatment for critical illness, overseas. Out of enthusiasm, he may like to come out on the ground after a few months. But any well-wisher who truly loves him, would never desire that he be allowed to play for the oncoming months. Our duty is to take care of him, so Sahara has decided to pay him his full fee this year with condition as a Guardian that his priority should be health care and he should not play till he has fully recovered.
We requested the BCCI on the basis of the fact that we have only one Indian marquee player, that we be allowed to add price of Yuvraj Singh in our auction purse, during the 4th February auction because we had later taken Sourav Ganguly at 0.4 million. Again, we have been denied on the basis of the rule book. Yet again, a case of being denied natural justice.
We think this peculiar situation of Yuvraj Singh is silent in the rule book because it probably talks only about players who are temporarily injured.
Incidentally, once during the Champion's League tournament, one of the Indian IPL teams had a lot of injured players so they were rightly, out of natural justice, allowed to break the rules and take one extra foreign player. We appreciated this natural justice.
We really feel such one-sided emotional relationship cannot be dragged any further. We are withdrawing from all cricket under BCCI/ However, we don't want to give any problem to the BCCI and we also feel that the players should not suffer.
BCCI will definitely take 2-4 months to get a new sponsor and we will continue paying the sponsorship money till then. All other IPL team players, coaches and other such associates will definitely get their due this year, in case they do not get a chance to play.
For this, our humble request once again to the BCCI is that through the right process and with strict rules/regulations, they should pass on our team to some other interested party immediately. We expect at least this much of our humble request will kindly be accepted after 12 years of our productive relationship with the BCCI.
We however, pray to the Almighty and sincerely hope & wish that Indian cricket attains greater heights of achievement & glory in the years ahead."
Follow Emirates 24|7 on Google News.