Seven Seas ride on Hasnain ton to beat Interface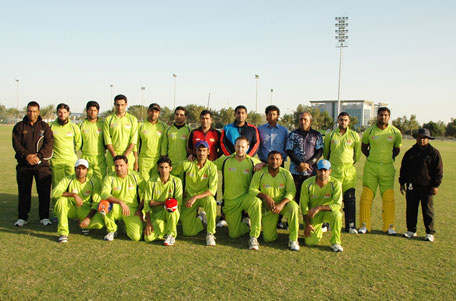 Hasnain Raza's belligerent unbeaten ton propelled Seven Seas Srikers to a 59-run win over Interface in the 50-over Dubai Cricket Council DCC 50 Overs Elite Cup at the Fair ground over the weekend.

Coming in at No. 3 after Interface had invited them to bat first, Raza grabbed the opportunity with both hands to plunder 14 boundaries in his 106-ball 114 and guide Seven Seas to a whopping 317 for 9 from their 50 overs.

Interface, despite an early setback, went about chasing the mammoth target in earnest with two of their batsmen getting half centuries and another two reaching their forties, but the task looked insurmountable once they departed and the rest of the batsmen just collapsed against some inspired bowling from Qadar Nawaz who bagged five wickets.

The match, however, belonged to Hasnain Raza who was in his element.

Once Waqas Mohd (20) and Gulam Shabbir (38) gave Seven Seas a good start, Raza carried on from there and never looked back.

Raza was involved in a 110-run fifth-wicket partnership with Noman Ali and with Qadar Nawaz (22), Kashif Rana (15) and Hazrat Hussain (13) playing cameos towards the end, Seven Seas simply cruised along to a comfortable total.

Adnan Arif (47) and Ramveer Rai (50) kept Interface in hot pursuit of their chase with a 92-run partnership for the second wicket.

Then Ibtisham (56) and Wasim Bari (42) carried on from there to keep the chase alive and put Seven Seas under pressure.

However, the departure of these two to Qadar Nawaz and a crucial juncture ended all hopes for Interface.

In another match of the DCC 50 Overs Elite Cup, Wings CC beat Abu Dhabi Gymkhana by 29 runs.

Batting first, Wings notched up 194 and later managed to restrict the gymkhana lads to 165.

Raziq Khan won the man of the match for his 32 runs and two wickets.

Brief scores:

Seven Seas Strikers beat Interface by 59 runs

Seven Seas 317 for 9 in 50 overs (Hasnain Raza 114 no, Noman Ali 47, Gulam Shabbir 38, Qadar Nawaz 22, Waqas Mohd. 20; Abdullah Kayani 3-60, Nashwan Nasir 2-38) Interface 258 all out in 45.2 overs (Ibtisham M 56, Ramveer Rai 50, Adnan Arif 47, Wasim Bari 42; Qadar Nawaz 5-30, Noman Ali 2-51, Hazrat Husain 2-46). Man of the match: Hasnain Raza of Seven Seas.

Wings CC beat Abu Dhabi Gymkhana by 29 runs

Wings CC 194 all out in 41.2 overs (Shaiman Butt 36, Shahid Yousuf 33, Raziq Khan 32, Fawad Azam 25, Bilal Irshad 21; Irfan Haider 4-24, Adeel Raja 2-36, Zeeshan Ahmed 2-41) Abu Dhabi Gymkhana 165 all out in 47.2 overs (M. Shafiq 70, Mohamed Raihan 33; Peter Connell 3-33, Raziq Khan 2-33). Man of the match: Raziq Khan of Wings CC.


Follow Emirates 24|7 on Google News.