Sri Lanka Cricket defends Lokuarachchi of match-fixing charges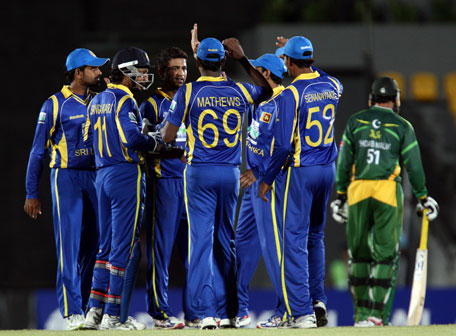 Sri Lanka Cricket (SLC) said that contrary to media reports saying that cricketer Kaushal Lokuarachchi had pleaded guilty to match fixing, he was not charged for any corrupt activity and the only offence he had committed was a failure to report an approach made to him, which he had rejected.

"We would also like to confirm that he has cooperated with the ICC in the investigation and that he has not been sanctioned and the proceedings are continuing," the SLC said in a statement.

Foreign media earlier reported that former New Zealand batsman Lou Vincent, former Bangladesh captain Mohammad Ashraful and Sri Lankan spinner Kaushal Lokuarachchi had admitted guilt before a special hearing after nine players and officials were investigated by the Bangladesh Cricket Board's (BCB) three-member anti-corruption tribunal.

A special tribunal also convicted one of the owners of the Dhaka Gladiators Wednesday of match-fixing in the tainted Bangladesh Premier League, officials said.

"Vincent, Lokuarachchi and Ashraful have already pleaded guilty," Shakil Kasem, a member of Bangladesh Cricket Board's three-member Anti-Corruption Tribunal told AFP.

"We're going to review their guilty pleas, deliberate on that and come up with sanctions within two weeks."

Vincent confirmed Thursday that he failed to tell authorities when a bookmaker approached him about fixing a match in Bangladesh, but said that was the extent of any wrongdoing.

Thirty-five-year old batsman Vincent played for the Khulna Royals in the BPL. He represented the Kiwis in 23 Tests and 109 one-day internationals.

Lokuarachchi, 31, played four Tests and 21 one-dayers for Sri Lanka.

Nine people were named in the scandal, including seven who have been charged with match-fixing offences, and two others charged with failing to comply with their obligation to report corruption.

Ashraful was allegedly involved in fixing a match between the Dhaka Gladiators and the Chittagong Kings.

Vincent said he had pleaded guilty to breaching the International Cricket Council's (ICC) anti-corruption code by not reporting the approach while playing in the scandal-tainted Bangladesh Premier League (BPL) last year.

"I confirm I rejected this approach at the time. There is no allegation or suggestion that anything untoward occurred beyond the approach itself," Vincent said in a statement.

The 35-year-old, who played in 23 Tests and 102 one-day internationals for New Zealand, added: "I have no involvement in any of the matches, or matters involving the other parties which were the subject of recent hearings and investigation in Bangladesh."
Follow Emirates 24|7 on Google News.