Sri Lanka goes for variety and experience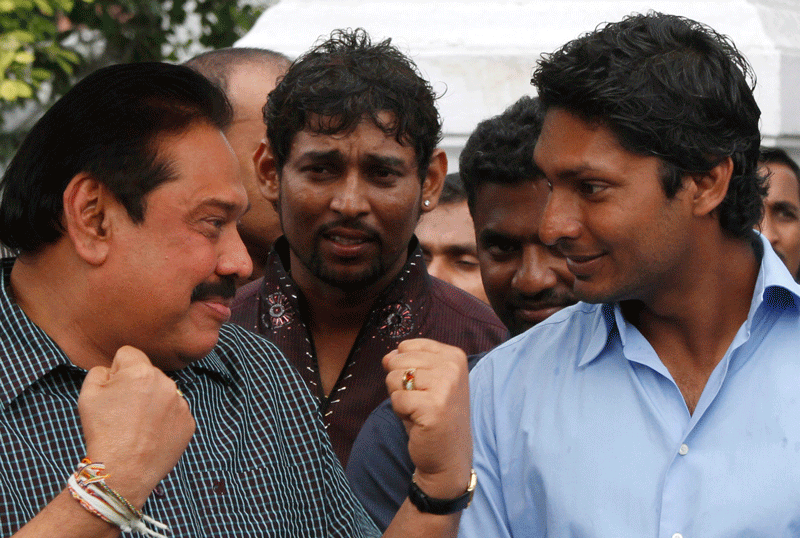 Sri Lanka's cricket selectors opted for a blend of variety and experience when naming the final 15-man squad for the 2011 World Cup that runs from February to April, officials said on Saturday.
"We looked at the opposition teams and the games we will be playing and we went for variety in our attack, coupled with experience to pick the 15," chief selector Aravinda de Silva told reporters on Saturday.
On Friday, the four-man selection committee announced the final squad, leaving out veterans Sanath Jayasuriya and Chaminda Vaas, who were part of the 1996 World Cup winning team.
Vaas, 36, and Jayasuriya, 41, were earlier named in the provisional squad of 30, giving rise to speculation that one of them would make the final selection.
Currently a ruling party politician, Jayasuriya last played for Sri Lanka in December 2009, while Vaas's last outing for the country was in August 2008.
Both have retired from Test cricket, but play in the shorter formats of the game.
"Leaving Sanath and Vaasy out was a very, very hard decision. A very emotional decision, it's unfortunate to leave out two great players," said De Silva, who was the vice-captain of Sri Lanka's World Cup winning team.
"We wanted the best team to go out and represent the 20 million people of Sri Lanka. Both (Jayasuriya and Vaas) were naturally upset. I feel they have a great future ahead, a lot to contribute to Sri Lanka," he said.
Ahead of Friday's announcement, both players had indicated their willingness to play in one more World Cup before bowing out from international cricket. There was no immediate comment from either players.
Another surprise omission in the squad was offspinner Suraj Randiv while left-arm spinner Rangana Herath was a surprise addition. The rest of the squad includes 11 members who recently toured Australia for a one-day series, which the visitors won 2-1.
"Leaving Randiv out was unfortunate. I really felt for him. He had done well. But we were looking for variation in the attack and we felt Herath was better," De Silva said.
The selectors picked world's leading Test and one-day wicket taker Muttiah Muralitharan for the squad after he announced his retirement from Test cricket in July 2010.
Muralitharan, 38, is the only surviving member of the World Cup winning team and was expected to be named in the final 15.
Skipper Kumara Sangakkara said he was happy with the selection.
"Randiv's exclusion was the hardest decision. But I think the team is very balanced. Everyone of the 15 can play against any particular opposition," Sangakkara said.
De Silva said the squad will now get some practice matches in the upcoming domestic limited overs tournament that begins next week. A one-day series against the visiting West Indies last month was washed out by heavy rains.
The West Indies team is expected to return to Sri Lanka later this month to resume the one-day series for three games to be played at the World Cup venues of Colombo and Hambantota in the south.
Follow Emirates 24|7 on Google News.