Sri Lanka vs Bangladesh 2nd ODI: Lanka register second win to take series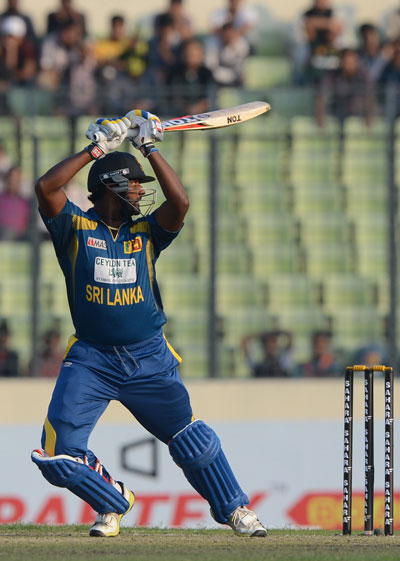 Kumar Sangakkara continued his awesome batting form in Bangladesh as Sri Lanka won the second one-dayer by 61 runs in Dhaka on Thursday to take an unassailable 2-0 lead in the three-match series.

The left-hander, who scored 319 and 105 in the second Test earlier this month after making 75 in the first Test, hit a fluent 128 off 115 balls to lift Sri Lanka to 289-6.

Bangladesh, facing a must-win situation after losing the first match, caved in under pressure and were dismissed for 228 with seven overs to spare at the Sher-e-Bangla stadium.

Skipper Mushfiqur Rahim top-scored with 79 off 83 balls and opener Anamul Haque made 42, but none of the other batsmen settled in as Sri Lanka grabbed wickets at regular intervals.

Lasith Malinga, Sachithra Senanayake, Thisara Perera and Ajantha Mendis picked up two wickets each, while part-timer Ashan Priyanjan took one.

The series win sealed Sri Lanka's domination during the month-long tour where they won the two-Test series 1-0 and secured both the Twenty20 matches. The final one-dayer will be played on Saturday.

It was just the boost Angelo Mathews' men needed ahead of the five-nation Asia Cup one-day tournament which opens in Bangladesh on Tuesday.

Priyanjan (60) helped Sangakkara put on 114 for the fourth wicket after the tourists, who elected to bat, were reduced to 63-3 by the 13th over.

Mathews lifted the total with an unbeaten 56 off 39 balls, having added 83 for the fifth wicket with Sangakkara.

Bangladesh seamer Rubel Hossain removed openers Kusal Perera and Tillakaratne Dilshan by the eighth over, before Sohag Gazi dismissed Dinesh Chandimal to open up the middle order.

Priyanjan, a 24-year-old right-hander playing his fourth one-dayer, hit seven boundaries before he was trapped leg-before by left-arm spinner Shakib Al Hasan.

Sangakkara reached his 17th one-day century with a four through the covers off Rubel and celebrated the landmark by dabbing the next ball to third man for another boundary.

Sangakkara slammed 14 boundaries before he was caught in the deep in the 47th over attempting another big shot off Arafat Sunny.

The tourists brought in spinner Mendis in place of the injured Nuwan Kulasekara, while Bangladesh dropped Al-Amin Hossain to play experienced seamer Mashrafe Mortaza.

BANGLADESH INNINGS

Sri Lanka registered a brilliant 61-run victory over Bangladesh to win the second ODI to seal the three-ODI series in Shere Bangla National Stadium, Mirpur.

Chasing a challening 290 to win, Bangladesh were looking in contention for most of the chase but once skipper Mushafiqur Rahim got out for 79, all hopes ended as the hosts were bundled out for 228 in 43 overs.

Anamul Haque was the other significant contributor with 42.

For Sri Lanka, Lashit Malinga, Sachithra Senanayake, Thisara Perera and Ajantha Mendis bagged two wickets each.

Earlier, Kumar Sangakkara scored a superb century as Sri Lanka posted 289 for six.

Sangakkara hit a brilliant 128 off 115 balls and shared two partnerships with Ashan Priyanjan (60) and Angelo Mathews (56).

Bangladesh were sloppy on the field missing many catches. Rubel Hossain picked three wickets for the hosts.

A brilliant performance from Sri Lanka as the pluck the last wicket. Ban 228-10 in 43 overs.

Rubel Hossain c sub (AK Perera) b Senanayake 6 (6b 0x4 1x6)

Malinga gets his second wicket as Bangladesh's last hope is gone. Rahim is gone on 79. Ban 220-9 in 42 overs.

Mashrafe Mortaza c T Perera b Mendis 17 (23b 2x4 1x6)

Mortaza hammered a six and a boundary and was looking solid before he holed one in the deep off Mendis. His skipper on 78 is at the other end. Ban 217-8 in 40.5 overs.

Mashrafe Mortaza c T Perera b Mendis 17 (23b 2x4 1x6)

Bangladesh's hopes are on their skipper Rahim who is batting on 77. Ban 206-7 in 40 overs.

Malinga bowls a great over but is unlucky to give away a few runs coming off the edge. Bangladesh need 105 from 14 overs. Ban 185-7 in 36 overs.

Batting powerplay taken. That should give Bangladesh some quick runs.

Perera gets his second wicket as Gazi is gone. It's a superb catch from Sangakkara behind the wicket. Ban 170-7 in 33.1 overs.

Sohag Gazi c Sangakkara b T Perera 7 (11b 0x4 0x6)

Rahim reaches his half century with a fine boundary. A great knock but he needs support at the other end. Rahim getts to 53 from 57 deliveries. Ban 170-6 in 33 overs.

Bangladesh lose another. A run out was the last thing they were looking for. Ban 155-6 in 29.3 overs.

Mahmudullah run out 1 (4b 0x4 0x6)

There goes another wicket for Bangladesh. Hossain gets a boundary and then loses it. Mendis gets his first victim. Ban 153-5 in 28-3 overs.

Nasir Hossain c Vithanage b Mendis 22 (24b 1x4 1x6)

Rahim reaches 44 while Nasir Hossain batting on 18. Ban 149-4 in 28 overs.

Bangladesh need 154 runs from 24 overs. Ban 136-4 in 26 overs.

Rahim is going strong. Batting on 35 from 33 balls. Ban 126-4 in 24 overs.

It was all going good for Shakib before he goofed it up attempting a big one and holing a simple catch in the deep. Ban 116-4 in 21.2 overs.

Shakib Al Hasan c Senanayake b Priyanjan 24 (23b 2x4 1x6)

Shakib shows fine form as he gets a six and two boundaries. The 50-run partnership comes up between Rahim and Shakib.. Ban 114-3 in 20 overs.

Rahim gets aggressive. A six and two boundaries in Perera's over. Ban 81-3 in 16 overs.

The other Haque also goes. Bangladesh suddenly slipping from a fine position. SL 63-3 in 14 overs.

Anamul Haque lbw b T Perera 42 (46b 7x4 0x6)

Senanayake strikes to give the much needed break for Sri Lanka. SL 57-2 in 12.2 overs.

Mominul Haque c Sangakkara b Senanayake 15 (32b 1x4 0x6)

Fifty partnership comes up for the Haque duo. Ban 53-1 in 11.3 overs

Haque and Haque are playing responsibly as they build a strong 41-run partnership. Ban 43-1 in 10 overs.

Three fantastic fours from Haque as he dismantles Malinga's bowling. Ban 27-1 in 7 overs.

Malinga in a great form. He has got his second successive maiden over. Ban 7-1 in 5 overs.

Malinga on fire. His two overs includes a maiden and has given only two runs. Ban 5-1 in 3 overs.

Bangladesh are 5-1 in 2 overs.

Malinga strikes early for Sri Lanka. Shamsur gets an edge to the second slip. Ban 2-1 in 0.4 overs.

Shamsur Rahman c Senanayake b Malinga 0 (3b 0x4 0x6)

Shamsur Rahman and Anamul Haque open innings for the hosts as Lasith Malinga prepares to bowl.

SRI LANKA INNINGS

Hossain scores two consecutive boundaries as SL reach 270-6 in 48 overs.

That's another wicket lost for Sri Lanka. Mathews is still there who can provide some late fireworks. SL 262-6 in 47.2 overs.

Thisara Perera c Mahmudullah b Rubel Hossain 0 (3b 0x4 0x6)

A fine catch from Mahmudullah in the deep and Sangakkara is gone. But Sangakkara has done the job for Sri Lanka putting them a fine century. SL 260-5 in 46.2 overs.

Kumar Sangakkara c Mahmudullah b Arafat Sunny 128 (115b 14x4 0x6)

Sangakkara smashed two boundaries and Mathews was lucky after he was dropped. SL 259-4 in 46 overs.

Two successive boundaries from Mathews and one from Sangakkara in Shakib's over. Mathews reaches 37 from 25 balls. SL 247-5 in 45 overs.

Mathews and Sangakkara share a 50-run partnership. SL 233-4 in 44 overs.

Two back to back boundaries and Sangakkara reaches his century in style. He also went past a 1000 runs against Bangladesh. SL 214-4 in 42.2 overs.

Sangakkara closes in on his century while Mathews looks to be at his aggressive best. He is already on 21 from 18 deliveries. SL 208 for 4 in 42 overs.

Shakib does it and breaks a crucial partnership. Priyanjan is trapped in front of stumps. SL 177-4 in 36.4 overs.

Ashan Priyanjan lbw b Shakib Al Hasan 60 (97b 7x4 0x6)

Sri Lanka are 174 for 3 in 36 overs.

Sri Lanka can eye for some quick runs. Batting powerplay on.

The 100 runs partnership also comes up. Sri Lanka in a fine position now. SL 163-3 in 34 overs.

A brilliant knock from Priyanjan and a very timely one. Could not have come at a better time for Sri Lanka. His 50 comes off 85 balls including six boundaries. SL 161-3 in 33.3 overs

Sri Lanka looking good at this stage. The duo share a crucial unbroken 88-run stand. SL 151-3 in 32 overs.

Sri Lanka are 141 for 3 in 30 overs. Sangakkara on 70, Priyanjan on 41.

Priyanjan looks to be a confident player. Though is a tad slow in his approach he has played the perfect second fiddle to Sangakkara. SL 121-3 in 27 overs.

Partnership already reaching 46. SL 190-3 in 25 overs.

It's a maiden over from Arafat Sunny. What a start for him. NZ 99-3 in 3 overs.

dxA patient knock from the veteran batsman. Sangakkara gets his half century in 52 balls including six boundaries. SL 93-3 in 21 overs.

Sangakkara is on 48 while Ashan is on 9. SL 86-3 in 20 overs.

Brilliant bowling from the spinners. Just one run from Shakib again. SL 72-3 in 18 overs.

Shakib Al Hasan bowling a great spell here. His three overs has just leaked eight runs including a maiden. SL 70-3 in 16 overs.

It's not a great position Sri Lanka are in. They probably lost a wicket or two extra at this time of the game. Sangakkara still there. SL 67-3 in 14 overs.

Chandimal succumbs. Again offering an easy catch to Rahman at midwicket. SL 63-3 in 12.4 overs.

Dinesh Chandimal c Shamsur Rahman b Sohag Gazi 9 (14b 0x4 0x6)

Sri Lanka are 58 for 2 in 12 overs.

Sangakkara reaches 27 as Sri Lanka make 52-2 in 10 overs.

Dilshan is gone after he gets a top edge which is easily taken by Rahim. SL 38-2 in 7.4 overs.

Tilakaratne Dilshan c Mushfiqur Rahim b Rubel Hossain 8 (16b 1x4 0x6)

Partnership reaches 24 for the duo. SL 33-1 in 7 overs.

Dilshan struggling with his hand there. He is not comfortable. That's not good news for the visitors Sri Lanka are 29-1 in 6 overs.

Sangakkara and Dilshan stabilising things here. SL 23-1 in 4 overs.

Dilshan gets a boundary of the last ball. Injury does not look to be a worry. SL 17-1 in 3 overs.

A huge crowd has gathered for the important match which their home team has to win.

Bangladesh bowlers all fired up. Mortaza's ball hits Dilshan on the left hand. Seems to be really hurting him as the doctor is in the middle. SL 9-1 in 2.2 overs.

Kusal Perera is not in control this time as he is caught at point. SL 9-1 in 1.5 overs.

Kushal Perera c Shamsur Rahman b Rubel Hossain 8 (7b 2x4 0x6)

Two back to back boundaries from Kushal and Sri Lanka are off to a rousing start. SL 8-0 in 1 over.

Playing XI:

Bangladesh: Anamul Haque, Shamsur Rahman, Mominul Haque, Mushfiqur Rahim, Shakib Al Hasan, Mahmudullah, Nasir Hossain, Sohag Gazi, Mashrafe Mortaza, Arafat Sunny, Rubel Hossain

Sri Lanka: Tilakaratne Dilshan, Kusal Perera, Kumar Sangakkara, Dinesh Chandimal, Ashan Priyanjan, Kithuruwan Vithanage, Angelo Mathews, Thisara Perera, Sachithra Senanayake, Lasith Malinga, Ajantha Mendis

Sri Lanka have picked Ajantha Mendis and Bangladesh have brought back Mashrafe Mortaza.

After a close victory by Sri Lanka in the first ODI, the visitors will be keen to go 2-0 to wrap the serie early.

Bangladesh agonising loss in the opening game have to win this match if they hope to take a positive result from the series.
Follow Emirates 24|7 on Google News.