Strauss wants England to look beyond fixing row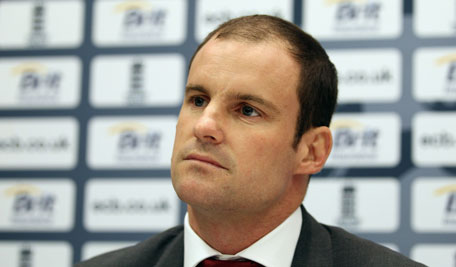 England Test captain Andrew Strauss has insisted his side are prepared to play against Pakistan players named in the spot-fixing trial that led to three cricketers being jailed.
But the opening batsman warned that, despite the impact of the case, it was too soon to say that corruption had been eradicated from world cricket.
Wahab Riaz, Umar Akmal and Imran Farhat - all named in the trial in London in October as having links with agent Mazhar Majeed, who was himself sent to prison - have been included in Pakistan's squad for the forthcoming three-Test series against England in the UAE, which starts on January 17.
Majeed was jailed along with former Pakistan Test captain Salman Butt and bowlers Mohammad Aamer and Mohammad Asif for their roles in a plan to deliberately bowl no-balls as part of a spot-fixing scam during the 2010 Lord's Test against England.
However, left-arm quick Riaz and batsmen Akmal and Farhat had no charges brought against them and Strauss did not regard their selection for the series as a provocative gesture by the Pakistan Cricket Board (PCB).
"It's there obligation and duty to pick the best side they think is available to them," Strauss, speaking at England's Heathrow Airport hotel ahead of their departure for the UAE, said on Monday.
"I think the spot-fixing stuff is something we are desperately keen to move on from. I don't think there's any good that can come from churning it all up again and it's time to just concentrate on the cricket.
"We will play whichever XI is selected."
But Strauss urged everyone involved in world cricket to remain "vigilant" in the fight against corruption, adding he was unable to say the whole game was entirely "clean".
"I don't think it's possible to say that. I think there's more awareness about it, which I think is a good thing. There have been some consequences to what went on at Lord's.
"But it's a hard thing to eradicate completely, policing it is very, very tough and I think there's a huge responsibility on the administrators but also upon the players to make sure that any inkling, anything we see that might be untoward is reported and acted upon.
"We all need to be vigilant," added Strauss, who last year led England to the top of the world Test rankings.
"You've got to have a degree of wariness when anyone approaches you who you don't know. That's just the way the world is and we've got to deal with it accordingly."
England-Pakistan series have produced several flashpoints down the years, be they rows about umpires or allegations of ball-tampering, which led to Pakistan's unprecedented forfeit of a Test match at The Oval in 2006.
But Strauss insisted there was no reason why England-Pakistan matches should inevitably generate controversy.
"This perception that there's always issues between Pakistan and England, we should see this as an opportunity to eradicate that," he said. "There's no reason why that should be the case.
"If we approach it in the right spirit then that should be good for relations between the two teams and world cricket in general.
"Pakistan are playing a lot of good cricket and that's going to be the challenge for us to overcome them, on the field.
"What's happened before is water under the bridge and I hope both sides can play in the right spirit and produce an entertaining and exciting Test match series."
Follow Emirates 24|7 on Google News.