Subcontinent, ICC pin hope on World Cup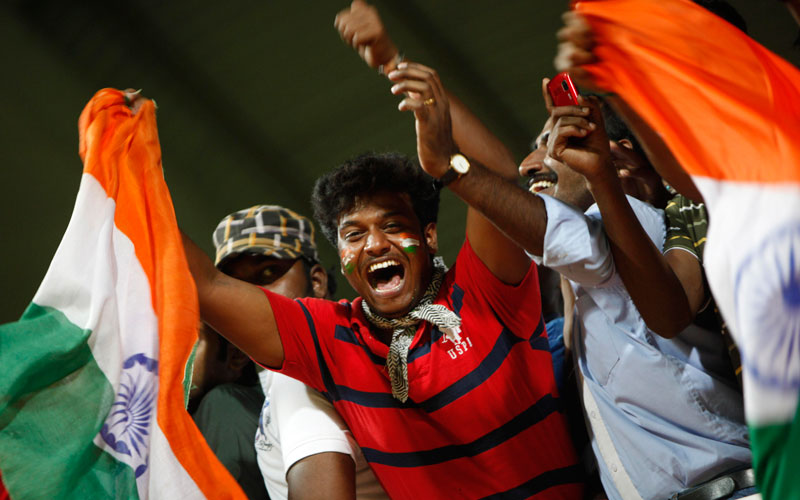 The Cricket World Cup hits the subcontinent on Saturday with an unabashedly biased format favouring marquee teams like India which seeks to salvage the country's reputation as a capable host of major sporting events.
The game's governing body appears to have learnt their lesson from the soulless tournament in the Caribbean four years ago where India's early exit robbed the event of the attention of its largest and arguably most passionate support base.
Worse awaited Pakistan, where the game is followed with no less fervour.
Within 24 hours of their cricket team's first-round ousting following a shock defeat by Ireland, coach Bob Woolmer was found dead in mysterious circumstances.
The security excesses and over-priced tickets conspired to sap the event of its soul but the International Cricket Council (ICC) seems determined to right most of the wrongs and the first step was to tweak the format even if it meant bias.
"We're trying to ensure we give every team the best opportunity of remaining in the competition and not losing out just because of one bad game ... so that the best do go through," ICC chief executive Haroon Lorgat told Reuters earlier this week.
The 14 teams are now split into two round-robin grounds with the top four in each progressing to the next stage. As the ICC says, one bad result will not now lead to a swift departure home.
India and Bangladesh start the Feb. 19-April 2 tournament in Dhaka on Saturday with the opening ceremony also in the Bangladeshi capital on Thursday.

AUGURS WELL
Cricket's revised world order also augurs well for the tournament in the subcontinent which has kept the game's coffers overflowing.
Australia no longer have that aura of invincibility that stemmed from their four World Cup titles, including the last three.
Since Australia's 2007 victory in the West Indies, others have not only bridged the gap but some have clearly overtaken them, rendering the 10th World Cup as one of the most open since it launched in 1975.
India are determined to gift batting great Sachin Tendulkar a perfect farewell gift, South Africa have had enough of being the perennial bridesmaids, Sri Lanka are eyeing an encore of their 1996 success as co-hosts, while England and Pakistan are also determined to lay their hands on the holy grail.
For India, the tournament would be as much about flexing cricketing muscle as salvaging the country's reputation as an efficient host of major sports events.
Last year's Commonwealth Games was intended to showcase India's growing financial might but it ended up being a $6 billion public relations disaster salvaged only after a late scramble by the government.
BITTER MEMORIES
Those bitter memories were revived last month when ICC stripped Eden Gardens in Kolkata, India's best known ground, of its only showpiece match -- India v England -- because of a delay in construction.
Sports historian Boria Majumdar believes India can redeem itself with a successful World Cup.
"It's maybe the subcontinent's World Cup but let's have no illusion about who is running the show (India)," Majumdar told Reuters.
"If they pull off a hiccup-free smooth tournament, it will be a redemption for India after the Commonwealth Games fiasco," said Majumdar, who co-authored "Sellotape Legacy: Delhi And The Commonwealth Games", a book on the troubled Games.
For once, security will not, according to the ICC at least, be the vexed issue it was when the region last hosted the event 15 years ago.
"It is a non-issue," Lorgat told Reuters earlier this week.
In 1996, Australia and New Zealand forfeited preliminary matches rather than playing in Colombo barely a week after a massive blast had killed 80 people in the Sri Lankan capital.
Bombs have frequently gone off in Pakistan, where the visiting Sri Lankan cricketers were attacked in 2009.
Subsequently, the ICC shifted World Cup matches out of Pakistan, while Sri Lanka's three-decade civil war also ended in 2009 heralding relative peace in the region.
"All indications and reports point towards an eagerly awaited event," Lorgat said in a statement on Wednesday.
"Whether it is in Bangladesh, India or Sri Lanka the interest in the event is evident and we are grateful to the three hosts for their splendid efforts in preparing well for the tournament.
"The World Cup promises to be a showpiece full of colour and passion and will be the pride and joy of each host nation."
From a fan's point of view, the World Cup would be a coming together of contemporary cricket's most maverick batsmen and their trademark unorthodox shots -- be it Kevin Pietersen's 'Switch Hit', Tillakaratne Dilshan's 'Dilscoop' or Mahendra Singh Dhoni's 'Helicopter Shot'.
It is also going to be the last World Cup for cricketing greats Sachin Tendulkar, Muttiah Muralitharan and Ricky Ponting, while the debut of the Decision Review System in the showpiece event also offers all 14 teams additional protection against umpiring howlers. At least, that is ICC's hope.
Follow Emirates 24|7 on Google News.