Suspended Ajmal clears 'unofficial' bowling action test in England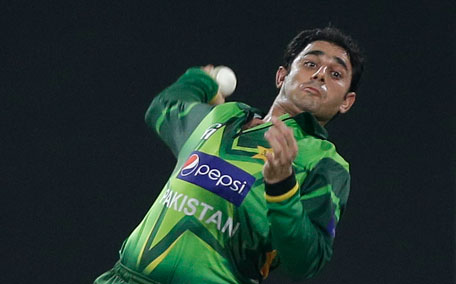 Suspended Pakistan spinner Saeed Ajmal on Wednesday claimed to have cleared a private bowling action test, but it remains uncertain whether he will feature in this year's World Cup.

The private test was conducted in a laboratory in Edgbaston in England and Ajmal now needs to clear an official reassessment in an International Cricket Council (ICC) accredited laboratory in Chennai, India on January 24.

The 37-year-old was suspended over illegal bowling action in September last year and last month withdrew from the World Cup to be held in Australia and New Zealand in February-March.

His withdrawal came after remedial work carried out under former Pakistan spinner Saqlain Mushtaq to alter his bowling action fell short.

Ajmal said he is confident he can clear the official test after success in the private assessment.

"I cleared the private test," Ajmal told AFP. "The tests were conducted in Edgbaston and all my deliveries including the 'doosra' (his trademark swing) were within 15 degrees."

Under the ICC rules all bowlers are allowed to straighten their bowling arm by 15 degrees, beyond which the action is deemed illegal.

Ajmal's first assessment in August last year revealed his arm extension went to 43 degrees.
Ajmal, however, remained unsure whether he would be able to feature in the World Cup or not.

"Look, I want to be as confident in my bowling as I was before (suspension) and want to be effective, so (whether) I can still play the World Cup or cannot play, remains to be seen.

"I want to do what is best for my country and for my team."

Pakistan Cricket Board chairman Shaharyar Khan on Tuesday ruled out Ajmal's participation in the World Cup, saying it was too late to consider it.

Ajmal was included in the preliminary 30-man squad for the World Cup, but after his withdrawal was dropped from the 15-man party announced last week.

However, under the ICC rules all teams can replace a player before the February 7 deadline, a week before the World Cup starts.

Pakistan team will play its first match against title-holders India in Adelaide on February 15.


Follow Emirates 24|7 on Google News.