Tait bows out of one-day cricket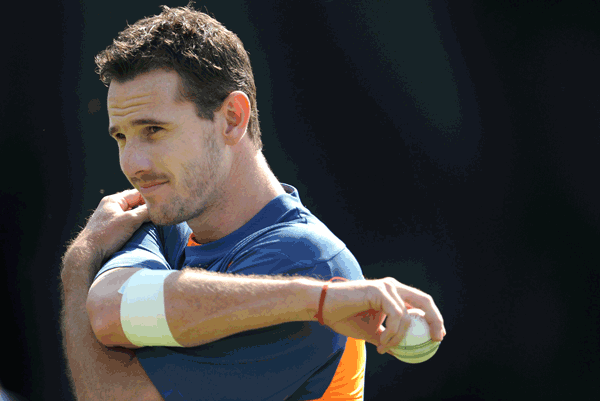 Australia's Shaun Tait has retired from one-day cricket to concentrate on Twenty20 and preserve his career, the fast bowler said in a statement on Monday.
Tait, who took 11 wickets in seven matches during the ongoing World Cup in the sub-continent, said playing the format year-round for the national team and state side South Australia was taking a toll on his body.
"This is not a decision I have taken lightly but I believe it is one that will help me to prolong my cricketing career through the many Twenty20 avenues available," he said in a statement released by Cricket Australia (CA).
"In reality, playing all year round for Australia and South Australia is not allowing my body to stand up as I would like and I do not want to be forced into retirement through career-ending injuries.
"Twenty20 cricket allows me to manage my body to a level where I feel I can continue to contribute to the game for some time yet.
"My goal was to hopefully help Australia retain the ICC Cricket World Cup. However, with our involvement now finished I feel it is the perfect time to move on in a new direction."
The 28-year-old was a member of Australia's triumphant team at the 2007 World Cup but toiled at the current tournament and was carted for 1-52 off seven overs in the team's quarter-final loss to India last week.
Lightning quick, Tait played 35 ODIs at an average of 23.56, but his withering pace has led to various injuries over the course of a six-year international career.
"Bowling at the speeds he generates places an unusual strain on his body and Cricket Australia respects the decision he makes today," CA's cricket general manager Michael Brown said.
Tait's departure could be the first of many as local administrators conduct a comprehensive review into Australia's national cricket teams, sparked by the test side's humbling 3-1 loss on home soil to England in the recent Ashes series.
Australia's failed title defence at the World Cup has reinforced calls from former players and pundits for fresh blood to re-invigorate the ageing national teams.
Australia will play three ODI matches in Bangladesh from April 9-13.
Follow Emirates 24|7 on Google News.