UAE Bangladeshis rejoice, Pakistanis cry foul in Asia Cup decider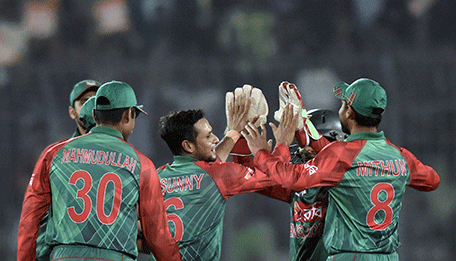 Even as UAE-based Indian fans confess they are torn between rooting for their home team and the UAE Asia Cup squad in today's face-off in Dhaka, most are unanimous in their joy of watching Pakistan crash out of tournament final in a stunning defeat by host nation, Bangladesh.
Yesterday's controversial match, which saw two very crucial no-balls, seal the fate for Pakistan's defeat, supporters of the Asian cricket giant have cried foul and blamed corruption and bad umpiring calls as the reason behind the loss.
K Malik, Dubai-based Pakistani, stated: "This is corruption all the way. I am sure of it. How else can you explain those two no-balls?"
The situation arose when Bangladesh required 18 runs off the last two overs; Mohammed Sami had Mortaza caught at long off but it was called a no-ball for overstepping.
With nine required off seven balls, a fuller delivery from Sami also emerged as a no-ball for Bangladeshi strikers to bring the win home.
Malik further added: "I simply want to know who was paid to throw this game."
Former Pakistani skipper Wasim Akram was kinder, tweeting: "We fought hard but not hard enough. Batting has to improve big time. I feel like the batting plan was all over the place. Well done Bangladesh."
Waheed Khan asked: "I think selectors need to answer few questions. They can't get away with this selection. Doesn't happen anywhere in the world."
But he also blamed the umpiring in the match, asking: "What type of poor umpiring in such a big tournament? ICC should be asked."
Wasim Akram Yousfzai stated he was saddened by the loss but it's all part of a game, saying: "Every Pakistani show your patriotism and support national team in bad days too."
For Bangladeshis though, this win couldn't have come during a better time.
Zeeshan Khan stated: "It was a bittersweet moment for us winning against Pakistan, in the same month when we celebrate our independence from Pakistan."
Shala Ruhaani, a Dubai-based cricket fan, said: "I won't comment on the fans who are blaming umpiring decisions and corruption for Pakistan's loss.
"I think every team goes through its highs and lows. Yesterday, the Bangladesh squad showed immense deftness in seizing opportunities when they saw it. That's what made their performance superior."
As Bangladesh readies to face off India in the Asia Cup finals, Mohammed Anayet says: "We hope Bangladesh cricket team continues this run to give the Indian cricket team a run for their money. That's all we can hope for."
Follow Emirates 24|7 on Google News.