UAE expats gear up for Indo-Lanka showdown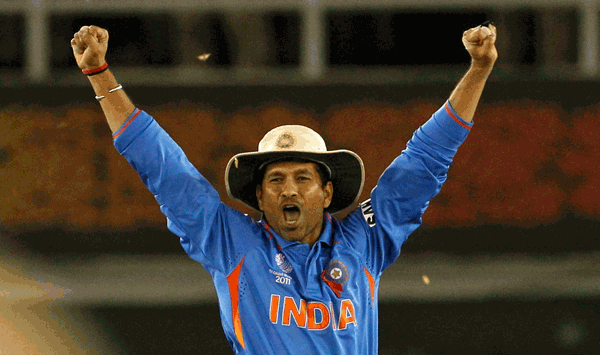 Cricket fans in the UAE are gearing up for the most important date which comes just once every four years as India and Sri Lanka go to battle in the first all-Asian World Cup in Mumbai on Saturday.
The large expatriate population from the sub-continent will have less than 72 hours to recover from the ultimate showdown between arch rivals India and Pakistan in the semifinals which would have emotionally drained the fans of these two Asian giants.
Sri Lanka must be wondering whether they had missed out on the party after India's monumental triumph in the much-hyped semifinal had all the trappings of a final with celebrities and heads of state being in attendance.
India, aiming to become the first host nation to win the World Cup, are favourites to repeat the feat all-rounder Kapil Dev's team of 1983. However, skipper Mahendra Singh Dhoni who is aware of the fickle-minded nature of fans, has his feet firmly on the ground.
Sri Lanka, winners in 1996 led by the pugnacious Arjuna Ranatunga, are also attempting to lay their hands on the trophy for the second time.
Led ominously by another southpaw Kumar Sangakkara, Sri Lanka have had a relatively uneventful passage into the final losing narrowly to Pakistan while sharing points with Australia after rain washed out the group match.
However, just as there is many a slip between the lip and cup, all the best laid plans of men and mice can go awry as Pakistan learnt to their chagrin after flooring a host of catches against India's batting star Sachin Tendulkar who holds the key to India's fortunes in the final.
"Tendulkar has set his mind on not leaving without winning the World Cup. Even though he gave four chances against Pakistan, you could see on his face that he wanted to play a special innings. He wants his dream to come true in this World Cup because this is his last hurrah," said Mohammed Lokhandwala of the mercurial Indian cricketer.
"Sri Lanka has a very strong side. But India will not only be enjoying home advantage, Wankhede Stadium is Tendulkar's home ground. So India should hold the edge," said Lokhandwala, honorary secretary of the Dubai Cricket Council (DCC).
"India has a very good batting line-up and has a good chance of winning the World Cup," added Farookh Siddique, a veteran DCC official who felt Pakistan reaching the semifinals was an achievement by itself.
Another Indian fan Nandakumar Perimpilavil was on "cloud nine" after India's "great victory" against Pakistan. But more significantly, he said it was a contest played in true sporting spirit which would go a long way in improving relations between the two nations.
"We expected a much better show from our batsmen but the Mohali pitch changed its nature. Our pace bowlers did the job," he said.
"In the final it all depends on our batsmen. If they play to potential, Indians should do well," said Perimpilavil who felt spinner Ravichandran Ashwin should replace Ashish Nehra in the final because of the slow nature of the Wankhede Stadium wicket.
"Sri Lanka's top four is dangerous but (Kumar) Sangakkara's wicket would be the key," said Perimpilavil who is regional finance manager of SriLankan airlines in Dubai.
Skipper of the UAE nationals team Alawi Shukri will be one of the fortunate few who will be flying specially to witness the final. "India has a very good team but I'm a supporter of Sri Lanka," said Shukri who felt India and Pakistan should play more often because it promotes peace.
Another UAE cricketer Mohammed Tauqeer said India holds the edge because they are playing on home conditions. "Sri Lanka no doubt is very strong but they will not be playing in Colombo," said Tauqeer who was looking forward to good final.
"How can I predict. Anything can happen in the final," said Pakistani Qadir Ahmed of Emirates Airlines.
Another Pakistani had thrown his support behind India in the semifinal.
"I support the side which gives 100 per cent. Yesterday I was supporting India," said Syed Mujtaba who felt Sri Lanka would give a tough fight in the final.
"India will win because they are playing at home basically and also beat Australia and Pakistan," said Wajeeh Uddin Ahmed, regional manager of a shipping firm.
"Pakistan are at a disadvantage because they haven't playing in Indian conditions. They should be allowed to play in IPL," said Ahmed, a Pakistan expatriate.
Basheer Ahmed, an Indian, was just looking forward to a good game of cricket. "I love all the teams," he said.
UAE-based Sri Lankans were confident their team would emerge victorious.
"We have very good spinners who will do the job," said Yasmin Jayah, logistic manager at a shipping firm in Dubai.
"However, they should not play Ajantha Mendis because he will get hammered," she cautioned also adding that all-rounder Thisara Perera should replace out-of-form middle order batsman Chamara Silva.
"Lions have a good all-round side. Sri Lanka has a good chance if they keep their cool," said Romi Gomez, manager of another shipping firm.
"India will be under pressure because there will more expectations from them. I'm really proud of what our team has achieved upto now," she said.
Another Sri Lankan Nona Washila Naina was praying that Sri Lanka could pull it off in the final. "Otherwise I won't be able to face my Indian colleagues and take two days off," she said.
However, she got support from an unusual quarter, her Egyptian colleague Mahmoud Elgamal who knows very little about cricket.
"I don't understand the game because we don't have this sport in Egypt. I really like Sri Lanka after watching their performance against New Zealand," said Elgamal.
Follow Emirates 24|7 on Google News.