UAE girls on song against Malaysia and Oman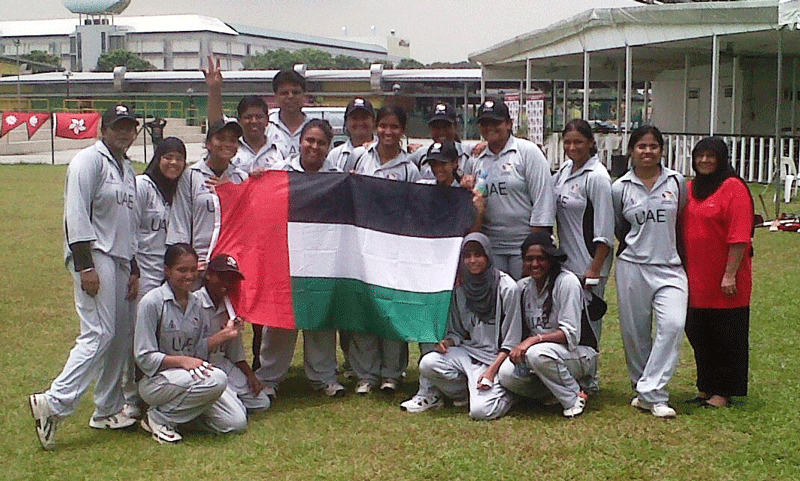 UAE produced a solid team performance to chalk up back-to-back victories defeating Malaysia by 36 runs and Oman by 25 runs to keep alive their hopes of advancing to the semifinals of the ACC Under-19 Women's Championship being played in Singapore.
The UAE clicked effectively as a unit in both the matches and have now scored three victories in four matches rebounding after an early loss to Bhutan.
They just need to beat Thailand in their next match to make the last four grade for the first time.
Spearheaded by a good all-round performance by Sneha Sankar, the UAE team comfortably kept up their dominance over Malaysia. Sneha, opening the innings with Dipanki Borcar, scored a fine 22 and then snared two wickets for 14 runs to set up a brilliant victory.
The UAE team, batting first, scored 107 before being all out in the last ball of the 25th over. Besides Sneha, Spoorthy Prakash (23) and Monique D'Souza (12) also chipped in with valuable contributions to help their side post a healthy total.
Mariana Lakie was the most successful Malaysia bowler, taking four for 21 while Dewi Chunam and Alessandra Shunmugam picked up two each.
Malaysia, in reply, were restricted to 71 for nine, thanks to some disciplined bowling by the UAE team. Dewi (19) was the only player who could offer some worthwhile resistance to the UAE attack.
Samiya Saleem and Shambhavi Gupta snared two wickets each besides Sneha to seal the victory.
In the other match, the UAE team, aided by fine innings from Sneha (26) and Dipanki Borcar (26) did well to post 105 before being bowled out for 105 in 24 overs.
The Oman team, in reply, stuttered and stumbled from the start against some spot-on bowling by the UAE team. Arzoo (30) and Natasha Shetty (18) did hold the innings together for a while but, in the end, the UAE had the final say.
Petule Nadar and Samiya Saleem took two wickets each while Aysha Naushadkhan grabbed one to provide the finishing touch to victory.
Brief scores:
UAE beat Malaysia by 36 runs: UAE 107 all out in 25 overs (Sneha Sankar 22, Monique D'Souza 12, Spoorthy Prakash 23; Mariana Lakie 4-21, Dewi Chunam 2-10, Alessandra Shunmugam 2-23) Malaysia 71 for 9 (Dewi Chunam 19; Samiya Saleem 2-9, Sneha Sankar 2-14, Shambhavi Gupta 2-17, Humaira Tasneem 1-9). Player of the match: Sneha Sankar of UAE.
UAE beat Oman by 25 runs: UAE 105 all out in 24 overs (Sneha Sankar 26, Dipanki Borcar 26, Ayshwarya Subramanium 2-19, Arzoo Sattikar 2-6) Oman 80 for 9 (Arzoo Sattikar 30, Natasha Shetty 18; Petule Nadar 2-11, Samiya Saleem 2-15, Aysha Naushadkhan 1-7). Player of the match: Arzoo Sattikar of Oman.
UAE beat China by 3 wickets: China 84 for 7 in 25 overs (Miao Zau 33, Xiang Ruan 14 not out; Sneha Sankar 2-5, Humaira Tasneem 1-11, Petule 1-10) UAE 85 for 7 in 23.1 overs (Monique 16, Shambhavi Gupta 13, Aashna 7, Sneha 6; Liya Zhu 2-15).
UAE lose to Bhutan by 4 wickets: UAE 73 all out in 15.4 overs (Sneha Sankar 5, Aashna 12, Monique D'Souza 13, Shambhavi Gupta 5; Sonam 2-17, Devika 2-13, Sonam Zam 2-5) Bhutan 77 for 6 in 23.4 overs (Ugyen Dema 20, Yeshey Choden 9, Dechen Wangmo 17; Humaira Tasneem 2-2, Malitha 1-4. Monique 1-7)
Follow Emirates 24|7 on Google News.