Umar Akmal blamed for Pak loss to India in 3rd ODI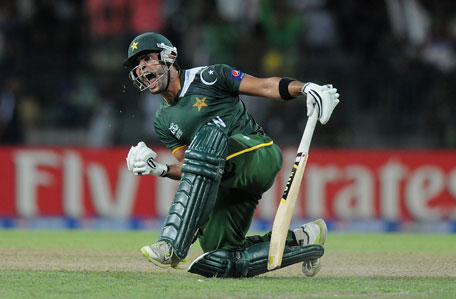 Pakistan's young batsman Umar Akmal has come under fierce from former players for his below-par performance during the just-concluded tour of India.
Former captain Wasim Akram led the chorus of criticism by singling out Umar for Pakistan's loss in the third and final one-dayer in Delhi on Sunday, according to a report in The Nation.
"When will Umar learn to play responsibly. He has been around in international cricket now for a considerable time. He really needs to think about his game now," Wasim said.
Umar, the younger brother of wicketkeeper Kamran Akmal, got out at a crucial time in the match with Pakistan chasing a low total of 167 set by India.
He was stumped for 25 by Dhoni off Jadeja in the 40th over as Pakistan stumbled to 125 for 6. He did not feature in the first two one-day internationals being recalled to the side after Pakistan had taken an unassailable 2-0 lead in the series.
Kamran Akmal also failed with the bat being dismissed for a duck in successive innings during the last two matches, but the Pakistan gloveman had four scalps in the Kolkata match.
Former England wicketkeeper Paul Nixon sparked controversy earlier by suggesting that Pakistan deliberately lost the third ODI against India at the Feroz Shah Kotla in New Delhi on Sunday
"Pakistan throwing this game away eh. Watch this space. Pakistan will just loose last few balls," Nixon tweeted after the sudden collapse of Pakistan that helped India deny a clean sweep to the visitors.
India pulled off a thrilling 10-run victory after Pakistan collapsed from 144 for six to 157 all out in the final one-day international.
Pakistan's former captain Rashid Latif was more forthright in his views about Umar and the match.
"I think it is about time Umar is told by the selectors he is not needed in the national team until he changes his approach and attitude towards the game," Latif said.
"Umar has to be sent back to domestic cricket until the selectors see a visible change in his approach and attitude. He has got too many opportunities to realise his talent. But he is not finishing games," Latif said.
Umar was also in the eye of the storm before the Indian tour when his department, Sui Gas, which includes Mohammad Hafeez and Misbah-ul-Haq, sidelined him after he missed some games in the President's Trophy tournament due to the wedding of his brother Adnan.
Former Pakistan captain Moin Khan also felt that Umar was not doing justice to his enormous talent.
"He is talented no doubt about it but he needs to learn that all this talent is useless until it results in good results for his team. He is just not showing the approach of a finisher which is sad," Moin said.
Umar, who played in three matches on the Indian tour, is expected to be axed for the forthcoming South African tour as the selectors have more confidence in upcoming batsman Haris Sohail.

Follow Emirates 24|7 on Google News.