Waiting game goes on for Pakistan trio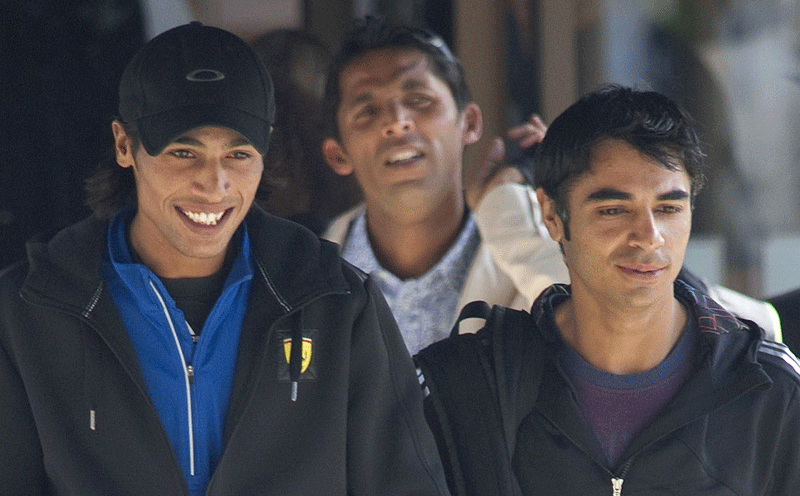 An anti-corruption tribunal against Pakistan cricketers Salman Butt, Mohammad Asif and Mohammad Aamer ended Tuesday with no decision and a further hearing scheduled for February 5.
The three face charges of spot-fixing during Pakistan's tour of England last year in a scandal that rocked the sport. It is alleged that they conspired in the bowling of deliberate no-balls in the Lord's Test -- claims they all deny.
They were provisionally suspended by the ICC in September, with the world governing body's code of conduct carrying a minimum five-year ban if corruption charges are proved.
The maximum punishment is a life ban.
The hearing began last Thursday but Michael Beloff, commissioner of the three-man independent tribunal, said they needed more time to consider the issues.
"The tribunal have throughout been very conscious of the importance of these proceedings to the three players and the wider world of cricket," he said in a statement read to media waiting at the Qatar Financial Centre venue.
"Representations have been made to it to reserve any decision on the charges still before it until it has had sufficient time to give the issues careful consideration and until it is able, at the same time as handing down its decision, to provide written reasons.
"This would not be feasible in the timeframe agreed for this hearing in Doha.
"The tribunal has therefore determined to continue its deliberations and hold a further hearing in Doha on the fifth of February of this year, at which its decisions will be handed down to the parties and any consequential matters will be dealt with.
"Until that date, all three players will remain suspended from all cricketing activities."
None of the players or their lawyers were immediately available for comment although fast bowler Aamer told reporters earlier in the day that it had been one of the hardest times of his life.
"You can see my eyes are sore because I have not been able to sleep for the last few days," he said.
"I have been talking to my parents and they have tried to raise my confidence. I know a lot of people are praying for me because its a matter of my career."
The scandal came to light when Britain's News of the World claimed that seven Pakistani players, including Butt, Aamer and Asif, took money from bookie Mazhar Majeed to obey orders at specific stages in the Lord's Test in August.
Scotland Yard detectives raided the team hotel in London, reportedly confiscating a huge amount of money from former Pakistan captain Butt's room.
All three men enlisted serious legal heavyweights to represent them with paceman Asif, 28, represented by Allan Cameron, brother of British Prime Minister David Cameron.
Former Test captain and opening batsman Butt, 26, was represented by British-based lawyer Yasin Patel, while 18-year-old Aamer's legal team was headed by Shahid Karim from Pakistan.
It is seen as the worst scandal in cricket since that of South Africa's Hansie Cronje.
A decade ago the former South Africa captain, who died in a mysterious plane crash in 2002, was revealed to have accepted money from bookmakers in a bid to influence the course of games as well as trying to corrupt his team-mates.

Follow Emirates 24|7 on Google News.