Whatmore praises Pakistan for not caving in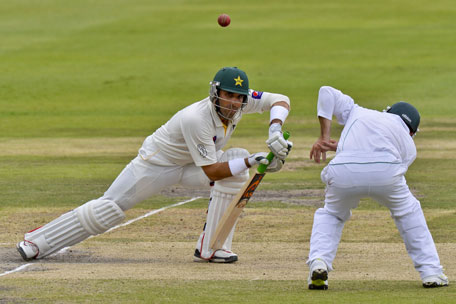 A flatter Wanderers wicket and better application from their batsman allowed Pakistan to stay alive in the first Test against South Africa on Sunday, Pakistan coach Dav Whatmore said.

The Australian believes his side showed admirable fight to still be in the game after the disappointment of being rolled over for 49 in their first innings on Saturday, their lowest Test score.

Pakistan still need 297 runs to win the Test with six second innings wickets remaining, but a century stand from captain Misbah-ul-Haq (44 not out) and Asad Shafiq (53 not out) on day three has given them hope.
AWAIT 'LIVE' CRICKET SCORE UPDATES

South Africa remained in a strong position to take a 1-0 lead in the three-match series, however, with a second new ball due after five overs on Monday and only wicketkeeper Sarfraz Ahmed of the remaining batsmen likely to offer sustained resistance to the South African fast bowlers.

"Whatever happens from here, today should give all the players confidence for the remaining two Test matches in Cape Town and Centurion," Whatmore told reporters on Sunday.

"I thought the wicket settled down a bit too and what we wanted to do today was show better application. We did that and the players will have learnt a lot from this experience. Nine of our 11 for this Test have never played in South Africa with the red ball and so it is a big learning curve."

Whatmore also said he had a few words with debutant Nasir Jamshed after the opener fell attempting an ambitious pull shot.

"He has been with our ODI team ever since I have been in charge and so you forget this is his Test debut. But I was not happy with him and told him so," he said.

South Africa are favourites to complete a win on Monday but with rain predicted for the final few days of the Test, all three results remain possible.

"With our bowling attack we really back ourselves to finish the game," said South Africa vice-captain AB de Villiers who earlier hit his 15th Test century.

"A few cracks are opening up and the new ball will swing around."

De Villiers said the pitch was better for batting than it had been on the second day when Pakistan were bowled out for 49.

"It's not going around as much as day two but they (Pakistan) played a lot better. They've got a lot of pride to play for so we're not taking anything for granted.

De Villiers says the new ball due five overs into the fourth day will be crucial.

"We've got a new ball coming up which counts in our favour but we know we have to do the hard work," he said.

"Pakistan will be looking to get through the new ball and then from 20-30 overs start to be positive again. We will be aware of that."




Follow Emirates 24|7 on Google News.