With spot-fixing bans lifted, Pakistan trio restricted at home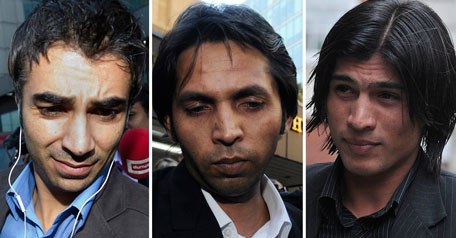 The International Cricket Council's five-year bans on former Pakistan captain Salman Butt and pace bowler Mohammad Asif ends on Wednesday, but the long road back for the players will begin under heavy restrictions.

The pair will be under strict monitoring for months before being allowed to play international cricket again, according to the Pakistan Cricket Board (PCB).

"The PCB has given me a target that includes improving fitness, attending sessions with a psychiatrist and delivering lectures to young cricketers for awareness against misdeeds as a national player," Asif, 32, told Reuters during a practice session at the Model Town Ground in Lahore.

"I will have to achieve the target in two months and only after that will I be allowed to play freely."

Butt and Asif were banned for spot-fixing during Pakistan's tour of England in 2010, particularly for bowling deliberate no-balls by pre-arrangement during the fourth test at Lord's.

Both have served jail sentences in Britain and were given minimum five-year bans by an ICC tribunal. Butt was also given a two-year suspended sentence.

Both players said they were ready to meet the board's demands.

"I just want to play cricket, which runs through my blood," former captain Butt said.

A PCB official told Reuters the trio would only be allowed to play "controlled cricket and start with club cricket for now."

"They will be strictly monitored by professional cricketers and psychiatrists for a few months. If they prove their fitness and morality, they will be allowed to play domestic cricket at the first-class level," the official said, declining to be named.

A third player, fast bowler Mohammad Amir, was also banned until September but the chairman of ICC's anti-corruption unit exercised his discretion to give him an early reprieve in January.

Left-arm paceman Amir was marked as a great prospect for Pakistan in his early days. At the age of 18 he became the youngest bowler to capture 50 Test wickets during the controversial test match at Lord's in 2010.

According to a revised anti-corruption code, a banned player can appeal the ICC to allow him to resume playing domestic cricket before the end of the ban.

The PCB had decided to help Amir with his appeal but ruled out helping Butt and Asif with any relaxation.

Though the ban is lifted, serious opposition from officials and hostility from Pakistan's cricket-obsessed fans will mean the road to redemption will be a long one for the tainted trio.

Age also weighs heavily against Butt and Asif and the long lay-off has exposed their fragile fitness.

"Their return will be the biggest injustice to players who play clean cricket," former cricket captain Rashid Latif said. "There should not be any space for criminals in international cricket."

But the players said they have served their time and hoped the nation has forgiven them.

"People come to watch my practice sessions and pray for my return," Butt, 30, said.

"This shows that they have forgiven me and want to see me in action again."
Follow Emirates 24|7 on Google News.