Akram wants to help revive Pakistan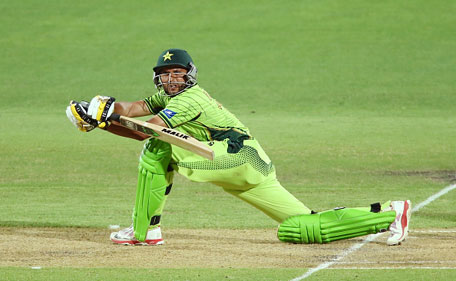 Former captain Wasim Akram is eager to help the Pakistan players salvage their World Cup campaign in Australia and New Zealand, he said on Tuesday.

Pakistan lost their opening match of the tournament by 76 runs to arch-rivals India.

"The irony is neither the Pakistan cricket authorities nor anyone in the team has approached me to help or advise them," Wasim said on the Geo News Channel.

One of the world's great fast bowlers during his pomp, Akram is working as a broadcaster at the World Cup.

"I am here in the World Cup and I want to go and help our players adjust and do well in the tournament in these conditions. But I can't do this without an invitation," he said.

The 48-year-old Akram, who took 414 Test and 502 one-day international wickets, helped Pakistan win the 1992 World Cup in Australia and New Zealand.

"I am often criticised for not helping Pakistani players but giving tips to players from other countries," he said.

"This is unfair as even now if they ask me I will go and help in anyway because I know a lot about modern day cricket and players in this World Cup and I want to see Pakistan reach the knockout stage."
Follow us on Twitter @E247Sports for exclusive coverage of all the action from Down Under

Pakistan play West Indies on Saturday with group matches against South Africa, the United Arab Emirates and Ireland to follow.

"Our batsmen will keep on struggling until they also play on the front foot," Akram said.

"Against India we struggled because the batsmen were afraid to come forward as if the ball was a grenade," he added.

"I have played a lot in Australia and New Zealand but I don't know why the board and management is shy of approaching me for help," said Akram who captained Pakistan to the 1999 World Cup final.

"I don't want a job in Pakistan cricket. I just want to see our team in the knockout stage. Then anything can happen."
Follow Emirates 24|7 on Google News.