Ashwin has 'simple' plan to stop Gayle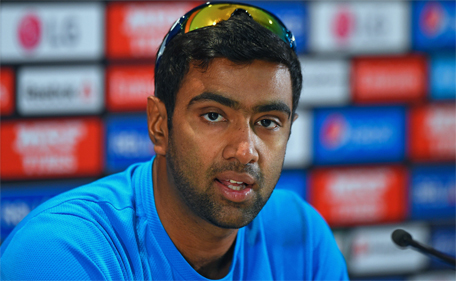 India off-spinner Ravichandran Ashwin is all set for the challenge of facing some of the biggest hitters in the game when his side play the West Indies in a World Cup clash in Perth on Friday.

Defending champions India are top of Pool B, with three wins from as many games, but the third-placed West Indies are also in the hunt for a quarter-final place with two wins from four matches.

The West Indies piled up 372 for two in their win over Zimbabwe, with dynamic left-handed opener Chris Gayle making 215, the highest individual World Cup score, and Marlon Samuels an unbeaten 133.
Follow us on Twitter @E247Sports for exclusive coverage of all the action from Down Under

Gayle has long been regarded as one of the most powerful shot-makers in the game, but Ashwin said Thursday that aggressive batting was now commonplace in all one-day international cricket.

"It's not just Chris Gayle, it's any other batsman in world cricket. Anybody who attacks wants to put you off," said Ashwin at Perth's WACA ground.

"I go strongly for getting the wicket of any batsman that I think is dangerous because I like it. I like to throw myself in the middle and try to see how much I can make an impact in that particular game.

"Be it Chris Gayle, AB de Villiers anybody, I look to get them out in the middle."

And Ashwin said he would not be changing his approach should he find himself bowling to Gayle.

"There are no particular plans. I mean, it's pretty simple...It's pretty much about boundaries and wickets, and you can restrict the hitting to one side and see if you can get a wicket or two."

Amidst all the blazing hitting of this World Cup, Ashwin has so far taken eight wickets at an impressively low average of 13.37 apiece.

"I'm pleased. It is quite heartening to get wickets," said the 28-year-old.

"It gives you a lot of confidence. But in terms of preparation for the game, it's going to be the same. Because we prepare for every other team like we prepare for the big teams. It's not going to be very different. We're pretty confident about executing tomorrow."

Former India leg-spinner Anil Kumble recently said he saw something of his own determination in Ashwin's bowling, much to his slow-bowling successor's delight.

"I've always maintained that Kumble is one of my big heroes because every time he's been put in the corner he's come out really successfully," Ashwin said.

"That is one aspect I really admire about him. There have been times people have asked me who is your role model and I actually told them Kumble is one of my role models.

"To actually hear that from him is a big honour. At the same time, they are big boots to fill. It's not as easy as he made it sound, but I'm really pleased."

India have been in fine form so far this World Cup, with wins over Pakistan, South Africa and the UAE.

But Ashwin warned they still had work to do if they were to qualify for the quarter-finals.

"I don't think we're there. There are three (group) games (left) and Ireland's also played good cricket," he said. We're pretty aware of what's happening around us in the group.

"It's very important that we take it one game at a time. We like to treat every game like it's a knockout game."

Holders looks to wipe out WACA misery

West Indies captain Jason Holder on Friday returns to Perth's WACA ground, the place where he made his one-day international debut in 2013 and the scene of one of his team's greatest humiliations.

The West Indies were bowled out by Australia for just 70 on February 1, 2013 - their third lowest total of all time - in a game where 'extras' were their top scorer with 17.

Holder made just seven runs on his nightmare debut but at least had the consolation of taking the only Australian wicket to fall as the home side knocked off the runs in under 10 overs.

"It means a lot to me to play here again," said Holder on the eve of Friday's World Cup clash against defending champions India.

"I made my debut here and it was a dream come true. To be able to play for West Indies against Australia in my first game, I was touched.

"Being back here now I would like to improve on my performance from last time, and having said that, I'll do everything in my power to enhance our chances of winning."

Only four players from that disaster in 2013 remain in the current squad - Holder, Chris Gayle, Darren Sammy and Kemar Roach - but Friday's mission may be just as thankless.

The game will be the first meeting between the two countries since the West Indies controversially abandoned their tour of India over a payments dispute in October, a decision which left the cash-strapped West Indies Cricket Board (WICB) facing a $42 million compensation bill.

Of more pressing concern for Holder is the West Indies' stuttering progress towards a quarter-final place at the World Cup after two wins and two defeats, the last of which was a record-equalling 257-run loss to South Africa in Sydney where the Proteas piled up 408 for five.

Holder himself was in the eye of that Sydney storm, his 10 overs costing 104 runs - the fifth most expensive return in all one-day internationals - with 64 runs alone scored off his final two overs.

"That's cricket, that's sport. You have good days, you have bad days. I've had a bad bowling effort. But the way I look at it, I just try to learn from it, and I'm not too worried about it," he said.

"That's gone. That's in the past, and I've taken a lot from it. So I'm really looking forward tomorrow to just coming back stronger."

So far at the World Cup, India have three wins in three games - a 76-run victory over Pakistan, a 130-run romp past South Africa and a nine-wicket stroll against the United Arab Emirates.

A win on Friday would guarantee a quarter-final spot for India while a defeat would leave the West Indies on a knife-edge although they face rock-bottom UAE in their last game.

Holder believes the pace and bounce of the WACA wicket can work in his favour and force India's batting masters onto the back foot.

"Virat Kohli has been phenomenal for them. They have Shikhar Dhawan who has been in some form, and you have players like Suresh Raina and MS Dhoni," he said.

"But I back my bowlers to execute their plans and set them on the back foot. But they have a pretty good line-up and good quality players. We've planned for them."

Follow Emirates 24|7 on Google News.