Cricket World Cup will be clean, says ICC's anti-corruption chief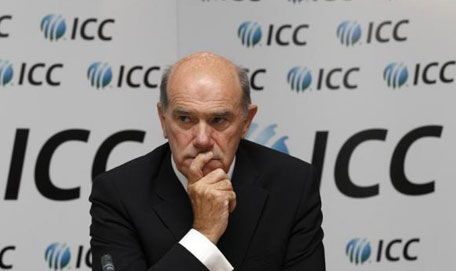 "Evil" illegal gamblers using the grooming methods of paedophiles to try and corrupt cricketers have not gone away but the game's anti-corruption chief Ronnie Flanagan is confident the upcoming World Cup will be clean.

Match and spot-fixing scandals have dogged cricket over the last few years but Flanagan said the authorities in host countries Australia and New Zealand had done everything in their power to ensure the tournament was free of corruption.

"I think it is important that (fans) can come with confidence knowing this will be true competition between teams fought out on ability and perhaps little bit of luck," he told a news conference on Friday.

"A tournament that is free of corruption or the threat of corruption."

Flanagan, head of the International Cricket Council's Anti-Corruption and Security Unit (ACSU), praised the national and state governments in host countries for enacting legislation to criminalise manipulating sporting events.

Education programmes have also been put in place to ensure that every player at the Feb. 14-March 29 tournament is aware of how the illegal gamblers try to exert their influence.

"We know there are rotten people out there, criminal people, who will do all in their power to get at players and others of influence in the game," Flanagan added.

"They'll trick them, they'll coerce them, they'll try and attract them, they're almost like paedophiles in how they attempt to groom them to get them to do whatever suits their nefarious intentions in terms of illegal betting.

"We have gone to great lengths in a very multi-faceted way to ensure they don't get their way."

Flanagan said the Australian and New Zealand lawmakers, police and his unit had already been working together for two years to prevent any corruption.

Education programmes for players had also borne fruit, he said, with a 100 per cent increase in reports from players about approaches from suspect individuals.

"Many of them when we investigate them are innocent approaches but I'm very encouraged that we are getting more and more of those reports," he said.

"That gives us increased material for our intelligence database. At this World Cup, we have one central hub where all that intelligence flows in, is analysed and where one common intelligence picture is produced."

Flanagan, formerly Britain's top policeman, also defended his decision to curtail Pakistan pace bowler Mohammad Amir's five-year ban for spot-fixing seven months before it was due to expire.

Amir, who is restricted to domestic cricket and will not play at the World Cup, had shown genuine remorse for his part in the deliberate bowling of no-balls by pre-arrangement during Pakistan's tour of England in 2010, Flanagan said.

The 22-year-old had also co-operated fully with investigators and his participation in the education programmes would send a "very powerful message", he added.

"It's one thing for players to hear a message from a retired cop, it's another thing altogether to get that message from someone who had been an international player who had fallen from grace who is saying: 'please don't succumb'."
Follow Emirates 24|7 on Google News.