Curtain up on marathon Cricket World Cup amid 'global security threat'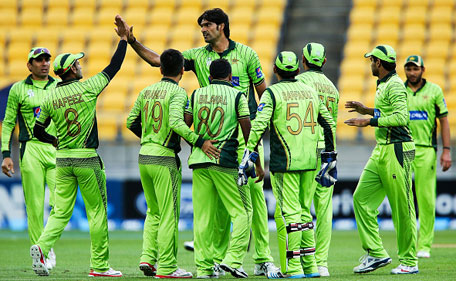 The World Cup gets a soft opening on Thursday with a predicted 2.5 billion people poised to tune in to the six weeks of action but with the 49-match programme facing a series of headaches.

From security to corruption to illegal bowling actions, the 14-team tournament, being played across 14 venues in Australia and New Zealand, will be launched with night-time opening ceremonies in Melbourne and Christchurch.

The glitzy showbiz events, starring two of the hosts' musical exports, Tina Arena and Hayley Westenra, bring the curtain up on the tournament which won't start until Saturday.
Follow us on Twitter @E247Sports for exclusive coverage of all the action from Down Under https://twitter.com/E247Sports

That's when Australia tackle old enemy England at a jam-packed Melbourne Cricket Ground while co-hosts New Zealand face Sri Lanka on what should be an emotional afternoon at Christchurch's Hagley Oval.

But the build-up to the event has been squarely focused on clamping down on some of the game's darker arts as well as a harsh spotlight shone on security in the aftermath of Wednesday's announcement that an "imminent" terror attack had been thwarted in Sydney.

"The global security threat is an issue," admitted International Cricket Council (ICC) chief executive David Richardson.

The ICC have also gone to great lengths to reduce the threat of corruption - names of fixers with links to shadowy, underground betting networks have been passed onto the two nations' immigration bodies.

Furthermore, anyone suspected of 'live betting', whereby bookies take advantage of the brief delays in TV transmissions to manipulate odds, will be ejected from grounds.

On the field, the tournament, widely-regarded as the most open in years, will be missing a string of A-list performers.

Pakistan were deprived of the world's leading ODI bowler Saeed Ajmal after the off-spinner withdrew from the reckoning when his action was deemed illegal - just one of a series of bowlers caught out in a recent crackdown.

West Indies spinner Sunil Narine, though not as lethal as Ajmal, also pulled out of his country's squad to rectify problems with his action.

As well as attempting to spot an illegal action, the game's umpires will also be expected to play their part in a tough new campaign to eradicate sledging.

"The crackdown has already started," said Richardson.

"First offence you'll likely end up with a fine, which no player likes. Repeat offence ... some players already sitting with some offences behind their name, will be punished with a suspension."

Tall guy

Living up to the billing that there's never a dull moment when 1992 champions Pakistan are at a World Cup, the Asian giants lost experienced opener Mohammad Hafeez with an ankle injury, seamer Umar Gul because of a knee injury while another fast bowler Junaid Khan had to be withdrawn from the 15-man squad after he failed to recover from a leg injury.

Pakistan can boast the sport's tallest cricketer in seven-foot, one-inch (2.16 metre) Mohammad Irfan who'll certainly be an attraction when his side meet bitter rivals and defending champions India in Adelaide on Sunday.

Tickets for that game were sold out within 20 minutes.
Follow us on Twitter @E247Sports for exclusive coverage of all the action from Down Under https://twitter.com/E247Sports

The World Cup is India's last engagement on what has been a thoroughly miserable Test and ODI tour of Australia with Mahendra Singh Dhoni's team finally breaking their winning drought on Tuesday with a victory over Afghanistan in a warm-up game.

Australia, the four-time champions, have been sweating on the fitness of captain Michael Clarke whose hamstring problems have placed a long-running question mark over his ability to last six weeks.

His 64 in a warm-up win over the United Arab Emirates in Melbourne on Wednesday helped ease the doubts.

West Indies, the champions of the first two World Cups in 1975 and 1979, are in turmoil with former skipper Dwayne Bravo dropped for his role in the controversial abandoning of last year's tour of India over a pay row.

Teammate Chris Gayle accused the West Indies Cricket Board of victimisation in their treatment of Bravo, one of the team's few match-winners.

The UAE, who boast the oldest players in the tournament - 43-year-old duo, Mohammed Tauqir and Khurram Khan - are playing in their first World Cup since 1996.

Afghanistan are playing in their first, a widely-applauded achievement for a team who picked up the basics of the game while living in refugee camps in Pakistan.

The 14 teams are split into two groups with the top four going into the quarter-finals.

Pool A is made up of Australia, Afghanistan, Bangladesh, England, New Zealand, Scotland and Sri Lanka.

Pool B contains India, Pakistan, Ireland, West Indies, South Africa, UAE and Zimbabwe.

The ICC insist that there is global appeal for the marathon event.

"It will be broadcast in over 200 territories. We expect (viewership) to be exceeding 2.5 billion people. It's broadcast in seven languages, including Italian," said Richardson.

Follow Emirates 24|7 on Google News.