De Villiers, Tahir shine as South Africa thrash Windies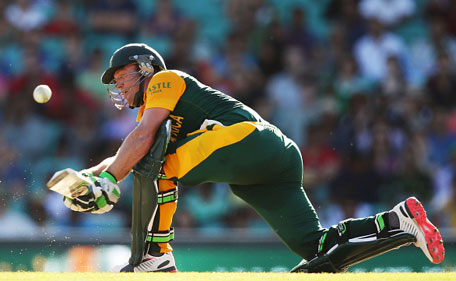 South Africa posted a huge 257-run victory over West Indies thanks to a stunning unbeaten century from AB de Villiers and a five-wicket haul from Imran Tahir.
Needing 409 to win, there was no batting performance worth a mention as West Indies collapsed like a pack of cards. Tahir doing most of the damage with a five-wicket haul.
The total score could have been much worse but skipper Jonathan Holder scored a 48-ball 56 to ensure West Indies managed 151 before being all out in 33.1 overs.
Winning the toss and batting first. AB de Villiers hammered a stunning 66-ball 162 including 17 boundaries and eight sixes as South Africa scored a mammoth 408 for five in 50 overs against West Indies in Sydney.
West Indies bowlers who bowled well during the initial stage were hit all over the part after de Villiers arrived.
Earlier, Hashim Amla (65) and Faf du Plessis (62) provided a strong foundation with a century partnership. de Villiers was supported by Rossouw who also scored a brisk 61 from 39 balls.
WEST INDIES INNINGS
The final one goes as Morkel picks his second wicket. A sad ending to West Indies bating especially after having posted a big win against Zimbabwe in their previous match. WI 151 all out in 33.1 overs.
Sulieman Benn c Amla b Morkel 1 (3b 0x4 0x6)
West Indies lose their ninth wicket as Holder goes. But his innings ensured West Indies had a respectable total. WI 150-9 in 32.4 overs.
Jason Holder c Amla b Steyn 56 (48b 3x4 4x6)
Amid ruins, Holder scores a quick half century to give some respect to the score. His 50 comes off 44 balls including three boundaries and an equal number sixes. WI 144-8 in 32 overs

Imran Tahir takes a five wicket haul as Ramdin is bowled. WI 108-8 in 26 overs.
Denes Ramdin b Imran Tahir 22 (47b 2x4 0x6)
That's another for Tahir as he picks his fourth wicket. A major collapse for West Indies as they stare at the biggest margin of loss. WI 63-7 in 17.4 overs.
Andre Russell c Abbott b Imran Tahir 0 (3b 0x4 0x6)
Tahir on a roll. Gets his third wicket as Sammy is stumped. Terrible situation for West Indies as they face a huge loss. WI 63-6 in 17.1 overs.
Darren Sammy st de Kock b Imran Tahir 5 (11b 0x4 0x6)
Tahir plucks out another wicket to further dent West Indies line up. Simmons goes for a duck after being trapped in front. WI 53-5 in 12 overs.
Lendl Simmons lbw b Imran Tahir 0 (2b 0x4 0x6)
Another wicket falls and West Indies are slipping to humiliating loss. Smith attempts a big one but a great catch from Miller in the deep ends his innings. WI 52-4 in 11.1 overs.
Dwayne Smith c Miller b Imran Tahir 31 (34b 4x4 1x6)
Unlucky for West Indies as Carter succumbs attempting a pull. Great catch by de Villiers. WI 52-3 in 11 overs.
Jonathan Carter c de Villiers b Morkel 10 (20b 1x4 0x6)
Smith reaches 30 including four boundaries and a six as WI reach 47-2 in 10 overs.

Smith and Carter slowly recovering from the early shock. They need 372 from 252 balls. WI 37-2 in 8 overs.

Abbott strikes again as Samuels departs edging one to the 'keeper. West Indies are already in deep trouble and need a big partnership if they were to get back on track. WI 16-2 in 3.3 overs.
Marlon Samuels c de Kock b Abbott 0 (9b 0x4 0x6)
Big wicket for Abbott as Gayle is clean bowled. Making room to go for a big one did not work for the left-handed batsman. WI 12-1 in 1.3 overs.
Chris Gayle b Abbott 3 (4b 0x4 0x6)
Gayle and Smith take charge as Steyn prepares to bowl. Good positive start from Windies as Smith gets a huge six. WI 10-0 in 1 over.
SOUTH AFRICA INNINGS

De Villiers plays a superb knock of 162 from only 66 balls. He gets almost all the fastest runs record till 150 as SA post 408 for five in 50 overs.
A boundary and a six from de Villiers as he fires his way to stunning century from just 52 deliveries. 12 boundaries and three sixes were the highlight of his innings. SA 364-5 in 48 overs.

A stunning single handed catch from Taylor on the line as Miller departs. SA 328-5 in 46.4 overs.
David Miller c Taylor b Russell 20 (16b 0x4 0x6)
South Africa reach 300 for four in 44.1 overs. de Villiers batting on 79 from 43 balls.

West Indies grab the much needed break. Rossouw departs but not before putting SA in a fine position. SA 280-4 in 42.1 overs.
Rilee Rossouw c Ramdin b Russell 61 (39b 6x4 1x6)
Great shots from de Villiers gives him a fine half century off 30 deliveries. SA 258-3 in 40 overs

Rossouw gets a fantastic half century in just 31 deliveries including five boundaries and a six. His partnership with de Villiers reaches 92. SA 240-3 in 39 overs.

South Africa reach 200 for three in 36.2 overs

After those two quick wickets, South Africa recover quickly as de Villiers and Rossouw add a fine 40 runs partnership in just 32 balls. SA 186-3 in 35 overs.

Gayle strikes again immediately as Amla is trapped in front. Amla reviews it but umpires decision remains. SA 146-3 in 29.4 overs.
Hashim Amla lbw b Gayle 65 (88b 1x4 1x6)
Gayle strikes to end a threatening partnership as Du Plessis succumbs. SA 145-2 in 29.2 overs.
Faf du Plessis c Ramdin b Gayle 62 (70b 3x4 0x6)
Partnership between Amla and du Plessis reaches 100 from 122 balls. SA 119-1 in 26 overs.

Amla reaches half century in style with a fine straight six. He has one boundary and a six en route to his 54 from 76 deliveries. SA 111-1 in 25 overs.

South Africa cruising well at the moment. Amla batting on 39 while Du Plessis is on 31. SA 87-1 in 20 overs

Partnership reaches 54 between Amla and Du Plessis. SA 72-1 in 17 overs.

Run rate has gone up to four. It's been a patient stay from both of the batsmen. SA 49-1 in 14 overs.

Pacers continue to impress as they keep the South African batsmen tied. Amla has faced 25 deliveries to just score nine while Du Plessis has 6 from 16. SA 30-1 in 10 overs.

Windies pacers are bowling a great line and Holder gets awarded. De Kock offers a catch to Russell at cover. SA 18-1 in 5.4 overs.

Q de Kock c Russell b Holder 12 (19b 3x4 0x6)

Amla and de kock open for South Africa as Jerome Taylor picks the ball. Two boundaries of the opening over and a positive start from the Proteas. SA 8-0 in 1 over.

South Africa win toss and elect to bat first. It's an important match for the Proteas as they would eye for a big total.
PLAYING XI: South Africa: Hashim Amla, Quinton de Kock, Faf du Plessis, Rilee Rossouw, AB de Villiers, David Miller, Farhaan Behardien, Dale Steyn, Kyle Abbott, Mornie Morkel, Imran Tahir
West Indies: Dwayne Smith, Chris Gayle, Marlon Samuels, Denesh Ramdin, Lendl Simmons, Jonathan Carter, Darren Sammy, Andre Russell, Jason Holder, Jerome Taylor, Sulieman Benn
PREVIEW
South Africa face a revitalised West Indies at the Sydney Cricket Ground on Friday in a match they need to win to breathe life back into their faltering World Cup campaign.

The Proteas, who have yet to win a World Cup, were outplayed by defending champions India, losing by 130 runs at the Melbourne Cricket Ground last Sunday.

That left AB de Villiers' team with just two points after two games and trailing India, the West Indies and Ireland in Pool B.
Follow us on Twitter @E247Sports for exclusive coverage of all the action from Down Under

While the South Africans mastered the West Indies 4-1 in a home series last month they confront a Caribbean team full of confidence after their 73-run win over Zimbabwe.

Opener Chris Gayle bounced back to his destructive best with the highest ever individual World Cup score of 215 containing a record-equalling 16 sixes, while Marlon Samuels scored an unbeaten 133 in an all-time ODI record stand of 372.

The South Africans cannot afford to lose to the West Indies as they would then have to beat Ireland, Pakistan and the United Arab Emirates to ensure they finish near the top of their pool and secure an advantageous quarter-final draw.

South Africa have won three of their five World Cup encounters with the West Indies, including the last two in Delhi and Grenada.

The Proteas will also have to show that they are genuine World Cup contenders after reaching the semi-finals of the 1992, 1999 and 2007 tournaments.

"It's a big game for us and it's a must win for us in Sydney," de Villiers said. "We'll come with a bit of energy again. The way I know this team, we always bounce back.

"We've got a never-say-die attitude, and this tournament is by a long way not over for us."

A big part of South Africa's hopes rests with premier paceman Dale Steyn's contest with record-breaking West Indian opener Gayle.

Steyn has only taken two for 119 in his two matches so far at the tournament from a win over Zimbabwe and the crushing loss to India.

Gayle was struggling at the start of the competition, making 36 in the defeat by Ireland and just four in the win over Pakistan.

But he roared back to form with his sensational 215 off 147 balls against Zimbabwe in Canberra on Tuesday, the first-ever double century at a World Cup.

Steyn has only dismissed Gayle once in their one-day international clashes.

Steyn will be without his new-ball partner Vernon Philander, who has been ruled out with a hamstring injury.

Gayle says the West Indies will be looking to post their fourth total above 300 in Friday's game.

So far the West Indies have registered totals of 304 against Ireland, 310 against Pakistan and 372 against Zimbabwe.

"Yeah, that's a good positive for us, getting 300 runs. It's been fantastic, it's a plus for our batting to be able to get 300 runs in three consecutive games," said Gayle.

"So hopefully we can actually go four for four and post a good total."

The West Indies are striking form at the right time after their shock first-up loss to Ireland and then handsomely beating Pakistan and Zimbabwe.

"We're coming up against a good team. We toured South Africa recently. We know each other, as well," said Gayle.

"It's going to be a good test. It's a World Cup event now, so we're all on neutral ground, so we've got to make our best performance speak for ourselves."


Follow Emirates 24|7 on Google News.