De Villiers wicket pumps up Pakistan's Sohail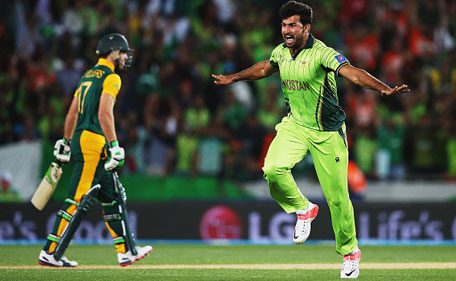 Pakistan paceman Sohail Khan said Monday that taking the wicket of South African master blaster AB de Villiers would inspire him to greater heights at the World Cup.

Sohail, who turned 31 on Friday, celebrated his birthday in style a day later when he dismissed the South Africa skipper who was threatening to take the Pool B match away from Pakistan in Auckland.

Sohail produced a back of a length delivery which de Villiers edged to wicketkeeper Sarfraz Ahmed to end a blistering innings of 77.
Follow us on Twitter @E247Sports for exclusive coverage of all the action from Down Under

It was a dismissal that all but sealed Pakistan's third win in five pool matches, leaving South Africa nine wickets down, before Pakistan-born No 11 Imran Tahir was last man out as Misbah-ul-Haq's side won by 29 runs.

"He (de Villiers) was taking the match away, so when I came to bowl with around 30-odd runs left to defend I bowled one full length delivery and then a back of a length and my word, I was thrilled to see he edged it to the keeper," Sohail told AFP.

"It was a big wicket, the biggest of my career so far because his is a big name, the world's top batsman," the seamer added. "That helped us win the game and we were all delighted with that wicket."

Sohail said he believed de Villiers' wicket would act as as a springboard for further success.

"Now I have more confidence and I want a five-for in the next game," said Sohail of Pakistan's group-stage finale against Ireland in Adelaide on March 15.

That game will decide Pakistan's fate in Pool B with Ireland, the West Indies and South Africa also in the hunt for a quarter-final spot behind already qualified defending champions India.

Sohail, who took five for 55 in the team's tournament-opening loss to India, said Pakistan's bowlers had performed with plenty of passion against South Africa.

"We bowled as per the plan given to us by the coach (Waqar Younis) and the skipper (Misbah) and bowled with a lot of heart and energy," said Sohail who finished with one for 36 in his five overs.

He added that if the Pakistan attack maintained that form they would go far at this World Cup.

"We have that will and the passion, so if we keep bowling like that, support each other, then we can go a long way in the tournament."
Follow Emirates 24|7 on Google News.