Dhoni hails match-winning bowlers after thrashing UAE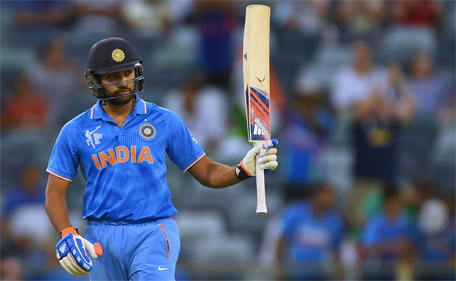 India captain Mahendra Singh Dhoni admitted Saturday that his bowling attack, so often over-shadowed by the team's legion of batting superstars, will be key if they are to successfully defend their World Cup title.

India hardly broke sweat at Perth's WACA ground as they cruised past the part-timers of the United Arab Emirates by nine wickets, easily reaching the 103-run winning target they had been set.

But unlike their two opening wins at the tournament which yielded totals of 300 and over against Pakistan and South Africa, Saturday gave India's bowlers the chance to make decisive contributions against a UAE side who won the toss and chose to bat.

"The bowlers have really stepped up and this has led to improvements in other parts of the side," said Dhoni.

"When we were losing games outside the sub-continent it was a concern and we couldn't get wickets in the middle overs," he added.

"Now we are getting wickets with the new ball and the spinners are able to put more pressure on in the middle overs. As a unit they are doing well. They have shown they can do it game after game."

Ravichandran Ashwin took a career best of four for 25 with fellow spinner Ravindra Jadeja claiming two wickets.

Ashwin said he was delighted to have his moment in the spotlight after his team's batmen had ran riot in the first two games, with Virat Kohli and Shikhar Dhawan making centuries against Pakistan and South Africe respectively.

Suresh Raina and Dhawan also hit half-centuries against Pakistan while Ajinkya Rahane went past the 50 mark against South Africa.

In a reminder of the team's batting strength, Saturday saw opener Rohit Sharma make an undefeated fifty.

"I usually bowl at phases of the game when you are trying to buy wickets or cut the runs down but today went well," said Ashwin.

"I am an attacking bowler but when it comes to this format I am unselfish. It doesn't matter about the numbers as long as I contribute."

UAE skipper Mohammad Tauqir had seen his team lose two close games to Zimbabwe and Ireland but on Saturday they were simply outclassed by the champions with only Shaiman Anwar, who hit a century against the Irish, showing any resistance with a tidy 35 before being last man out.

"It was not a par score, we were outplayed by the Indian bowling," said Tauqir.

"We should have scored 200-plus but Ashwin bowled brilliantly and we couldn't cope. Our top order need to be more responsible."

INDIA INNINGS
India are 100 for 1 in 18 overs.

Innings break as India still need 15 runs to win with 34 overs to go. Rohit Sharma batting on 47 while Kohli is on 27. Ind 88-1 in 16 overs.

India cruising through smoothly as they reach 52 for 1 in 10 overs. They need another 51 from 240 balls.

A brilliant one-handed catch from Rohan Mustafa as UAE celebrate the wicket of Dhawan. Ind 29-1 in 16.3 overs.
Shikhar Dhawan c Rohan Mustafa b Mohammad Naveed 14 (17b 3x4 0x6)
Indian openers taking their time but are dealing in boundaries. It looks all easy for India. Ind 19-0 in 5 overs.

Rohit Sharma and Shikhar Dhawan are in the middle as Naveed Saleem bowls for UAE.
UAE INNINGS
UAE lose their last wicket as Anwar's battle comes to an end. He made a gritty 35 ensuring UAE were 102 all out in 31.3 overs.
Shaiman Anwar b Yadav 35 (49b 6x4 0x6)
Anwar (35) battles hard all alone as UAE get past 100. Commendable job from Guruge as the partnership reaches 31 from 43 balls. UAE 102-9 in 31.1 overs.

UAE's collapse continues as skipper Tauqir departs. He goes for a sweep but misses it to be bowled from behind. UAE 71-9 in 24 overs.
Mohammad Tauqir b Jadeja 1 (5b 0x4 0x6)
Ashwin picks his fourth wicket as he clean bowls Naveed. Naveed got the only six for the UAE in this match. something to cheer about! UAE 68-8 in 22.3 overs.
Mohammad Naveed b Ashwin 6 (7b 0x4 1x6)
Ravindra Jadeja strikes in his very first ball as Javed offers a simple catch to the slip. Not the best of the day for UAE. UAE 61-7 in 21.1 overs.
Amjad Javed c Raina b Jadeja 2 (5b 0x4 0x6)
Another wicket gone as Mustafa is trapped in front. Looks like getting to the three-digit mark has become a difficult task at the moment. UAE 52-6 in 19.5 overs.
Rohan Mustafa lbw b M Sharma 2 (12b 0x4 0x6)
UAE in all sorts of trouble as they lose their dependable batsman Khurram Khan. Attempting a sweep it takes the top edge for an easy catch to Raina. UAE 44-5 in 16.4 overs.
Khurram Khan c Raina b Ashwin 14 (28b 1x4 0x6)
Ashwin claims his second wicket as Dhawan takes a great catch in the slip after Patil gets an edge. UAE 41-4 in 14.5 overs.
Swapnil Patil c Dhawan b Ashwin 7 (19b 1x4 0x6)
Ashwin strikes immediately after he comes to bowl. A thin edge from the bat and then thigh pad goes to Suresh Raina at leg slip. UAE 28-3 in 10.2 overs.
Krishna Chandran c Raina b Ashwin 4 (27b 0x4 0x6)
A great spell of bowling from Umesh Yadav giving away only three runs from his four overs including two maidens. UAE 18-2 in 8 overs.

Another one succumbs attempting a hook. Amjad Ali gets a thin edge easily taken by Dhoni. UAE 13-2 in 5 overs.
Amjad Ali c Dhoni b Kumar 4 (12b 0x4 0x6)
UAE lose their first wicket as Berenger departs. Attempting a pull off Yadav he gets a top edge which Dhoni takes it comfortably. UAE 7-1 in 1.4 overs.
Andri Berenger c Dhoni b Yadav 4 (9b 1x4 0x6)
Ali and Berenger in the middle as Bhuvneshwar Kumar prepares to bowl. A boundary of the first over from Berenger as UAE reach 6-0 in 1 over.

UAE won the toss and chose to bat. India's Bhuvneshwar Kumar makes a return.

PLAYING XI

United Arab Emirates: Amjad Ali, Andri Berenger, Krishna Chandran, Khurram Khan, Swapnil Patil, Shaiman Anwar, Rohan Mustafa, Amjad Javed, Mohammad Naveed, Mohammad Tauqir, Manjula Guruge
India: Shikhar Dhawan, Rohit Sharma, Virat Kohli, Ajinkya Rahane, Suresh Raina, MS Dhoni, Ravindra Jadeja, Ravichandran Ashwin, Bhuvneshwar Kumar, Umesh Yadav, Mohit Sharma
PREVIEW

India will approach Saturday's World Cup match against the United Arab Emirates in Perth with the same intensity as they do against established teams, key batsman Shikhar Dhawan said.

The Pool B game between the defending champions and the minnows at the WACA ground is being seen as a huge mismatch, but the left-handed opener emphasised the importance of taking it seriously.

"We need to keep the momentum going," said Dhawan, the hero of India's emphatic wins over arch-rivals Pakistan by 76 runs and against South Africa by 130 runs in their two matches so far.
Follow us on Twitter @E247Sports for exclusive coverage of all the action from Down Under

"We will approach the match the same way as we have done for other games and play it as we have been playing all along. We will play with the same fighting spirit and keep the same intensity.

"You can't afford to take any side lightly at the international level."

The UAE have lost both their matches, going down to Zimbabwe by four wickets before being edged out by two wickets by Ireland in a thriller in Brisbane on Wednesday.

Dhawan's match-winning knocks of 73 off 76 balls against Pakistan in Adelaide and a glorious 137 off 146 against the Proteas in front of more than 86,000 fans at the Melbourne Cricket Ground provided a batting feast.

Having had an ordinary tour of Australia in both the Tests and the tri-series prior to the World Cup, Dhawan attributed the turnaround to hard work and learning from past mistakes.

"The key is to stay calm and work hard," he said. "Look, it is very natural that your confidence increases when you play two good back-to back knocks.

"I have now got used to the bounce and enjoy playing my shots."

Dhawan said the team will miss coach Duncan Fletcher, who had to fly to South Africa to attend the funeral of his father-in-law and will not be available for Saturday's game.

"We will all miss Duncan," he said. "But we will still do the same routines at training. I am sure he must have discussed these matters with the support staff."

He added that former India captain Ravi Shastri's role as team director has been very beneficial for the players, especially him.

"Ravi's presence has been invaluable," he said. "He gave me support and confidence when I needed it and stood beside me. I think that has helped me return to form."

Dhawan, who has a home in Melbourne where he lives with his British-Indian wife and three children, said Australia was one of the best places to play cricket.

"Australia is a beautiful country, but I hardly get time to spend time with my family here," he said. "And the support you get from Indian fans at matches is so amazing.

"It is great to play in front of so many people. I am certain we get an edge over other teams because of the support we get."

Knee injury

India's in-form seamer Mohammad Shami will miss Saturday's World Cup clash against the United Arab Emirates in Perth due to a knee injury, a media release from the team said.

Shami has a mild left knee problem, the release said, adding that he was given a "an ultrasound guided injection" and asked to rest for the Pool B match.

The release did not say if the 24-year-old will be available for the next game against the West Indies in Perth on March 6.

The right-arm seamer has been India's most successful bowler in the tournament with figures of four for 35 against Pakistan and two for 30 against South Africa.

Seamer Bhuvaneshwar Kumar or all-rounder Stuart Binny may replace Shami for the UAE match.

Karate effect

At least two of the UAE amateurs are relishing the World Cup showdown at the WACA.

All-rounder Krishna Chandran and wicket-keeper Swapnil Patil were both born in India but, frustrated by the pedestrian pace of their playing careers in the country's over-crowded talent market, they decamped to the UAE where they could pursue both jobs and cricket.

Chandran hails from Kerala and once featured for a Bangalore college club alongside Stuart Binny, who is a member of the India squad at the World Cup.

"It's going to be a big moment for people back home," 30-year-old Chandran, who moved to the Gulf in 2010, told wisdenindia.com.

"For people who saw me playing in my shorts, with a tennis ball, on the streets of my home village of Kollengode, it's going to be a big thing to watch me on TV, playing against India, in a World Cup match, at a ground like the WACA."

Chandran, who has become something of a curiosity at the World Cup due to his surname of Karate which adorns some of his playing gear, made a solid 34 runs in the opening loss to Zimbabwe before being dismissed for nought in the heart-breaking two-wicket defeat by Ireland.

Patil is another Indian expat and he is looking forward to meeting up with star batsman Ajinkya Rahane who smashed 79 against South Africa.

Patil and Rahane played in a variety of youth teams in Mumbai before the keeper decamped to Dubai.

But the 29-year-old Patil, one of seven players in the UAE squad who only made their debuts last year after completing residency qualifications, has fond memories of his time spent with Rahane.

"As juniors we have spent much time together. Because of distances in Mumbai, we couldn't hang out together after games but Ajinkya is like a brother," Patil told the Indian Express.

"Once I moved from India, we lost contact. But one day at the Dubai airport, he was returning from India's A tour to South Africa, it was like old times again."

UAE have made a mark at the tournament, with Pakistan-born Shaiman Anwar scoring the first hundred by a UAE batsman at a World Cup with 106 off 83 balls against Ireland.

All-rounder Amjad Javed, who made 42 and took three for 60 in Brisbane, believes that performance, as well as Ireland's win against the West Indies and competitive displays by Afghanistan and Scotland, should force a rethink by the International Cricket Council (ICC) who plan to cut the 2019 World Cup to 10 teams.

"They have to introduce more teams in the World Cup. The teams are not coming straightaway to the World Cup, they are going through a process and then they are qualifying for the tournament," Javed said.

"So I think they should increase the number of teams."
Five match facts:

- India have won both previous one-day internationals between these teams - Asia Cup matches in 1994 and 2004 - they batted first on both occasions.

- Shaiman Anwar hit the first World Cup century by a United Arab Emirates batsman in his team's narrow defeat against Ireland. It was only the second ODI century in any competition by a UAE batsman.

- India opener Shikhar Dhawan has hit 573 runs at an average of 95.5 in his seven innings in ICC tournaments - he hit 363 at the 2013 Champions Trophy and has 210 in this event.

- India's last five ODIs at Perth have been won by the team that batted second.

- The UAE has two Indian-born players in their team, all-rounder Krishna Chandran and wicket-keeper Swapnil Patil

Squads and officials:

India (from): Mahendra Singh Dhoni (capt), Shikhar Dhawan, Rohit Sharma, Virat Kohli, Ajinkya Rahane, Suresh Raina, Ravindra Jadeja, Ravichandran Ashwin, Mohit Sharma, Mohammad Shami, Umesh Yadav, Stuart Binny, Akshar Patel, Bhuvnneshwar Kumar, Ambati Rayadu.

UAE (from): Mohammad Tauqir (capt), Khurram Khan, Amjad Ali, Amjad Javed, Andri Berenger, Fahad Alhashmi, Manjula Guruge, Kamran Shazad, Krishna Chandran, Mohammad Naveed, Nasir Aziz, Swapnil Patil, Rohan Mustafa, Saqlain Haider, Shaiman Anwar.

Umpires: Michael Gough (ENG), Billy Bowden (NZL)
TV umpire: Nigel Llong (ENG)
Match referee: Ranjan Madugalle (SRI)

Weather forecast: Sunny. Maximum temperature of 30 Celsius.

Follow Emirates 24|7 on Google News.