Dhoni hails rejuvenated Dhawan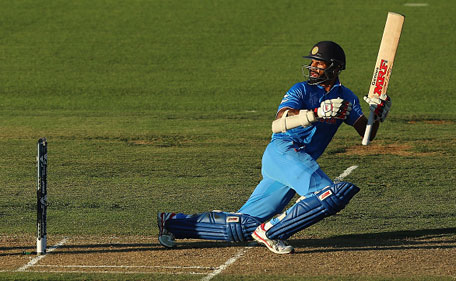 India captain Mahendra Singh Dhoni saluted Shikhar Dhawan's return to form after the opener smashed his second World Cup hundred in Tuesday's eight-wicket win over Ireland.

Dhawan hit an 85-ball 100 with five sixes and 11 boundaries to anchor India's 260-run chase in 36.5 overs at Seddon Park in Hamilton.

That gave India a fifth straight win to ensure top spot in Pool B and a quarter-final match-up against the fourth-placed finishers in Pool A, a position currently occupied by Bangladesh.
Follow us on Twitter @E247Sports for exclusive coverage of all the action from Down Under

Dhawan, who also smashed 137 in the win over South Africa, had suffered a wretched bout of form at the tri-nations series leading up to the World Cup, scoring just two, one, eight and 38.

"It is important to back your players," said Dhoni.

"We try to do it and I felt that though he had a tough series, I felt we had put a lot of effort into him.

"We always believed in him. But the final step that needs to be taken is from the individual, and I felt he prepared well for these ODIs, and it obviously takes time."

Dhoni said Dhawan was capitalising on his good starts in the five World Cup matches where the defending champions have barely broken sweat.

"Overall the difference I've seen in his batting is once he gets a start he sees it as an opportunity to turn that start into a big innings, and right from the first game that's what he's done.

"He's not someone who is happy getting a 50. He knows that the team needs him to score big runs. So once he gets to his 50, he hits the next milestone which is a hundred."

Dhoni stressed all of his players need to contribute at the tournament.

"I think the crucial part is for everybody to score runs to get wickets and to bowl well.

"Because ultimately in the knock-out stages you don't really know who you may need, so it's important that everybody gets a bit of confidence going," said Dhoni.

Dhoni also praised key off-spinner Ravichandran Ashwin who took 2-38 to check Ireland's progress.

"Ashwin is someone who I always love to have, the reason being I always push him to bowl in the power plays and even have used him whenever I'm in difficult situations. So he is really confident about his bowling," said Dhoni.

The Indian skipper insists his team will remain motivated in their last pool game against already-eliminated Zimbabwe in Auckland on Saturday despite it having no consequence for either side.

"We're highly motivated. We have qualified for the next stage (before today), but still it was a challenge in itself because of the travelling issue that we had.

"A lot of boys didn't get enough sleep before this game because of the time we landed and the travelling that we have to do.

"So every game pushes you to do something special. The next game will be the last before we get into the knock-out stages, so we'll keep improving every game."

Dhoni said the milestone of equalling West Indian great Clive Lloyd's nine consecutive World Cup wins - second behind Australia's Ricky Ponting's 24 - doesn't matter to him.

"The most important thing is winning the game for your country. It doesn't really matter what the milestone is. Definitely it's something that every player will be proud of.

"At the end of the day, we play a team sport, and everybody needs to enjoy it."


Follow Emirates 24|7 on Google News.