Eyes on Kirsten as South Africa prepare for India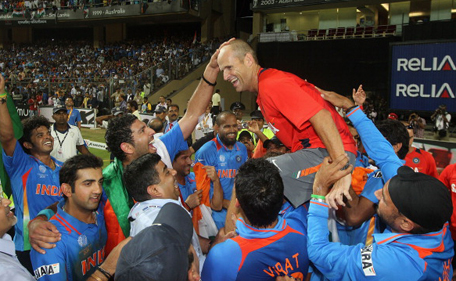 Having coached one team to the World Cup title, Gary Kirsten is now helping plot another nation's bid for the coveted prize - and the two will meet when India take on South Africa on Sunday.

Kirsten, the former South African opening batsman, was India's coach when Mahendra Singh Dhoni's men won the World Cup in Mumbai four years ago.

He left the job immediately after the tournament to take over as South Africa's coach, serving the Proteas for two years before handing the baton to his deputy Russell Domingo.
Follow us on Twitter @E247Sports for exclusive coverage of all the action from Down Under

The 47-year-old is now back with AB de Villiers' side as a consultant for a part of the World Cup and joined the squad on Wednesday after returning from the players' auction in the Indian Premier League (IPL), where he coaches the Delhi Daredevils franchise.

Kirsten will be on hand to watch the two sides meet at the Melbourne Cricket Ground on Sunday in a key Pool B match which will almost certainly assure the winner a place in the quarter-finals.

Domingo said he was happy to have Kirsten around, even if only on a temporary basis.

"Gary is an experienced coach, he has been with the side for a long period of time," Domingo said on Thursday.

"He has a certain number of days with us for important stages of the event where we think he can offer us a lot of input and advice.

"Just having his presence around is a big source of inspiration and motivation for the team."

Both teams won their opening games, with India thrashing arch-rivals Pakistan by 76 runs in Adelaide and South Africa beating neighbours Zimbabwe by 62 runs in Hamilton.

South Africa have never won the World Cup, despite being one of the most powerful sides in modern-day cricket, and Kirsten's input will be vital as the Proteas seek to ditch their unwanted tag of "chokers".

"I'm desperately hoping that we win the World Cup this year," Kirsten told the Kolkata-based Telegraph newspaper as he vowed sentiment would play no part in his approach to Sunday's match.

"In a professional environment, work is work. Whatever the colours you wear, you're expected to give your best shot. In today's world, little is unknown as information spreads fast and gets shared."

Kirsten is not the only man in the South African set-up with Indian connections.

Bowling coach Allan Donald is involved with the IPL and trainer Gregory King was with the Indian squad for four years until 2007.

Several players, including skipper de Villiers, Duminy, Miller and fast bowlers Dale Steyn and Morne Morkel, also ply their trade in the lucrative IPL.

Australian Mike Hussey, given a backroom role by the South Africans specifically for the World Cup, has also been an IPL regular since its inception in 2008.

Former India captain Sunil Gavaskar said the expertise of Kirsten and Hussey could benefit South Africa but urged Dhoni's men not to think about them too much.

"Kirsten knows how people react in the Indian dressing room," said Gavaskar. "Hussey has also played in the IPL. They will try and tell them how to negotiate 20 overs of spin.

"It will help to an extent but then a lot depends on how they play on the field. It will only help South Africa if India think too much about Kirsten and Hussey.

"These things are peripheral."

India have never beaten South Africa in the World Cup, having lost to the Proteas at the 1992, 1999 and 2011 editions.

Kirsten, who played 101 Tests and 185 one-day internationals between 1993 and 2004, holds the record for the highest individual score at a World Cup - 188 not out against the United Arab Emirates in Rawalpindi in 1996.
Follow Emirates 24|7 on Google News.