From Bradford to Napier, for love of Pakistan cricket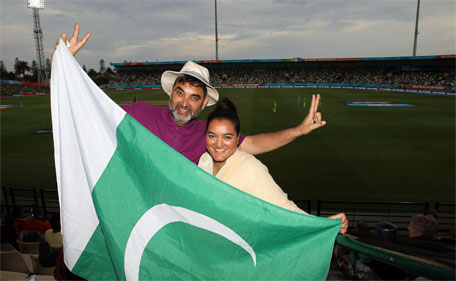 Haider Israr has three loves - wife Shazira, his adopted home of Bradford in the north of England and cricket. Well, Pakistan cricket in particular.

The 49-year-old travels the world supporting Pakistan, leaving his fast food business in Bradford in the hands of others.

"I was born and educated in Pakistan, so my identity is Pakistani and I feel that we can only project our country as a civilised nation through cricket," Haider told AFP as he watched Wednesday's World Cup clash against the UAE at McLean Park in Napier.
Follow us on Twitter @E247Sports for exclusive coverage of all the action from Down Under

"Unfortunately Pakistan is mainly known for the wrong reasons," said Haider of the terror-hit country.

"So cricket is the only thing we can be proud of and all my hopes are with cricket to promote my country."

Haider, who hails from Gujjar Khan in the Punjab province, migrated to the United Kingdom after his fiancee sponsored his visit and they were soon married.

"I was married before, to cricket," he joked. "I have been to many international matches but since my marriage I have taken my wife to Sri Lanka and Bangladesh for the 2011 World Cup, 2012 World Twenty20 (Sri Lanka) and 2014 World Twenty20 (Bangladesh)," said Haider.

But his World Cup tour of Australia and New Zealand started on the wrong note.

"I couldn't get a ticket for the all-important match against India and the defeat added to my disappointment," said Haider, who went on to see Pakistan lose to the West Indies by 150 runs in the second match in Christchurch.

Angry at that defeat, Haider and his wife flew to Australia's Gold coast to ease the pain before flying back to New Zealand and Wednesday's game in Napier.

"I get texts from my friends in the UK to say I am wasting my time on this Pakistan team, but I am sure Pakistan will go to the final and I have a ticket for that match," said Haider, of the March 29 title decider in Melbourne.

Haider also hoped that Pakistan cricket becomes more stable - both on and off the field.

"Every other day we get news of a new chairman of the Pakistan Cricket Board which destabilises the game and now I am hearing that they are bringing back players who stained Pakistan's image," said Haider of Salman Butt, Mohammad Asif and Mohammad Aamer.

The trio were banned for five years and jailed in 2011 over a spot-fixing case in England a year earlier.

Aamer is due to play his first match on March 9 after the International Cricket Council relaxed certain conditions of his ban last year, allowing him to play domestic cricket six months before his suspension expires.

"England gave us a home series and three players spoiled our image but people want them back," said Haider.

"They sold themselves for peanuts. When I go to watch cricket at Lord's or Leeds the locals chant 'for how much will you sell this shirt?' But I tell them that those players are out of cricket now," said Haider.

"I hope my country gets over all its problems because it is a great country, full of nice people and places."

Shazira said she has started to develop a deep interest in cricket.

"I didn't like cricket initially but I have now developed a good interest and by going on tours it gives me an opportunity to see the world," said Shazira.

"It's two enjoyments in one ticket and above all, my husband is happy and we promote our country."
Follow Emirates 24|7 on Google News.