Have mercy, plead World Cup's battered bowlers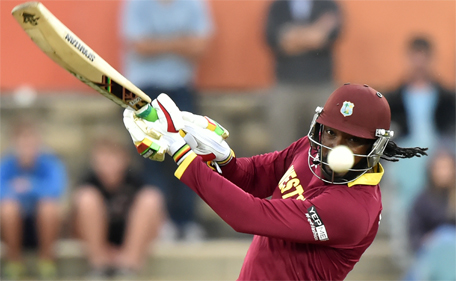 With three 400-plus totals piled-up at the World Cup in just six days, bruised and battered bowlers on Thursday pleaded for mercy as the record books were being hastily rewritten.

Many in the game fear the tournament has been transformed into a free pass for the world's muscular batsman, armed with ever bigger, more powerful bats exploiting meaner fielding restrictions.

Australia were the latest team to feast when David Warner smashed 178 in his team's World Cup record total of 417-6 against Afghanistan at the WACA in Perth on Wednesday as the four-time champions raced to a 275-run win, the biggest margin in tournament history.
Follow us on Twitter @E247Sports for exclusive coverage of all the action from Down Under

Bowlers at the competition would have felt for seamers Dawlat Zadran, whose 10 overs returned 2-101, Shapoor Zadran's 2-89 and spinner Mohammad Nabi's 0-84.

"It is a little unfair to faster bowlers, you don't really know which way to bowl," said Pakistan coach and former star fast bowler Waqar Younis.

Under current rules, five fielders must be inside the 30-yard circle at all times with only two men outside it for the first 10 overs.

Furthermore, only three fielders can be outside the circle during the five 'powerplay' overs which have to be taken by the batting team before 40 overs are completed.

"People want to see big sixes and all that and that's why the rules and laws have been changed," added Waqar.

"The wickets have become really flatter, and the batsmen are a lot fitter and the bats are thicker. So there are a lot of things going in the batters' favour. I guess it's a crowd pull thing. But for me, I believe it should be an even contest."

Former English county seamer Simon Hughes, who now works as an international match analyst and commentator, watched the carnage unfurl at the WACA and argued that under the new regulations run rates have been boosted by around a third.

"Since the new fielding restrictions, the run rate in the last 10 overs of World Cup games has gone from 7.64 to 10.81," Hughes tweeted on @theanalyst.

Recent events bear him out from around the grounds of Australia and New Zealand.

Australia's total on Wednesday went past the previous World Cup best of 413-5 made by India against Bermuda in 2007.

It was the third 400-plus total in six days after South Africa twice went through the barrier - 408-5 against the West Indies and 411-4 in the game with Ireland.

On February 24, Chris Gayle smashed the highest ever individual World Cup score of 215 in Canberra against Zimbabwe, clubbing a record-equalling 16 sixes as he bettered South African Gary Kirsten's previous highest tournament score of 188 not out against the UAE in Rawalpindi in 1996.

In the hours before Australia pummelled Afghanistan in Perth, Pakistan were cruising to victory against the UAE in Napier where the last 10 overs they faced yielded 124 runs.

Australian captain Michael Clarke believes it is possible a batsman will soon crack the 300-run barrier - India's Rohit Sharma holds the record for the highest individual score with 264 against Sri Lanka at Kolkata last November.

All six individual scores of 200 and over have been made since 2010.

"Someone like Davey, or Chris Gayle or AB de Villiers (who made an undefeated 162 off 66 balls against the West Indies)... on a smaller ground I think they possibly could do it (make 300)," said Clarke.

"I think the fact that you only have four fielders out instead of five makes a massive difference, and you've got two brand new balls means you're hitting a much harder cricket ball the whole way through your innings.

"They're probably the main two reasons. I think Twenty20 cricket in general has helped a lot of players in regards to power, hitting fours and sixes, but also hitting balls to different areas."

Former England off-spinner Graeme Swann called for the fielding restrictions to be re-examined.
"On behalf of all bowlers, bring back the fifth fielder outside the circle! #batsmansgame," tweeted Swann.
Follow Emirates 24|7 on Google News.