India's Ashwin and Kumar fit to face South Africa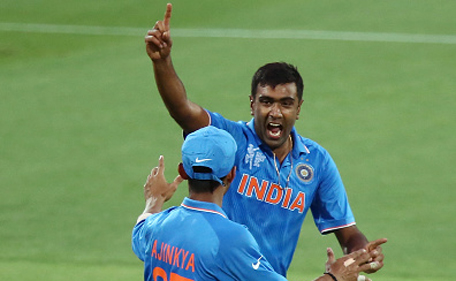 India have dismissed reports questioning the fitness of Bhuvneshwar Kumar and Ravi Ashwin and said both are "very much available" for their second World Cup match against South Africa in Melbourne on Sunday.

Seamer Kumar was reported to be a doubt after a lacklustre training session in Melbourne on Wednesday, while other reports said off-spinner Ashwin was struck by a Umesh Yadav delivery while batting in the same nets.
Follow us on Twitter @E247Sports for exclusive coverage of all the action from Down Under

"We are receiving so many calls from media about R. Ashwin and Bhuvneshwar Kumar fitness," team media manager Dr. Baba said in an e-mail on Thursday.

"(The) above players are very much available for selection for (the) match against South Africa."

India opened their World Cup defence with a convincing 76-run victory over Pakistan in Adelaide last Sunday.

Sounds of silence

However, India's reluctance to interact with the media has frustrated the large contingent of travelling reporters.

The players have not spoken publicly since skipper Mahendra Singh Dhoni addressed the mandatory post-match conference after the victory over arch-rivals Pakistan in Adelaide last Sunday.

When the squad's media manager puts out a release detailing practice times and venues, he does not fail to emphasise there will be 'no media activity' after training.

The earliest a member of the team will speak now is at the next mandatory pre-match media conference on Saturday ahead of the key Pool B match against South Africa at the Melbourne Cricket Ground the next day.

A media release said Dhoni will skip the conference, leaving his vice-captain Virat Kohli to take questions.

While other teams organise regular media interactions during the six-week tournament, the Indian squad is apparently following a diktat from the Board of Control for Cricket in India (BCCI) to speak publicly only when it is mandated by rules.

"I think it all boils down to the mistrust of the media," said veteran Indian journalist R. Kaushik of the WisdenIndia website. "There has to be a reason for it, but I don't know what.

"Maybe they feel players are misquoted for the sake of creating a controversy. But it is a challenge reporting on the Indian team."

Dhoni, one of the most popular cricketers in India, rarely gives one-to-one interviews and has even gone on record to say he speaks to the media only because his job requires him to.

During the World Twenty20 in England in 2009 after reports of dissension in the team appeared in an Indian newspaper, the entire squad turned up for the media briefing and left soon after Dhoni read out a statement.

No questions were taken, leaving International Cricket Council media managers embarrassed and journalists furious.

"I don't think the BCCI cares about the media or understands their needs," said another Indian journalist Neeru Bhatia. "I find it easier when working with other teams."

International news organisations including Agence France-Presse have suspended on-field coverage of matches hosted by the BCCI since 2012 after the board imposed restrictions on picture agencies.


Follow Emirates 24|7 on Google News.