India's batting hero Dhawan making up for lost time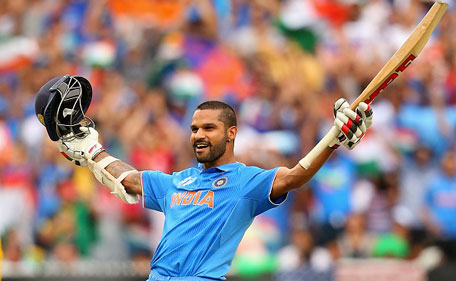 India's World Cup batting hero Shikhar Dhawan is an unconventional cricketer who met his wife, an amateur boxer, via Facebook and splits his time between New Delhi and Melbourne.

Long before he played two match-winning innings of 73 in India's tournament opener against arch-rivals Pakistan in Adelaide and 137 against South Africa in Melbourne on Sunday, Dhawan was a flamboyant batsman waiting to explode.

Playing in the shadow of his Delhi team-mates and established international stars, Virender Sehwag and Gautam Gambhir, it took Dhawan nine years of first-class cricket to break into the Test arena.
Follow us on Twitter @E247Sports for exclusive coverage of all the action from Down Under

The left-handed opener was picked for the Mohali Test against the touring Australians in 2013 aged 27 and was handed his India cap by batting great Sachin Tendulkar just before play.

"We have known you as a very gutsy player in domestic cricket, now we hope to see you as a gutsy player in international cricket, so show us some guts," Tendulkar told the excited debutant.

Dhawan did not let Tendulkar down, smashing a belligerent 187 off 174 balls with 33 boundaries and two sixes against an attack that comprised Mitchell Starc, Peter Siddle, Nathan Lyon and Xavier Doherty.

His 100 off 85 balls was the fastest by a debutant and steered India to a six-wicket win even though the opening day of the Test had been washed out.

He then played a key role in India's Champions Trophy triumph in England in 2013, returning as the player of the tournament and also its leading scorer with 363 runs at an average of 90.75.

Dhawan has now bounced back after lean pickings on the current Australian tour where his best Test score was 81 and made two, one, eight and 38 in the tri-series one-day series that also featured England.

Skipper Mahendra Singh Dhoni said the hard work Dhawan had put in the nets was paying off.

"He has worked as hard as anybody and the result is there for all to see," the captain said.

"Against South Africa he batted the way he usually bats. Not afraid to play his shots and rotating the strike at the same time. He made it easier for the other batsmen by staying there till the 44th over."

The moustache-twirling Dhawan, who was often looked down upon as a carefree man who did not take his cricketing career seriously, is clearly desperate to make up for lost time.

His unconventional approach on the field is matched by equally untraditional choices off it, but which he has often said have strengthened him both as a person and a cricketer.

A few months before his Test debut, Dhawan married Melbourne-based Ayesha Mukherjee, a mother of two daughters from a previous marriage and 12 years his senior.

Dhawan was introduced to Ayesha, an amateur boxer with a keen interest in all sports, on Facebook by former team-mate Harbhajan Singh and soon the friendship blossomed.

He shrugged off family reservations to marry her and the couple now have a son, Zoravar, who was born last year in Melbourne.

Ayesha and the three children spend as much time in Dhawan's home city of New Delhi as in Melbourne as her husband travels around the world playing cricket.

With his wife watching from the packed stands on Sunday, Dhawan repaid the trust with a superb century in a city which is now his second home.
Follow Emirates 24|7 on Google News.