Irish fury over 'vicious personal attack' on Mooney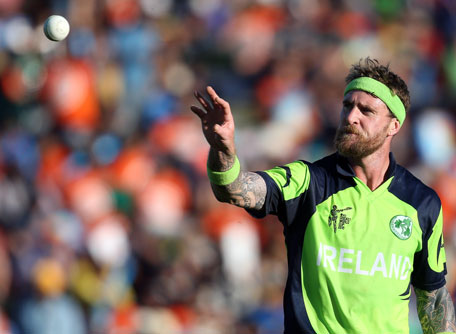 The Zimbabwe and Ireland teams at the World Cup united Wednesday to condemn a newspaper article which mocked Irish all-rounder John Mooney's battle with alcohol and depression.

Mooney took the boundary catch which eliminated the Africans from the World Cup in Hobart last Saturday.

But his match-winning efforts were greeted in the Zimbabwe Herald under the headline: "Alcoholic dumps Zim out of WC".

The 33-year-old Mooney has suffered from depression and battled alcohol abuse in the past and was forced to quit Ireland's tour of the West Indies last year.

Zimbabwe batsman Brendan Taylor, who was the stand-in captain in Saturday's game, issued an apology to Mooney on Wednesday.

"On behalf of the Zimbabwe cricket team, we just want to express our apologies to @Irelandcricket and John Mooney for the unacceptable article," tweeted Taylor, who made 121 in the game which his team lost by an agonising five runs.

Taylor shared a fifth-wicket stand of 149 with Sean Williams (96) but the game -- and Zimbabwe's future in the tournament -- turned with Zimbabwe needing 32 to win off 20 balls when Williams hooked Kevin O'Brien towards deep midwicket where Mooney reached high to grab the ball.

There were doubts over whether the big Irishman had touched the boundary with his foot, which would have resulted in a six.

As the decision was reviewed, Williams left the field and the catch stood.

"You've got to take his (Mooney's) word for it," said Taylor in the immediate aftermath of the game.

The Zimbabwe Herald article questioned the Irishman's credibility, claiming the catch "was a shameless piece of fielding dishonesty... is it possible for a person like Mooney to be trusted?"

Cricket Ireland chief executive Warren Deutrom condemned the article as "crass" and represented a "gross error of judgement".

"It would be easy to dismiss (the story) as a childish diatribe if it wasn't for the vicious personal attack on John which cannot pass without comment, and possible action," said Deutrom in a statement.

"John represents his country with honour, distinction and integrity. That he does in the face of personal challenges about which he has spoken openly and movingly demonstrates incredible hard work and great courage.

"We understand, as does John, that public figures may occasionally be subject to negative comment, but in mocking John in such a contemptuous fashion, and using his personal difficulties as a mere punchline, the Zimbabwe Herald has demonstrated breath-taking crassness and a gross error of editorial judgement."
Follow Emirates 24|7 on Google News.