Kerala-born UAE Karate Kid, Bijoy, 'Tuk-Tuk' play World Cup name game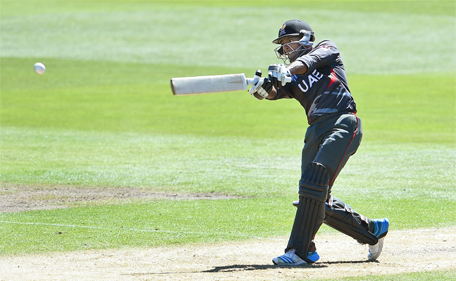 The United Arab Emirates boast the Karate kid, Bangladesh open with Bijoy while Pakistan skipper Misbah-ul-Haq would prefer not to be referred to as 'Tuk-tuk'.

There's a strange name game going on at the World Cup and Krishna Chandran caught the eye when he appeared for the UAE in their opener against Zimbabwe in Nelson on Thursday.

It wasn't just his solid 34 runs that made an impression, it was the name emblazoned on the back of his shirt - 'Karate'.
Follow us on Twitter @E247Sports for exclusive coverage of all the action from Down Under

It wasn't an indication of a fondness for martial arts on the part of the Kerala-born 24-year-old, now a Dubai airport-worker, but the family name of the former India grade cricketer's mother.

Bangladesh opening batsman Anamul Haque was 16 when he made his first-class debut and as well as acquiring accolades for his technique, he also collected a new name, 'Bijoy' which adorns the back of his playing jersey.

In Bengali, 'Bijoy' means victory and a schoolteacher gave him the name after discovering the player was born on December 16, Bangladesh's Victory Day.

Australia all-rounder Glenn Maxwell dislikes his nickname of 'The Big Show' which he earned in 2013 thanks to a $1 million deal with the Indian Premier League.

He says he prefers 'Maxy' although the tamer ID does not reflect his rise to fame which he admits was meteoric.

"It's been pretty weird - one minute I was playing for a pub cricket team in England and all of a sudden a month later I'm playing for Australia," he once said.

As if the weight of captaining Pakistan wasn't enough of a burden, with eight players already fined for breaking a curfew at this World Cup before claims emerged that there had been a bust-up at training over fielding practice, Misbah-ul-Haq also has to cope with impatient supporters.

Dubbed 'Tuk-tuk' for his conservative approach to the game, Misbah had the last laugh in November in 2014 when he smashed the fastest Test century of all time off 56 balls.

He was also a rock in the opening World Cup loss to India in Adelaide at the weekend when he top-scored with 76.

Scotland's Alasdair Evans, a gangling 6ft 5in seamer, revels in the nickname 'Melman' after a character in animated movie hit 'Madagascar'.

He even uses it in his bio details on his Twitter account.

England, meanwhile, can boast all-rounder Moeen Ali, 'The Beard that's Feared', and off-spinner James Tredwell, or 'Ronseal' for his uncomplicated approach to his craft and named after a DIY product which is sold under the slogan, 'Does exactly what is says on the tin'.

"I grow my own fruit and veg so I make some chutneys and jams if I have a bit of a glut," Tredwell once said in proud understatement of his interests.

England captain Eoin Morgan, meanwhile, this week found himself with a new name courtesy of a gaffe by the mayor of Wellington, who introduced him as 'Eoin Rogers'.

"I've been called a lot worse. She got the hardest part right," he said.
Follow Emirates 24|7 on Google News.