McCullum stunned by 'bizarre' win, Morgan 'disappointed'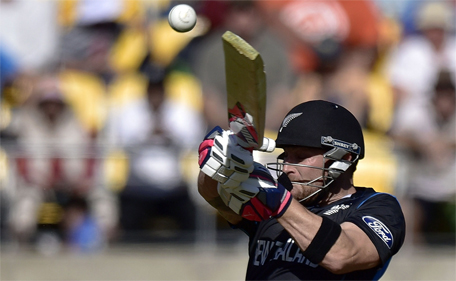 Record-breaking New Zealand captain Brendon McCullum said a crushingly lopsided World Cup win over England in Wellington on Friday was a "bizarre" achievement.

The Black Caps cemented their status as one of the favourites for the tournament with a dominant display as they recorded their third straight victory in as many Pool A matches, with this fixture completed in 45.4 overs - fewer than half the scheduled maximum for a one-day international.

New Zealand paceman Tim Southee took seven for 33, the third-best World Cup figures of all-time, as England were bowled out for just 123.
Follow us on Twitter @E247Sports for exclusive coverage of all the action from Down Under

McCullum then piled on the agony for England with the fastest-ever World Cup fifty, off just 18 balls, on his way to a whirlwind 77.

"It's a great win, while England have probably struggled of late, we knew we'd have to keep them quiet," McCullum said at the presentation ceremony.

As for man-of-the-match Southee's haul, McCullum added: "It's one of the best spells of bowling I've seen for a long time.

"Tim's been leading our group for a long time and with Trent Boult, he got the ball swinging a huge amount.

"To win by that sort of margin, it's bizarre really. We've earned ourselves a good break after a great first week of the tournament."

Southee, roared on by a capacity 33,000 crowd at the Westpac Stadium, said: "A packed house was pretty special to come out in front of. We've been bowling well as a group for a long time and today was one of those moments when it all went well for us.

"Our bowling coach, Shane Bond, does a lot of work behind the scenes and puts confidence into us."

Tough start

However, under-fire England captain Eoin Morgan said his side were "disappointed" rather than "embarrassed" by New Zealand during an eight-wicket World Cup thumping in Wellington on Friday.

"Disappointing more than anything. The way New Zealand bowled, they built some pressure and we couldn't cope with it."

As for Southee's return, Morgan said: "I actually didn't face him but it looked pretty difficult. When he can turn it over in the fashion that he did, you know, credit to him."

However, Morgan reiterated his belief that England had been given an especially tough start to the World Cup.

"We knew these first two games were going to be difficult games playing in these conditions. But we shouldn't be beaten by this much. We were way below par."

"We are not doing the basics right and not producing what we practice."

However, the former Ireland international added: "We can still make the quarter-finals, as soon as we start winning and getting into the next game."

Morgan, whose side next play non-Test border rivals Scotland in Christchurch on Monday, insisted England wouldn't push the panic button after two huge defeats.

"Certainly you don't want to get into a state of panic where we make three or four changes in one day," he said.

"That's certainly not what I'm about. I believe at the moment that any of our players can play. The players that played today I believe were the best to win today, and on given conditions, we'll change plans accordingly.

"But, again, just because we were there for them today doesn't necessarily mean anything."





Follow Emirates 24|7 on Google News.