Misbah tells Pakistan batsmen to shape up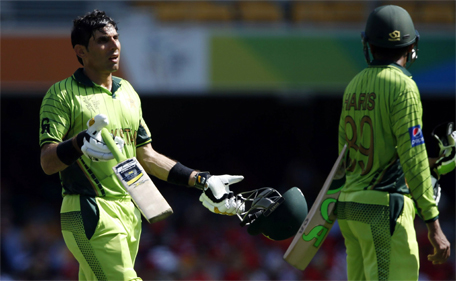 Pakistan skipper Misbah-ul-Haq told his batsmen to shape-up or ship out of the World Cup after the 1992 champions scraped a 20-run win over Zimbabwe on Sunday.

It was Pakistan's first victory of this World Cup after losing by 76 runs to India and suffering a 150-run hiding at the hands of the West Indies in their previous two Pool B fixtures.

Misbah needed his bowlers to set up Sunday's win after his side had been limited to a modest 235 for seven by another poor top-order effort .
Follow us on Twitter @E247Sports for exclusive coverage of all the action from Down Under

It was Pakistan's highest total of the tournament but a long way off the fourteen 300 and over totals so far registered elsewhere in the event.

"We need to work hard to improve our batting. All the teams are getting to 280, 290, or 300, so we need to start well and capitalise," said Misbah.

So far at the World Cup, Pakistan have scored 224 all out against India and were dismissed for just 160 by the West Indies.

Misbah has his team's best two scores of 76 against Pakistan and 73 on Sunday.

Umar Akmal and Sohaib Maqsood got beyond fifty against the West Indies while Wahab Riaz scored a half-century against Zimbabwe at Brisbane's Gabba ground.

"It was really tough because it was a make or break game for us. You can't believe how happy we are because we were out of the tournament if we'd lost this game," added the captain.

"The pitch wasn't easy. It was a bit two-paced and it was really difficult to rotate the strike.

"I felt 250-260 would be really challenging today. We were 15-20 runs short but we showed the kind of quality we have in the bowling line-up and credit should be given to the fast bowlers."

The win gave Pakistan their first two points, but they are second from bottom in their pool, with just the top four sides going into the quarter-finals.

They face the UAE in Napier on Wednesday, South Africa in Auckland next Saturday before their first round is wrapped up at Adelaide on March 15 against Ireland.

Pakistan seamer Wahab Riaz was named man-of the-match aftre his four for 45 followed a career-best 54 not out.

"You have to keep taking wickets, that's the key in this World Cup," added Misbah.

"Even if you are defending a low total if you have bowlers who can take wickets at different intervals you have a chance.

"That's what Irfan did really well today. The kind of spell he bowled at the start I think was the key.

"(Spinner) Shahid Afridi's last few overs were very crucial, especially the 47th (when he bowled a maiden)."

On the need for batting improvements, Misbah said the team hadn't had enough time to adjust to Australian conditions.

"It's unfortunate that our top order is in that kind of state and they're not finding it easy to get out of it," he said.

"It's difficult for me and the lower order batsmen to keep on going because sometimes you lose your temperament."

"But if we want to win against South Africa, and if we want to progress in this tournament. we have to come up with some performances (from the top order)."


Follow Emirates 24|7 on Google News.