Pakistan fired up by Misbah, 'Boom Boom' Afridi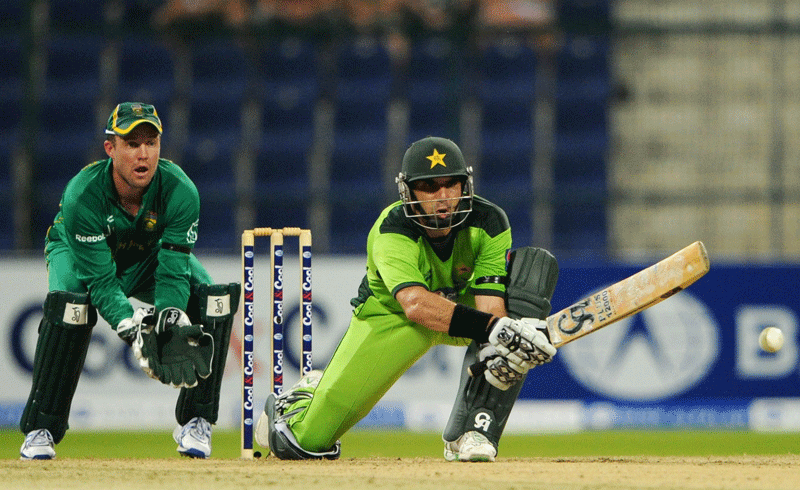 Pakistan one-day skipper Misbah-ul Haq and predecessor Shahid Afridi play for the same team, but come from different worlds.

If the unpredictable Pakistanis are to secure a second World Cup in Australia and New Zealand, they need the two heavyweight talents to forge a united front.

Misbah is conservative, careful; Afridi is brash, belligerent.

Misbah takes time to settle and plays with a straight bat, characteristics which are alien to most fans of the game in Pakistan who have still not forgiven him for failing to guide the country to victory over arch-rivals India in the World Twenty20 final in Johannesburg in 2007.

His ill-advised paddle-sweep with just five runs needed for victory still rankles.

Then at Mohali in the 2011 World Cup semi-finals, Misbah batted out crucial deliveries before scoring 56 off 76 balls as Pakistan again lost to India.

"If he ever sits in my cab I will ask him why he bats so slowly," said bemused Abu Dhabi taxi driver Kamal Khan during a recent series in the Gulf, Pakistan's home-from-home in recent years.

"Misbah is disliked for his slow batting while Afridi rules hearts because of his aggressive fours and sixes."

Afridi tends to throw his bat from the get-go, seemingly caring little for the nature of the pitch, the strength of the bowler or the situation of the match.

"Once I went to bat and asked Afridi about the pitch and he replied: 'I don't know, but I am enjoying it as the ball is coming onto the bat'," recalled former captain Ramiz Raja.

Afridi's strength is his lusty hitting - he hit two last-over sixes to help Pakistan pull off an incredible win over India in last year's Asia Cup in Dhaka.

When it comes to captaining the side, Misbah and Afridi are poles apart.

Despite becoming Pakistan's most successful Test captain last year, Misbah is criticised for being defensive.

"Misbah is overly defensive as captain while Afridi attacks and is very aggressive," former captain Mohammad Yousuf said.

Misbah took over from Afridi as one-day skipper in 2011.

But when Misbah withdrew from the third and final one-dayer against Australia in Abu Dhabi last year over poor batting form, Afridi grabbed his new opportunity with both hands.

But Misbah returned with a bang, equalling the fastest Test century off just 56 balls thus ending speculation that Afridi might replace him as captain for the World Cup.

Both men will quit one-day cricket after the World Cup but Misbah will continue to play Tests while Afridi will continue to enjoy the brasher Twenty20.


Follow Emirates 24|7 on Google News.