Pakistan need to beat South Africa, says Waqar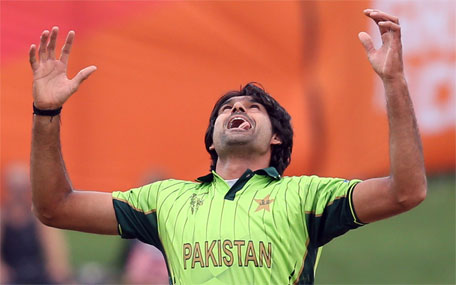 Pakistan coach Waqar Younis Wednesday targeted big-hitting South Africa, saying his team must beat a strong outfit to prove they belong at the World Cup.

Pakistan expectedly made short work of the United Arab Emirates in their Pool B game with an emphatic 129-run win to increase their tally to four points in as many games.

They now play South Africa in Auckland on Saturday in a crunch match in which their qualification for the quarter-finals will largely depend.
Follow us on Twitter @E247Sports for exclusive coverage of all the action from Down Under

Waqar said the two wins after two losses - the first win was against Zimbabwe on Sunday - gave the team much-needed confidence.

"Look it (win) definitely changed the body language of the players because a win always make you feel comfortable and confident, but I still feel that we need to win against a bigger team like South Africa to tell the world that we are around," said Waqar.

Waqar agreed Pakistan were not looking as commanding as South Africa who have posted back-to-back 400-plus totals in their last two wins.

"Maybe you might be thinking that we are not playing well but we are missing two of our key players," said Waqar of Saeed Ajmal and Mohammad Hafeez - both suspended for illegal bowling actions.

Hafeez also injured his calf before the World Cup and returned home to be replaced by Nasir Jamshed.

"The tournament will get tougher and tougher and we should be ready for that," added Waqar.

"Of course we can, we have done it in the past, it's not asking too much and we have beaten South Africa in South Africa," said Waqar, of Pakistan's 2-1 one-day series win over the Proteas in late 2013.

Waqar, under whom Pakistan finished as semi-finalists at the 2011 World Cup, said his team was capable of picking up steam.

"I think the crucial game will be against South Africa not only for qualifying but also for a morale booster. We need to beat a top team to get our confidence back."

Waqar said the two wins over Zimbabwe and the UAE had restored belief.

"Of course I am relieved, there is no doubt about that but the tournament is still open and we are keen to do well and this win will give us a boost and positive thinking for the next games."

Pakistan will play Ireland in their last group game in Adelaide on March 15.

Waqar agreed Pakistan should have won by at least 150 runs against the UAE but paceman Mohammad Irfan's injury affected the progress.

"We should have won by more runs but not having Irfan affected us. We wanted to improve the net run-rate which is also very important but they also batted well," said Waqar.

Irfan hurt his hip muscle after bowling just three overs but Waqar said the paceman will recover and will be available for the South Africa match.

"I don't think it's a major concern," said Waqar after the match. "He has an issue with his gluteus and it's an old problem.

"Irfan will be fine in the next couple of days and will play against South Africa."

Irfan, the tallest ever cricketer at 7 feet, one inch, managed to bowl just three overs and hurt his hip in the field on Wednesday.

The 32-year-old paceman has taken six wickets in the tournament with a best of 4-30 against Zimbabwe in Brisbane on Sunday.

Pakistan have four points in as many games and need to win their next two games - the last against Ireland in Adelaide on March 15.



Follow Emirates 24|7 on Google News.