Pakistan not pressing panic button, says Misbah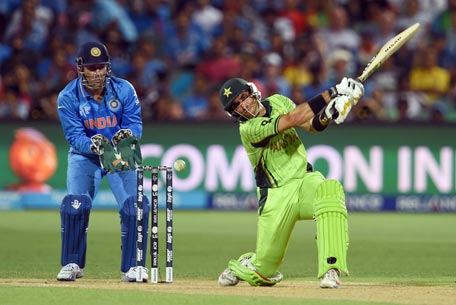 Pakistan captain Misbah-ul Haq dismissed talk of panic in the ranks Friday but conceded their batting woes needed to be addressed ahead of their crunch World Cup match against the West Indies.

The two sides go into Saturday's match at Hagley Oval in Christchurch desperate to get points on the board after both lost their first matches in Pool B.

Pakistan suffered a dramatic batting collapse when they were outclassed by India while the West Indies were upset by Ireland.
Follow us on Twitter @E247Sports for exclusive coverage of all the action from Down Under

"This is an important game, and both teams need to win. We know that," Misbah said, adding Pakistan knew they had to rectify their problem batting.

But he added "we are not panicking," when questioned whether there would be changes to the side to face the West Indies.

Misbah's 76 against India was the only half century in the Pakistan innings but he said he should not have been responsible for holding the innings together.

"It doesn't mean that all the time it should be me. It should be two other guys out of six or seven batsmen that are playing," he said.

"This is how normally cricket is being played. Every time all seven batsmen don't perform and maybe two or three just score runs and you just win the game.

"The guys who are not at the moment performing, we know that they are good enough players, and they can just come to the party in the next games."

Pakistan reached 102-2 against India before the batting imploded with three wickets for one run before they limped through to 224, well short of India's 300.

Misbah said moving him up the order from his number four slot was not the answer.

"We just collapsed in the middle order, so it wasn't a problem at the top. What we are missing, I think, is that we need to have better partnerships on a regular basis, whether it's at the top, whether it's in the middle order.

"Any pair who is batting, they need to just develop a partnership, and that's what we missed in India's game. After losing the second wicket we just lost three wickets in nine balls and that really cost us the game."

Although Pakistan are without proven match-winner Saeed Ajmal - who pulled out of the Cup because of his disputed spin bowling action - Misbah felt comfortable with his bowlers.

"It's a little bit difficult when you are used to somebody (Saeed) for three or four years, but I think now our pacers are really doing well in the last two, three games," he said.

"They are really coming to the party in the way they are bowling, especially in the death overs, improving, so we'll have to live with that."

He said speedster Mohammad Irfan, whose form against India dropped away after he was twice warned for stepping on the wicket, had been working on his action in practice since then and "he'll be fine in the next game."

Sammy fit

West Indies linchpin Darren Sammy has been cleared to play in their pivotal World Cup match against Pakistan in Christchurch on Saturday after being hampered by a back strain in their first up loss to Ireland.

"We should have a full complement to choose from," captain Jason Holder declared on the eve of the match between two sides fighting to get points on the board in Pool B after suffering first-up losses.

The West Indies suffered a surprise four-wicket loss to Ireland in their opening World Cup encounter while Pakistan were outclassed by more formidable opposition in India.

Despite being beaten by one of the minor teams, Holder said his team remained upbeat in their belief they will be one of the four teams from Pool B to qualify for the quarter-finals.

The pool also includes South Africa as well as Zimbabwe and the United Arab Emirates.

"We can't let our defeats get us down. Obviously we lost a game against Ireland. It was a tough loss, but if we get ourselves down it's hard to pick ourselves up so we are trying to keep the mood going," Holder said.

"What is clear for us is if we execute our plans and we carry out what we want to do we know we can be very successful so it's just about consistency."

A fit Sammy is essential for the West Indies, who are already down on bowling strength with the absence of Sunil Narine.

Against Ireland, former captain Sammy contributed 89 with the bat and figured in a key 154-run partnership with centurion Lendl Simmons when the West Indies posted 304 batting first.

But his troublesome back saw him pulled from the attack after conceding an expensive 25 runs in three overs as Ireland overhauled the target with 25 balls to spare.

"We've got him to the stage where we think he's going to be a lot better off than what he was in the first game against Ireland," Holder said.

Sammy was not the only West Indies bowler to be caned by Ireland with Jerome Taylor going for 71 in nine overs, although compensating with three wickets, while Kemar Roach took none for 52 and Holder none for 44.

"We didn't bowl particularly well in the last game and that was a big concern for us so we have tried to correct things in terms of our preparation and go into the game with full confidence," Holder said.
Follow Emirates 24|7 on Google News.